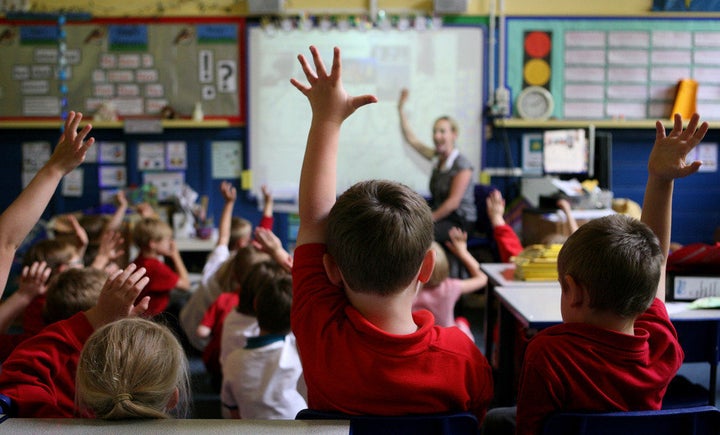 When exiting the theater after watching Won't Back Down, viewers are left with frustration, anger and perhaps a bit of hope. While Won't Back Down does a nice job eliciting these emotions, the solution, a parent "takeover" of the failing school, is largely unrealistic. But the desire of all parents to have their children succeed in school and their power to affect their children's school success is not. The important thing here will be to open the conversation about how to cultivate and channel parental energy in productive ways, whether that means traditional or "new" forms of parent involvement and engagement.
In Won't Back Down, Maggie Gyllenhaal's neighborhood school is failing, her daughter is struggling with dyslexia and she does not have the resources to exit the system. Her solution is a variant on the "parent trigger" law; she joins forces with Viola Davis, a talented teacher, to take over and transform the school. The story ends in triumph -- the parents and teachers successfully navigate the school bureaucracy and take over the school. The last word of the movie -- "hope" -- leaves viewers feeling that even the small and disenfranchised can improve the education system. Unfortunately the situation the movie portrays is unrealistic. Only four states have passed a "parent trigger" law, and there has been no successful parent takeover thus far. Furthermore, its one-sided portrayals of charter schools and union leaders dangerously lack nuance.
However, the message that parents can make a difference for their children and the larger education system is important and timely. It would be a wasted opportunity if we did not use the dialogue generated by the film to increase outlets for parent involvement and empowerment. A "parent takeover" is not the answer. But increasing parent engagement and voice is a good place to start. There are five directions that we believe are productive outlets for this energy:
1. Parents working with their children: Parent involvement is crucial for children's educational success. While traditional involvement behaviors such as helping with homework and volunteering at the school have some effect, parents' high expectations, positive attitudes toward education, and supportive home environments (e.g., arranging time and place for homework) make the biggest difference. Its effects are largely motivational -- not skill building. So all parents, whatever language or education level, can be powerful influences on their children.
2. Schools involving parents: Unfortunately, traditional involvement practices, such as asking for volunteers or inviting parents to conferences, are most likely to be successful for the parents who are the least stressed and need to increase their involvement the most. Developing institutionalized practices within schools for involving traditionally hard-to-reach parents, as part of larger family-school partnerships, and education for teachers on how to do so, will ultimately benefit all stakeholders.
3. Parents influencing schools: Parents have a unique perspective in helping to shape schools in their communities. While some systems have more traditional organizations like PTO's and PTA's, some states have laws requiring that each school have a School Council where parents have parity in advising school policy and practice.
4. Parents influencing the school system: Parents can also challenge from outside the system by participating in various parent advocacy groups. As Kelly and McGuinn found, a new collection of education reform advocacy groups have mobilized and organized parents to exercise their voice. If parents don't feel satisfied with their schools, they can play a role in pushing for better school options and advocate at a grassroots level.
5. Parent choice: Parents can leave their schools and find better options for their children. While charter schools, on average, perform at a level equal to traditional public schools, high-performing charter networks, such as YES Prep and KIPP, have demonstrated positive results for the most at-risk students. Unfortunately, school options are profoundly limited, especially in rural and suburban districts.
This list is not exhaustive -- there are certainly other avenues for parent involvement -- only limited by parents' and educators' creativity and true beliefs in family-school partnerships. Like Maggie Gyllenhaal, parents want what's best for their kids. And while the "parent trigger" may not be the answer, it would be a shame not to take advantage of the energy generated by this film. No doubt, parent involvement and empowerment are key to improving our education system.
Wendy S. Grolnick is professor of psychology at Clark University in Worcester, MA. She has published numerous studies of parent involvement and is the author of two books: The Psychology of Parental Control: How Well-Meant Parenting Backfires (Taylor & Francis) and with Kathy Seal, Pressured Parents, Stressed-Out Kids: Dealing with Competition While Raising a Successful Child (Prometheus).
Allison Kimmel is a research assistant for education policy studies at the American Enterprise Institute. She is a recent graduate of Harvard University ('12) where she majored in government and completed the Undergraduate Teacher Education Program (UTEP).
Calling all HuffPost superfans!
Sign up for membership to become a founding member and help shape HuffPost's next chapter