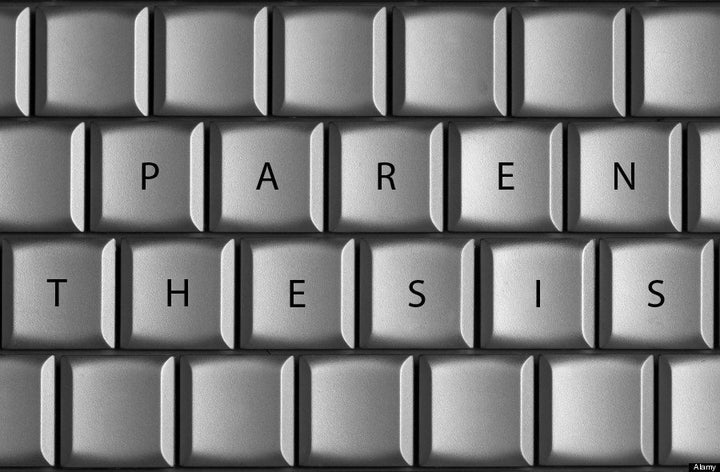 This week in Parenthesis, a former bully comes clean, a "free-range" parent stands her ground and a blogger describes the harsh realities of postpartum PTSD. First, though, our thoughts go out to Glennon Melton:
The parasite diagnosis, on top of an already vicious case of Lyme disease, has turned her into "a problem wrapped in a dilemma smothered with confusion and garnished with pain and paranoia," and spurred logistical concerns -- should her family leave Lyme-ridden Virginia? -- as well as more general soul-searching. But you don't need to know much about Glennon to believe that she has the faith, good humor and sheer will power to get through anything. Her latest blog post proves that she's intent on blazing forward: she's as devoted to helping others as ever, and she's finally finished her book, "Carry On, Warrior." Though life can't be easy for her right now, she's never sounded more like herself: "[W]e have to keep showing up for ourselves in the thick of things just to remind ourselves that we believe. We don't have to worry about being any good when we're at our worst, we just have to keep trying." Glennon, you teach us all the time that trying is what makes us good.
"Mom, don't read this one"
In 2012, it isn't easy to admit that you were once a bully. From Lee Hirsch's buzzy documentary to the ultra-viral tale of New York state bus monitor Karen Klein, bullying has become part of a permanent public discourse. Still, sometimes it's worth owning up to things that you regret, in order to teach people of a new generation how to do better. That's what Leslie of The Bearded Iris does in a frank confession about how much she regrets her "despicable" school-age acts.
"I wish I could go back in time and throttle ten-year-old me," she writes, explaining that what finally got through to her and convinced her to stop bothering other kids was "disapproval from my peers and my father." She offers advice for cutting bullies down to size, but the most powerful part of her piece is her reflection on the personal past:
If I could apologize to the girls I bullied when I was a child, I would want to tell them how truly sorry I am and assure them that I am making amends by doing everything in my power to raise mentally healthy and compassionate children who I hope would never do such a thing. If you know my children, you know I take this vow very seriously.
What is "free-range parenting," really?
Lenore Skenazy, the most prominent proponent of "free-range parenting," stood up for her philosophy last week when both The New York Times and Psychology Today adopted definitions of the term that didn't sound too familiar to her. The Times article in question suggested that "free-range" kids were those who did away with traditional schedules in favor of a more peripatetic, constantly occupied lifestyle; the Psychology Today blog post -– which was later corrected by its author –- described "free-range parenting" as a model in which children dictated the terms of their feeding schedule. (Both derived their definitions of the phrase from a comment made to the Times by Neil Grimmer, CEO of Plum Organics, whose product they were covering.) Lenore offered a counter-definition of her own:
"Free-Range" is not a (depleting, exhausting) lifestyle. It's just the conviction that kids today are safer and more competent than our culture tells us they are. That's why we can give them responsibility AND freedom -- and not schlep and schedule up the wazoo, to the point where they have to suck their meals in between appointments.
Whether or not you support Lenore's philosophy, here's to her for defending her turf.
Postpartum PTSD: "This was my own personal warzone"
I got rid of all my maternity clothes less than 48 hours after giving birth. I couldn't stand to have it around. It was a reminder of all I'd lost -- even though I had my boys. I avoided people proffering their congratulations. What did we have to celebrate?
Tricia Stream's harrowing essay on XOJane describes a bout of postpartum PTSD that hit when she went to the hospital to see a friend who had just given birth. ("Postpartum PTSD most often affects preemie mothers whose children began their lives in critical condition," as hers did, Stream explains.) Research is confirming that sharing life experiences online helps parents parse, process and heal; pieces like this are proof. For those who have gone through something similar, Stream's piece might offer solace; for those who haven't, it's an invitation to greater empathy and understanding.
Popular in the Community