David Beckham has joined the ranks of moms and dads who've been publicly shamed. Luckily, his fellow parents came to his defense.
While on vacation in Tanzania on Thursday, the retired soccer star posted a photo of himself kissing his 5-year-old daughter on the lips on Instagram. In the caption, he wrote, "Kiss for Daddy."
The photo received over 1.8 million likes on Instagram, and the comments section is filled with positive messages to the dad. However, there were some negative reactions as well.
"Disgusting u pervert," wrote on commenter. "Tbh kissing your daughter on the lips is a little weird..." wrote another.
"This is perverse," another commented. "DISGUSTING! What a sick man kisses a little girl? This poor girl, enduring that, will never be able to have a relationship with a man, will just see the exploitation."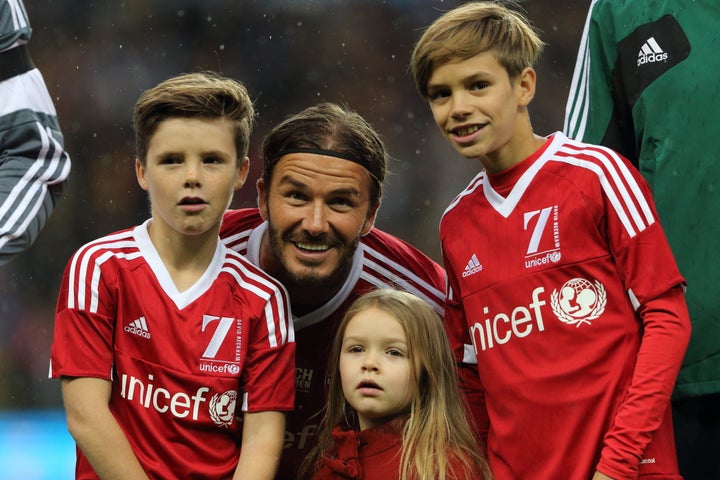 In response to the vitriol, fellow parents shut down the shamers.
"I kiss my children all the time! That's how they know that they're loved! Lovely photo!" one person commented. "People who see this as wrong have something wrong in their heads. I still kiss my 6 year old son on the lips," wrote another.
"So beautiful. My daughter's daddy kisses her all the time. It's called showing affection and love," added another.
Beckham and his wife, Victoria, have four kids ― 18-year-old Brooklyn, 14-year-old Romeo, 12-year-old Cruz and 5-year-old Harper.
His post comes almost a year after his wife came under fire for sharing a similar photo.
Commenters described the former Spice Girl's photo as "very disgusting" and "emotionally scarring."
"For anyone commenting that a kiss on the lips with my four year old is 'inappropriate' go ahead and click unfollow with your warped minds and judgment," she wrote.
Can we all just put an end to the parent shaming?