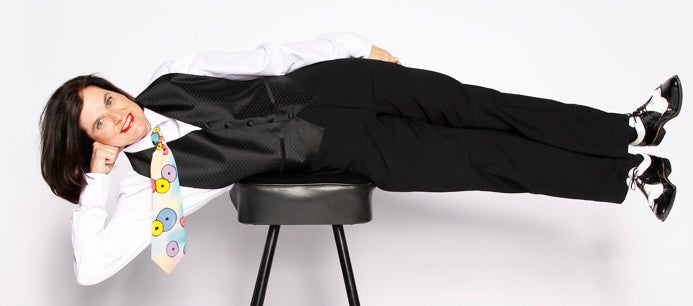 This week I talked with comedian Paula Poundstone about her new NPR podcast, new book, current tour and more. Poundstone can be heard regularly on NPR's #1 show the Peabody Award-winning weekly comedy news quiz Wait, Wait...Don't Tell Me! Her new weekly podcast Live from the Poundstone Institute is produced by NPR and taped before a live audience. In the podcast Paula takes on the research studies that are so odd they just beg for someone to stand up and say "wait, what?!" Seven years in the writing Poundstone's new book The Totally Unscientific Study of the Search for Human Happiness climbed to #1 on the Amazon Best Sellers list for Humor CDs and landed in the Top-10 on the Best Sellers Humor Hardcover list on its first day of release all the while garnering great reviews. Her 2017 Tour continues on the east coast with appearances on July 15th and 16th at Jonathan's Ogunquit in Ogunquit, Maine, July 21st at Blumenthal Performing Arts in Charlotte, North Carolina and July 22nd at the Cape Cod Melody Tent in Hyannis, Massachusetts. I talked to Paula about what she hopes to accomplish with her new podcast, her inspiration for her newest book, current tour and her spin on our issues.
When asked her thoughts on the Trump administration throwing one upsetting crisis after another at us in the news, Poundstone stated:
Well you know I have mixed feelings and the part of me that's not tethered to reality, there are days when he doesn't Tweet that I feel empty. If it was just a miniseries on HBO it would be so damn funny. Unfortunately it is in fact real life and sometimes as I'm laughing at or making jokes about it I keep flashing on that scene in Cabaret where Joel Grey was on stage and the camera has these big distorted faces of the people laughing while the Nazis march somewhere. Sometimes I'm concerned that laughing is not enough, perhaps and it's not his Tweets that bother me, I mean yes they appear to be some sort of cry for help but I mean probably if we paid more attention say for example to the effect that he's having on the world, you know on our relationships with other countries both good and bad relationships with other countries. I think it's unfortunate and untimely occurrent that Kim Jong Un is who he is and the position he's in and that Trump is who he is and in the position that he's in at the same time. There's really a number of countries who have nutter leaders right now. We're not the only one and it's just a really bad cocktail. I'm not exactly sure what to do about it. When I heard about the other night I was watching The News Hour and they said that oh yeah Kim Jong Un thinks he has the missile that can go all these miles. Part of me thinks, great I don't have to put away the leftovers and part of me thinks, Oh God what are we suppose to do?
Paula Poundstone's career spans 38 years. She has guested on all the late night talk shows, has had several television specials and still considers her greatest achievement being a Mom of 3 children. She lives in Santa Monica where she also has 2 dogs, 14 cats and one ant left from her ant farm. (Photo credit Michael Schwartz)
REAL LIFE. REAL NEWS. REAL VOICES.
Help us tell more of the stories that matter from voices that too often remain unheard.