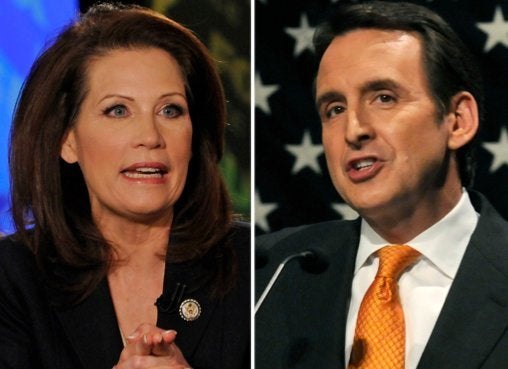 URBANDALE, IOWA -- Tim Pawlenty on Friday said his senior staff have assured him that his campaign was not responsible for a story about Rep. Michele Bachmann's (R-Minn.) migraine headaches, which dominated much of this week's election news coverage.
"I checked with our staff," Pawlenty told reporters after playing in a pickup hockey game at the end of a full week of campaign events in the Hawkeye State. "They said they did not push the Bachmann story. In fact they reminded me that the sources for the story were her, apparently, her former staff."
Questions have been raised this week -- mostly in off-the-record chatter between reporters and political operatives, but also on some blogs -- about whether Ron Carey, a former chief of staff to Bachmann who has publicly criticized her, was one of the anonymous sources who gave comments for the Daily Caller story, which was published Monday night.
Bachmann was forced to respond to questions about whether she is "incapacitated" by the headaches, and whether she has the physical fitness to withstand the rigors of the presidency.
Pawlenty was asked several times about the story, and said at first that he had spoken to "everyone ... in a senior position" on the campaign.
"No, I'm confident that our campaign did not push that story, and again it appears to have been sourced to her former staff," he said.
Pawlenty was pressed about whether he has talked to former Bachmann staffers who are now supporting him.
"I haven't talked to them directly but I think the story is pretty clearly sourced to them. I think they're named in the [Daily Caller] story, aren't they?" he said.
When reporters could not remember Carey's name, Pawlenty mentioned it himself. He then insisted that the sources in the original Daily Caller story were named.
"I haven't spoken to [Carey]. But the story's not sourced to him. It's sourced to her former staff," he said. "The people in the story are named. They're named. The sources in the story are named in the story. Her former staff people are named in the story."
The Daily Caller story attributes quotes about Bachmann's migraines to "a former aide" and "an adviser to Bachmann who was involved in her 2010 congressional campaign." The Daily Caller also notes, "Two sources independently provided detailed accounts of Bachmann's condition. A third source confirmed that Bachmann frequently suffers from debilitating headache episodes."
When it was pointed out that the sources in the story were not named, Pawlenty walked back to his original answer.
"They're not people associated with my campaign," he said. "I checked with the senior leaders of my campaign. They indicate clearly and unequivocally they didn't push the story."
"The story is sourced to Congresswoman Bachmann's former staff people," he insisted.
Popular in the Community