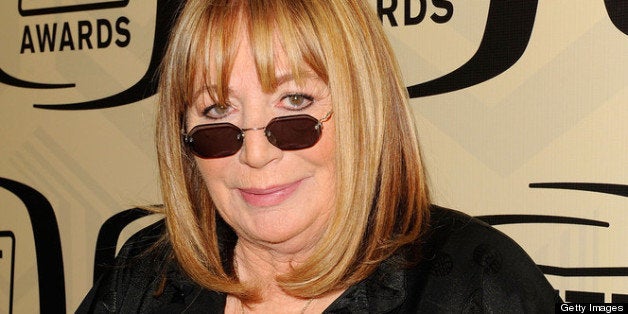 Marshall, who played tough girl Laverne De Fazio and went on to direct box office classics such as "Big" and "A League of Their Own," said she has nothing but fond memories of the show.
"It was just a fun show to do," Marshall told The Huffington Post in a phone interview. "At least we tried to make it as funny as possible. The writers did as well as Cindy and I and everybody else. We were considered lower class, which we were. We never got nominated for an Emmy. We never got nominated for nothing ..."
"Laverne & Shirley" was a spinoff of "Happy Days." Marshall, whose brother Garry created the parent show, asked her to take on the role of Laverne while she and Cindy Williams were working on a satire for Francis Coppola's Zoetrope magazine for $30 a week.
"My brother called," Marshall recalled with a laugh. "And he said, 'What are you doing?' I said, 'I'm writing.' I don't know how to write, you know? 'Exterior Europe: Day' ... what do I know? He said, 'Well, there's a part of these two girls who put out. Ask Cindy if she wants to do it and she could play opposite Ron [Howard] and you'll play opposite Henry [Winkler]. If she doesn't want to do it, you can play opposite either one of them.'"
Marshall said there wasn't a lot of pressure ... initially. "We weren't scared because we were busy writing this satire," she said. "We went on and then it became chaos."
Marshall and Williams played Laverne and Shirley on "Happy Days" for the first time in November 1975. The "chaos," Marshall recalled, was getting the two characters from "Happy Days" to their own series. Eventually "Laverne & Shirley" premiered January 27, 1976 and produced 178 episodes.
"We did a lot. I mean, we did a lot more in a season then they do now. I don't even know when the seasons are now, to be perfectly honest," she said. "Things are going off in two weeks and another thing is coming on. They come on and then they disappear for a couple months and then they're back. I don't understand the whole system. And there's 4,000 channels. We were three channels, remember? So it was easy to figure out what was going on. Now, I wouldn't know. You're a 2-point-something [rating in the key 18-49 demo] and you're a hit. We had a 60 share. That doesn't happen except for the Academy Awards or things like that, like the Super Bowl. We beat out Jesus once, I remember that. It was Easter. [Laughs.] Whatever was on ... 'Caesar,' or one of those movies."
Though Marshall doesn't have a favorite episode, she does remember the genesis of one particular moment in "Laverne & Shirley" history: "The Diner" episode.
"That was Squiggy's uncle's diner ... That's when I called her Betty for no reason," Marshall said. "That's because at Hamburger Hamlet -- which doesn't exist anymore, thank you, but I liked going to Hamburger Hamlet -- they would always say, 'Betty, please, pick up.' So, I used that, just like they said it. They said she has to confront you at some point and say, 'Why are you calling me Betty!?'"
Marshall said there wasn't a lot of improvising lines on set, but they could add their own influences otherwise. "We would add a couple of lines, but they wrote the script," she said of the writers. "We'd do things like wear stupid hats for an entire scene 'cause we didn't like the scene so the writers would know during the run-through. 'Guess they don't like that one!' Because to improvise the whole thing, it just takes too long. What we would do is create bits sometimes. I like behavior better than lines. [Williams] can have all the lines for all I care, I'll find something to do with a plate or a cup or some food. I'm very happy doing bits. How many times can you go to the goddamned refrigerator, you know? So I tried to do bits at the door or by the refrigerator and that's how milk and Pepsi happened. Let me drink what I drink, at least! It was the exposition."
You won't find any "L" sweaters in Marshall's closet. "I didn't like the fashion when I lived through the '50s. I certainly don't want to keep the clothes from it," she said. "It wasn't in our brains to say that they'd be worth money for auctions, which everything is now."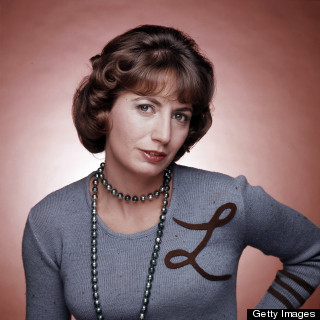 But there is one piece of Laverne wardrobe still in Marshall's possession. "I have a robe -- a green robe with an 'L' on it." She said she's not exactly sure how it ended in her possession, but thinks it happened when there was an accident on set. "I fell in one show. The wires broke and I fell to the floor in front of the audience. I might have worn it to the hospital after," she said.
Besides those signature "L's," "Laverne & Shirley" is also well known for its theme song. Marshall said it doesn't bother her today, just don't ask her to reenact it. "I just don't like when I'm asked to do 'Schlemiel! Schlimazel!' No, I won't," she said. "I'm too old for that."
What does she attribute to "Laverne & Shirley's" staying power? "Well, I think it was funny. [Laughs.] That's something that's more than some of the shows ... I think we were poor, we were trying to make a living, make our rent or make anything work, which a lot of people are today and so they can identify with that fact," she said. "And we tried to make them forget about things for a half an hour."
While "Laverne & Shirley" may still be on, Marshall doesn't know the last time she saw an episode. "I don't watch myself," she said. "All I know is I'm getting old! Thirty years!"
But Marshall, an avid basketball fan, said she watches quite a bit of TV these days. While she favors crime dramas like "Criminal Minds" and "Law and Order," she said "Modern Family" is funny, she's been watching "Smash" and she has lots of shows stored up on her three TiVos. "Now there's all that reality stuff on. Some of it now is great," she said. "I think there are better movies on television. HBO and them do some good stuff. I don't like what they want for movies. I mean, the independents I guess are good. Vampires, I don't understand vampires. I don't care about vampires. I don't want to do vampires. I don't do 'Boom!' That's not what I do. I tell a story. I can be funny. I can be physical."
The actress-turned-director said she has her eye on an documentary and a script about the Newark Eagles, a professional Negro league baseball team that was in the second Negro National League from 1936-1948. "I would like to be doing more now, but what can I say? They're using 12-year-olds."
What about a "Laverne & Shirley" movie? "Somebody wanted to do a 'Laverne & Shirley' movie. They keep trying, but they -- I don't know if they can find two people who can do that."
Catch "Laverne & Shirley" on The Hub.
PHOTO GALLERY
Inspiring TV Theme Songs
REAL LIFE. REAL NEWS. REAL VOICES.
Help us tell more of the stories that matter from voices that too often remain unheard.
BEFORE YOU GO