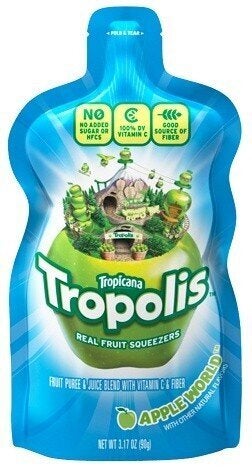 PepsiCo Inc. is betting that consumers want to "snackify" drinks.

As part of its strategy to tap into the market for more nutritious convenience foods, the company is hoping people will pay a premium for a new pureed fruit product that it considers thick enough to be a snack rather than a beverage.

Tropolis, an 80-calorie fruit puree, which comes in brightly colored pouches, will be marketed to moms and kids. PepsiCo's Tropicana unit is rolling out apple, grape and cherry Tropolis pouches in test markets in the Midwest next month, at $2.49 to $3.49 for a four-pack.
Popular in the Community