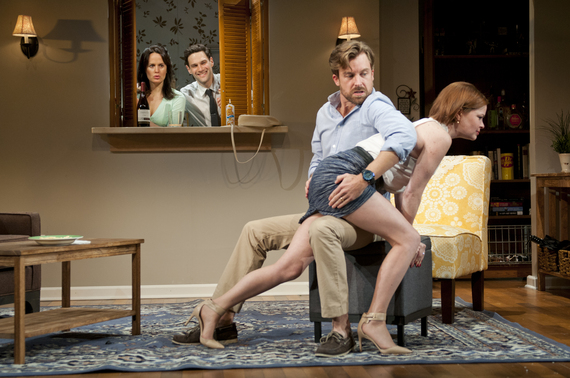 Elizabeth Reaser, Justin Bartha, Lucas Near-Verbrugghe and Nicole Lowrance in Permission by Robert Askins. Photo: Jenny Anderson
Playwright Robert Askins, while writing Hand to God, presumably never expected his irreverently absurd comedy to land on Shubert Alley with multiple Tony Award nominations. There it is at the Booth, though, with a strong set of ardent admirers (including many reviewers). This type of success can change expectations for an unorthodox 30-something playwright from Texas. His next play, fairly or not, is sure to be looked at in a very different light -- or spotlight -- than what came before.
That play is now here: Permission, which is being presented by the MCC Theater at the Lortel. (MCC also produced Hand to God at the Lortel, although it was developed and initially presented in an earlier version by the Ensemble Studio Theatre.) Like Hand to God, Permission is outrageous and profane; like its predecessor, it can be seen as a sledgehammer attack on religion featuring violence and sex, albeit without as much bloodshed. But there the similarities end. Hand to God is inspired; Permission, alas, is not.
For his starting point, Askins has borrowed the real-life practice called Christian Domestic Discipline. (You can look it up on the Internet, as the characters in the play do, although you might just want to let it pass.) In effect--or at least as described by Askins in Permission -- it suggests that it is God's will that the husband beat the wife, constantly. Zach (Lucas Near --Verbrugghe), owner of a sporting goods chain, lives happily with his too-submissive lawyer-wife Michelle (Nicole Lowrance). When his professor friend Eric (Justin Bartha) has trouble with his stay-at-home-drinking-wine wife (Elizabeth Reaser), Zach convinces him to apply the rod. Or, rather, the hairbrush.
This he does, and it all works out not so well. Eric takes to locking his wife in a closet all day, which magically improves her behavior until the suddenly-enlightened Michelle comes round and disrupts both marriages. Let it be noted that the playwright seems to justify wife beating by giving us scenes in which the wives explicitly encourage -- and force -- their husbands to beat them. (We will assume this is Askins-the-playwright attacking CDD, rather than speaking for himself.) If people took the play seriously this might raise issues, but I don't suspect many will take the play seriously.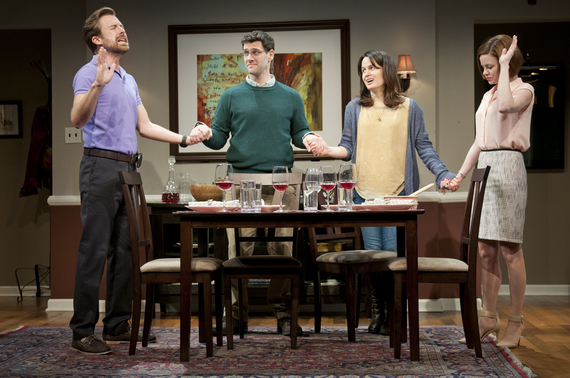 Lucas Near-Verbrugghe, Justin Bartha, Elizabeth Reaser and Nicole Lowrance in Permission by Robert Askins. Photo: Jenny Anderson
The actors are personable, but it can be difficult to sustain characters when dialogue and actions are unbelievable and inconsistent. Most interesting of the bunch is Ms. Reaser, who starred opposite Norbert Leo Butz in the 2012 Second Stage revival of How I Learned to Drive (and who more recently played Don Draper's final flame, an enigmatic waitress, in the final stretches of "Mad Men.") Alex Timbers -- of Bloody Bloody Andrew Jackson, Peter and the Starcatcher and Rocky -- directs.
There is a fifth character, Eric's student-secretary Jeanie (Talene Monahon), whom Askins also injects into the swing of things. The action culminates in a tortured dinner scene which turns into high-octane comic turmoil (not unlike several sections of Hand to God). There is a very funny orgy/battle that suggests Who's Afraid of Virginia Woolf? as lampooned by Christopher Durang. This lasts only five minutes or so, though; the rest of the time, Permission jabs away satirically without quite hitting its mark.
Imagine Hand to God without Tyrone, the puppet character. In some ways, methinks, that's precisely what Askins has done here: Imagined Hand to God without the puppet, and that's not enough.
.
Permission, by Robert Askins, opened May 20, 2015 and continues through June 14 at the Lucille Lortel Theatre
Related
Popular in the Community