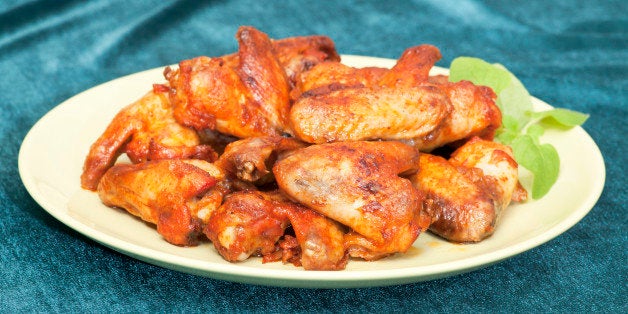 PETA has urged the National Buffalo Wing Festival to ban pregnant women from its upcoming wing-eating contest because of a study linking poultry consumption to smaller penises in the unborn.
"Pregnant women may want to think twice before chomping on those chicken wings, or their sons could come up short," PETA Associate Director of Campaigns Lindsay Rajt said in a release.
The festival runs Saturday and Sunday in downtown Buffalo, N.Y.
"I think that it's silly," said Heather Albert of North Tonawanda. "I ate poultry when I was pregnant and I have two children and they are perfectly fine."
Festival founder Drew Cerza told the outlet he had no comment.
PETA also used the information as a jumping-off point to address alleged animal abuse.
"Chickens suffer every day of their abbreviated lives, including when they're hung upside down by their legs from conveyor belts before their throats are cut," the release notes. "They're also often submerged in scalding-hot water to be defeathered while still conscious."