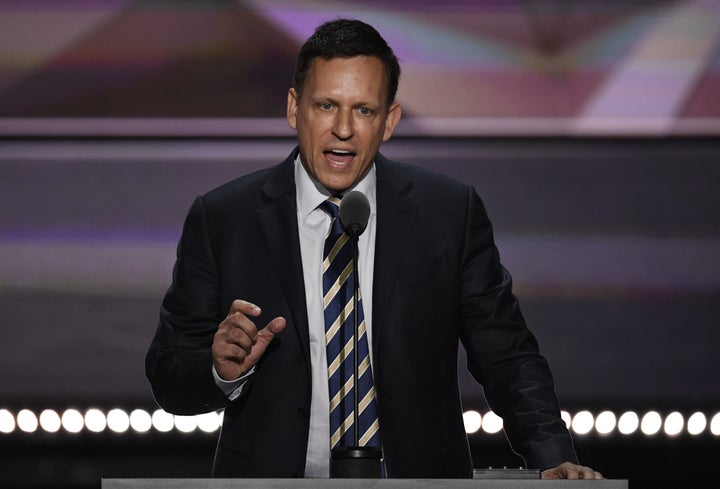 PayPal co-founder Peter Thiel passionately justified his financial support for lawsuits against Gawker Media in a New York Times column on Monday, saying it was not his role to judge what journalists should cover.
The argument appears to contradict Thiel's backing of a successful lawsuit against Gawker that has bankrupted the company ― part of the billionaire's anti-Gawker grudge over coverage he finds objectionable.
Notwithstanding Gawker's sometimes questionable news judgment, Thiel's quest to effectively sink the media organization creates a dangerous precedent for billionaires interested in quashing unfavorable coverage, journalists and press freedom advocates argue.
Thiel forcefully rejected that notion in his op-ed, claiming he was honoring the journalism profession's right to police itself.
"It's not for me to draw the line, but journalists should condemn those who willfully cross it," Thiel wrote. "The press is too important to let its role be undermined by those who would search for clicks at the cost of the profession's reputation."
Thiel, a venture capitalist and director of Facebook, provided millions of dollars in financial support for a lawsuit brought by Terry Bollea ― known professionally as Hulk Hogan ― against Gawker for publishing a sex tape without Bollea's permission. A court ruled in Bollea's favor, demanding that Gawker pay $140 million in damages. The ruling drove Gawker into bankruptcy.
Gawker revealed that Thiel was gay in 2007, which the tech billionaire argues effectively outed him to the public before he was ready. That set Thiel on a mission to neuter Gawker.
Thiel has since revealed he is backing at least one other lawsuit against Gawker in an attempt to punish the company and deter other news outlets from publishing personal information that compromises people's privacy. "It's safe to say this is not the only one," he said in May.
Some journalists on Monday expressed displeasure with the apparent contradiction between Thiel's actions and what he wrote in his New York Times column:
Thiel wrote that the financial award for Bollea proves that "there are consequences for violating privacy." He said he is "proud" to have contributed financial support for Bollea's case.
Thiel pointed to recent cases of media outlets withdrawing questionable stories, like the Daily Beast's retraction last week of an article that critics said outed gay Olympic athletes. He said this shows lawsuits he has backed have created a deterrent effect.
Thiel concluded his column by declaring his support for legislation that seeks to criminalize so-called revenge porn, in which people publish explicit photos of their former sexual partners as a form of revenge.
Thiel claimed the bill was nicknamed the "Gawker bill" because of the limitations it would place on the publication of explicit material without subjects' permission. He argued that it, too, would protect the privacy of people inappropriately covered by the press.
David Carroll, a media design specialist at the New School, noted that Thiel's support for stronger digital privacy protections may be at odds with the position of Facebook, which has traditionally fought such regulations.   
Gawker plans to appeal Bollea's damages award, as founder Nick Denton seeks a buyer for the media company. Thiel vowed in his op-ed that he would continue to fund Bollea's legal expenses through the appeals process.
Thiel's announcement could scare the buyers Gawker is hoping to court.
Denton, who once challenged Thiel to a public debate, has reacted with uncharacteristic reticence to the op-ed.
"We are focused on running our business, putting out good stories, and getting our brands and people safely under new ownership," Denton told Politico.
Calling all HuffPost superfans!
Sign up for membership to become a founding member and help shape HuffPost's next chapter
BEFORE YOU GO