On Tuesday, Iranians marked the 35th anniversary of the revolution that overthrew Iran's pro-Western leader Shah Mohammad Reza Pahlavi and instituted the Islamic Republic. Anniversary rallies brought millions of Iranians onto the streets to celebrate, according to Iranian state media.
Iran's 1979 revolution ended the "humiliation" of western-imposed autocracy, Rouhani told crowds in Tehran. "People wanted their views to be an influence (but) the big powers were interfering in the internal affairs of this country. ... The Americans thought the country of Iran belongs to them. They interfered everywhere even on security issues."
The revolution ended Iran's constitutional monarchy and ousted autocrat Shah Mohammad Reza Pahlavi. Returning after 14 years in exile, Shiite leader Ayatollah Ruhollah Khomeini became the first Supreme Leader of the Islamic Republic, a religious system of government that endures until today.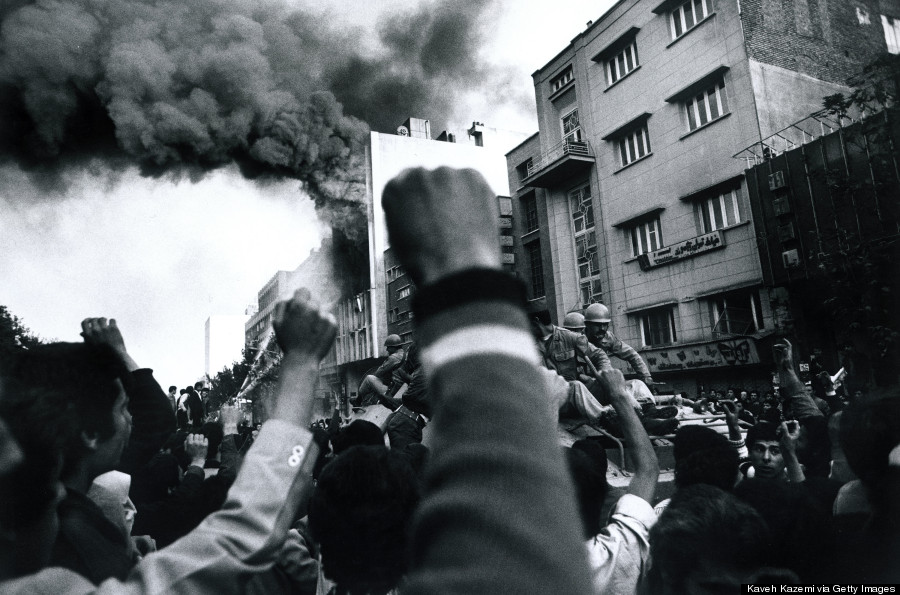 Troops loyal to Shah Mohammad Reza Pahlavi arrive to control a crowd of demonstrators outside a burning government building at the height of Islamic revolutionary fervor in Tehran, November 4, 1978. (Kaveh Kazemi/Getty Images)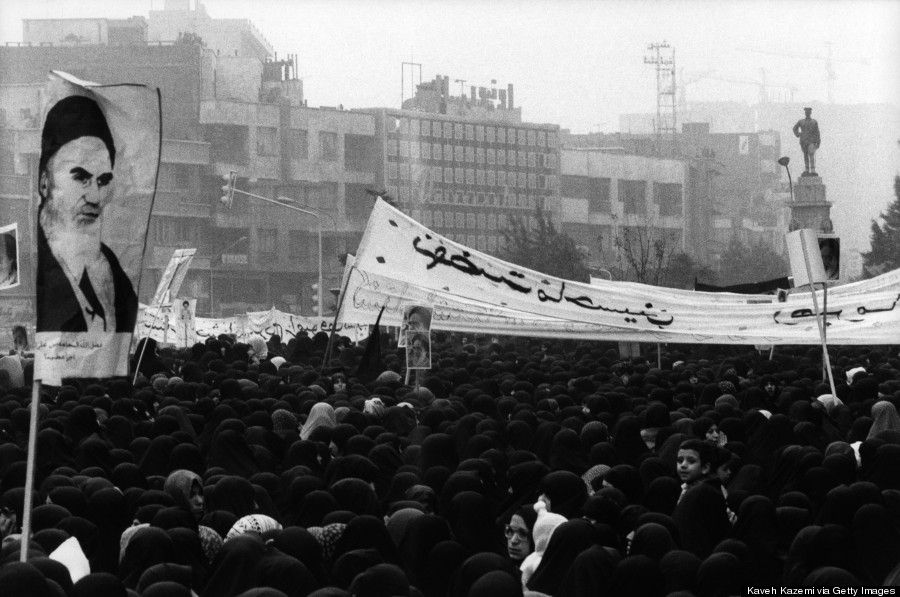 Women demonstrators carrying posters of Ayatollah Khomeini gather around a statue of the ruling Mohammad Reza Pahlavi at 24 Esfand square, December 11, 1978. (Kaveh Kazemi/Getty Images) Shah Mohammad Reza Pahlavi and Empress Farah walk on the tarmac at Mehrabad Airport in Tehran to board a plane to leave Iran, on Jan. 16, 1979. (AP Photo) More than a million supporters of an Islamic republic assembled around the Shayad (Shah Memorial) monument in Tehran, Jan. 19, 1979. (AP Photo/Aristotle Saris) An Iranian soldier holds up a pro-Shah poster, while another holds a portrait of Imam Ali, son-in-law of Prophet Mohammad, as demonstrators pass by with the Iranian national flag flying in the sky on Jan. 25, 1979 in Tehran. (AP Photo/ Bob Dear) Ayatollah Ruhollah Khomeini emerges from a plane after his arrival at Mehrabad airport after 14 years of exile, Feb. 1, 1979. (AP Photo/FY)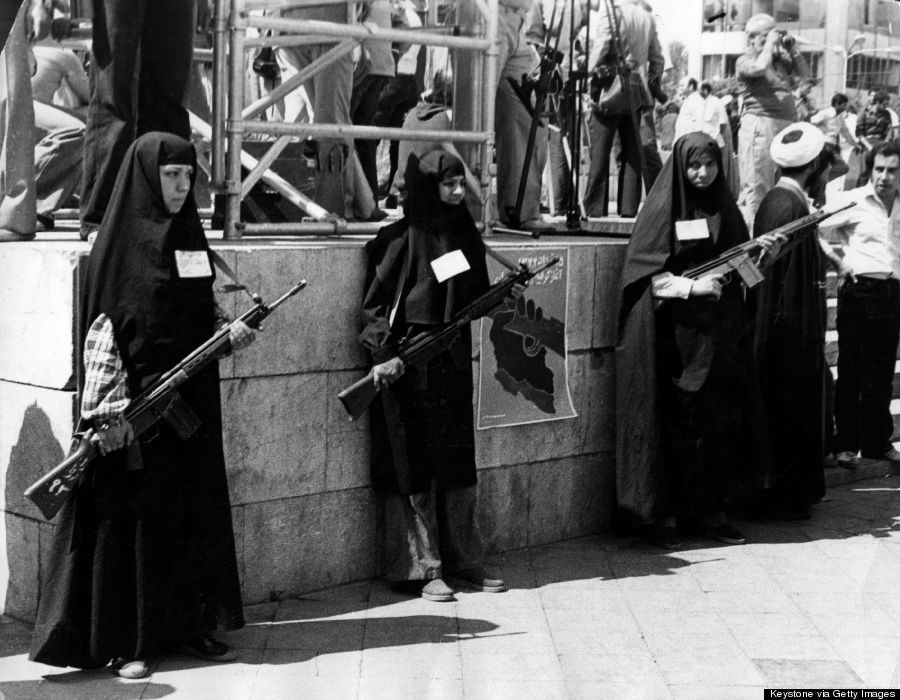 Armed women on guard in one of the main squares in Tehran at the beginning of the Iranian Revolution. (Keystone/Getty Images)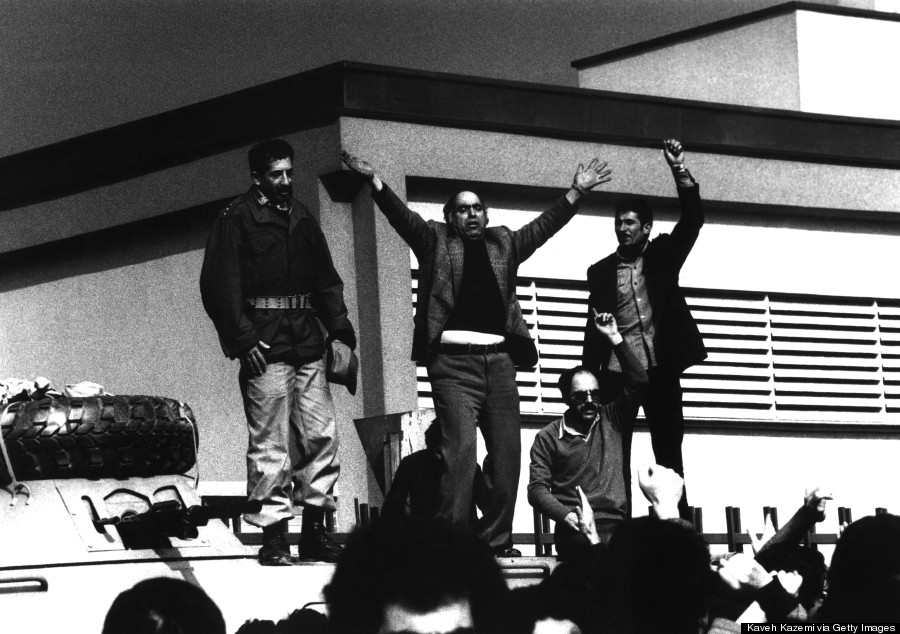 An army officer guarding the SAVAK (National Intelligence and Security Organization) headquarters in Tehran stands on top of an armored personnel carrier, with three demonstrators as a gesture of unity, on the afternoon when the army conceded and the Iranian Revolution was declared victorious, February 11, 1979. (Kaveh Kazemi/Getty Images)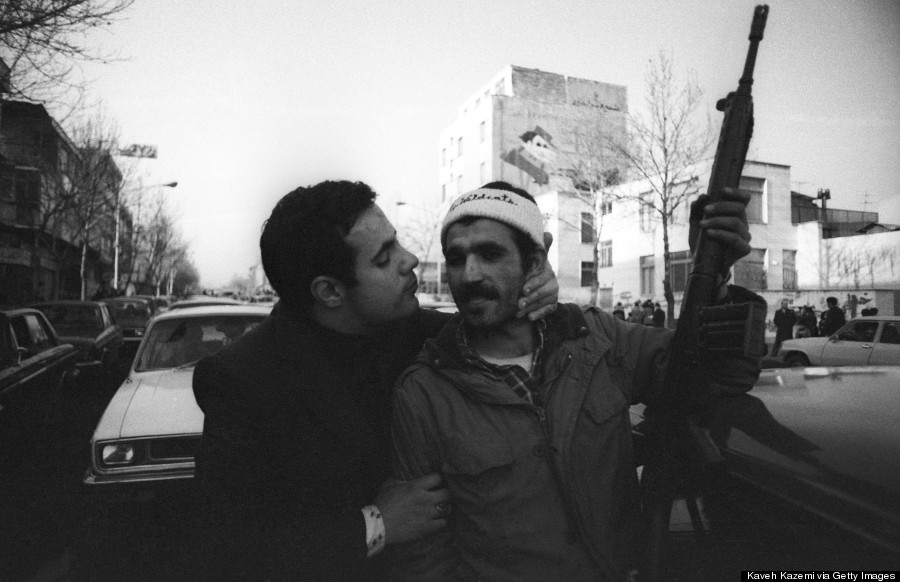 Two men with guns looted from army garrisons celebrate on the afternoon of the victory of the Islamic revolution in Tehran, February 11, 1979. (Kaveh Kazemi/Getty Images) Troops loyal to Ayatollah Khomeini stand in front of the U.S. Embassy during shooting in the compound in Tehran, Feb. 15, 1979.
Calling all HuffPost superfans!
Sign up for membership to become a founding member and help shape HuffPost's next chapter