Every week, we bring you some of the most fascinating photos from around the world.
This week, we've got a powerful image of an Egyptian woman standing in front of a bulldozer, the vast floods in Sudan, and the Perseid meteors.
Check them out below and vote for your favorite:
1.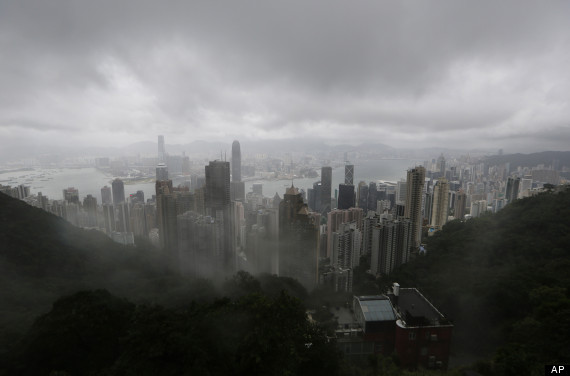 Clouds hang low over Hong Kong, seen from the Victoria Peak, on Tuesday, Aug. 13, 2013 as Typhoon Utor intensified slightly as it moved towards the western coast of Guangdong. (AP Photo/Kin Cheung, File)
2.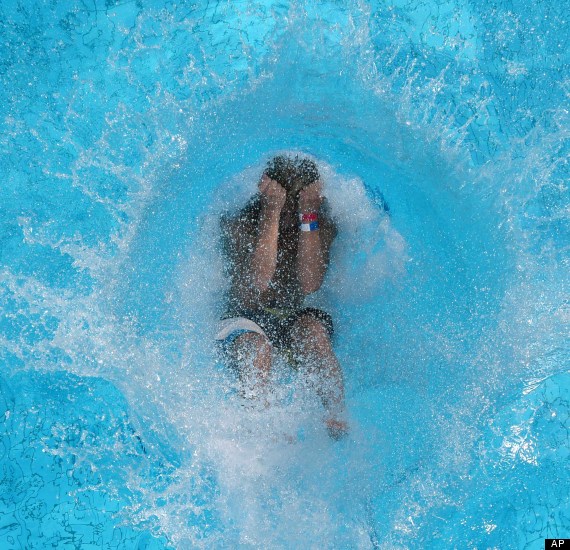 A participant takes a test jump during the German Splash Diving Championships at at a public pool in Berlin, Germany, Friday Aug. 16, 2013. (AP Photo/dpa, Matthias Balk)
3.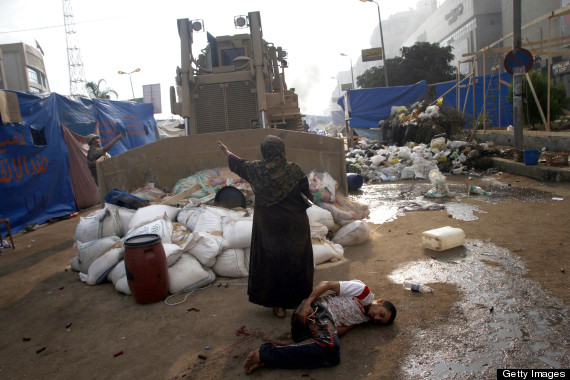 An Egyptian woman tries to stop a military bulldozer from hurting a wounded youth during clashes that broke out as Egyptian security forces moved in to disperse supporters of Egypt's deposed president Mohamed Morsi in a huge protest camp near Rabaa al-Adawiya mosque in eastern Cairo on August 14, 2013. (MOHAMMED ABDEL MONEIM/AFP/Getty Images)
4.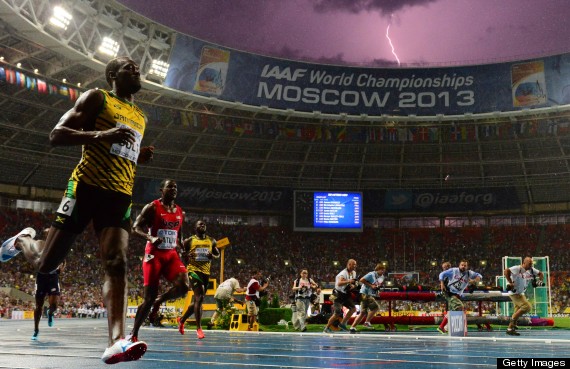 Jamaica's Usain Bolt (L) wins the100 metres final at the 2013 IAAF World Championships at the Luzhniki stadium in Moscow on August 11, 2013 while a lightning strikes in the sky. (OLIVIER MORIN/AFP/Getty Images)
5.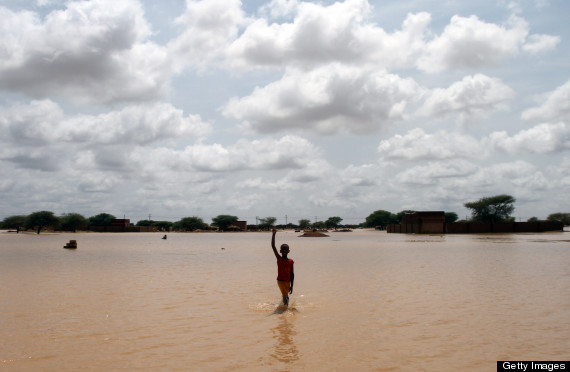 A young Sudanese boy points to the sky as he walks through a flooded street on the outskirts of the capital Khartoum on August 10, 2013. (ASHRAF SHAZLY/AFP/Getty Images)
6.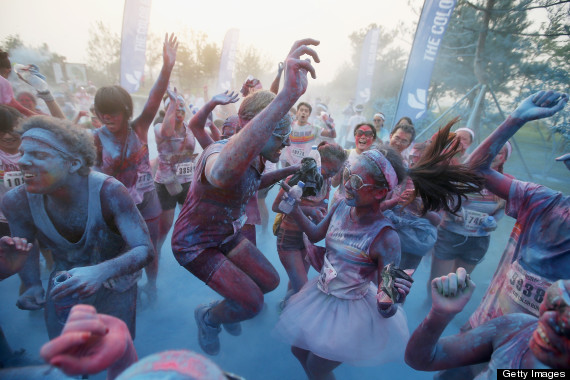 Competitors dance as running through the blue colour throw area during the Colour Run at the Beijing International Garden Expo park on August 10, 2013 in Beijing, China. It's the first time China hosts this event. (Photo by Feng Li/Getty Images)
7.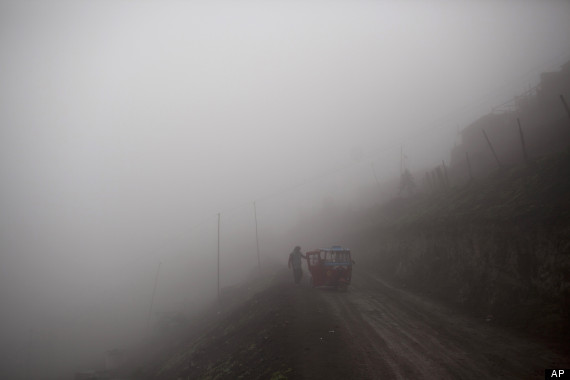 In this Aug. 12, 2013 photo, a man approaches his motorcycle taxi during a foggy morning at the Santa Maria neighborhood in Lima, Peru. (AP Photo/Rodrigo Abd)
8.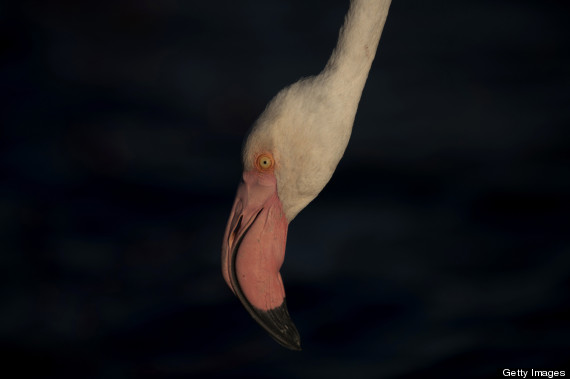 A picture taken on August 10, 2013 shows a flamingo on the Fuente de Piedra lake, 70 kilometres from Malaga, during a tagging and control operation of flamingo chicks to monitor the evolution of the species. (Jorge Guerrero/AFP/Getty Images)
9.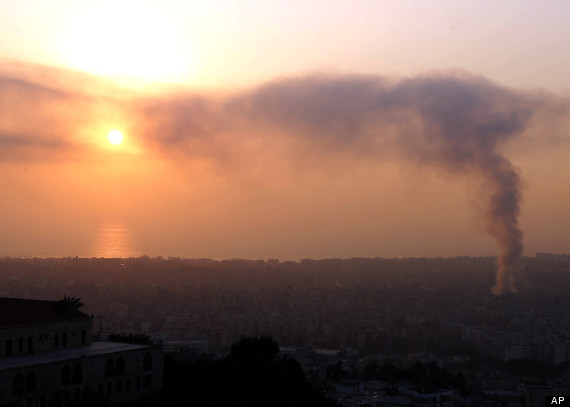 Smoke seen from Mount Lebanon rises from the site of a car bomb explosion in southern Beirut, Lebanon, Thursday, Aug. 15, 2013. (AP Photo/Ahmad Omar)
10.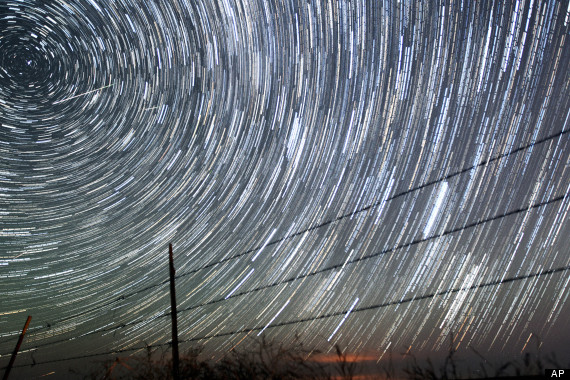 Perseid meteors, upper left, streak past time-lapse-captured stars early Tuesday morning, Aug. 13, 2013 north of Cheyenne , Wyo. (AP Photo/The Wyoming Tribune Eagle, Blaine McCartney, File)
REAL LIFE. REAL NEWS. REAL VOICES.
Help us tell more of the stories that matter from voices that too often remain unheard.