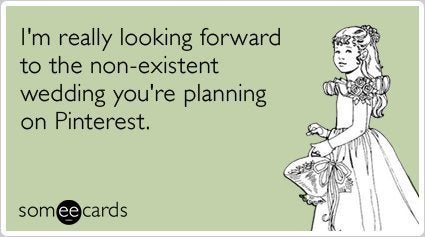 Earlier this week, the witty greeting e-card website released this snarky little gem of a card, which reads, "I'm really looking forward to the non-existent wedding you're planning on Pinterest," effectively calling out all of the beyond-obsessed single women who have begun planning their imaginary nuptials on the photo-sharing site.
While some aspiring brides create elaborate boards entitled "Wedding" or "Someday My Prince Will Come," others are using their boards to not-so-subtly hint at their reasons for pinning photos.
Take, for instance, the woman who named her wedding-themed board "Dear boyfriend, please propose!", or the other user who pointedly wrote in the description of her diamond-heavy "Jewelry" board, "In case my boyfriend ever looks at this; a good place to get ideas for what an engagement ring should look like."
Some wedding-board enthusiasts aren't even in a romantic relationship, which seems like the minimum requirement for those planning a wedding.
Is this obsession with non-existent dream weddings getting out of control? According to YourTango.com writer Lyz Lenz, it's simply a bad idea. "Planning your wedding before you even have a spouse to be completely misses the point of a wedding -- the uniting of TWO people," she wrote in March. "It's about the both of you."
According to HuffPost blogger Sarah Shewey, the first step to planning a wedding is to "put a ring on it!."
While it may seem ridiculous to many, this might just be another way that single ladies can indulge themselves in pretty images and the romantic fantasy of the Big Day -- even if they never tie the knot.
After all, who's to say a single girl shouldn't dream?
Click through the slideshow below to see other Someecards.com e-cards that poke fun at the phenomenon of wannabe brides on Pinterest.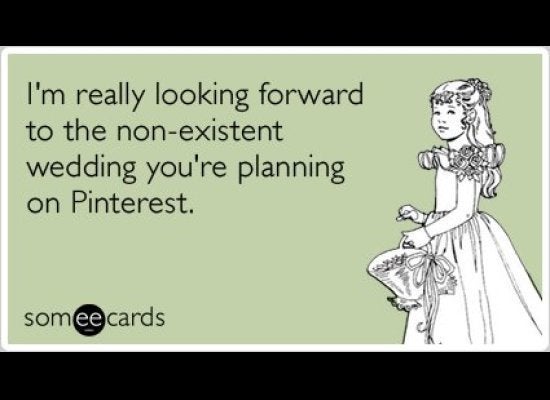 SOMEECARDS WEDDING PINTEREST
Related