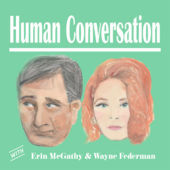 The simple act of conversation. That's really the essence of what comedic types Erin McGathy and Wayne Federman are up to each episode of Human Conversation. How's it different from the tsunami of other yakfest podcasts out there?
First of all, the hosts are funny. Pound for pound, Federman has to be one of the driest, drollest humans on the planet. And McGathy is one of those frothily funny people who is just fun to listen to as she gamely keeps pace with her co-host.
In talking to Federman during last weekend's 4th Annual Los Angeles Podcast Festival, I learned that the "gimmick" to the show is that neither he nor McGathy refer to Google, the Internet or any other resource during their chat. Which is why the conversations are so human - they're filled with factual errors, half-remembered statistics, and lots of "you know who I'm talking about - that guy...". So part of the entertainment is when you find yourself yelling corrections at no one in particular as the show unfolds.
In this episode the hosts share their semi-lucid memories of doing ecstasy...or was it molly? Also clothing styles that may or may not be flattering depending on the wearer. Oh, and there's another built-in hook to keep listeners coming back: Each subsequent episode kicks off with a rundown of corrections to all the mistakes made in the previous installment.
THAT would be a nice addendum to have in real life conversations.
Some people walk away from Saturday Night Live never to be heard from again. Others end up hosting late night talk shows. Bill Hader, on the other hand, seems to be everywhere these days, from movies (last year's amazing The Skeleton Twins) to Apple commercials on TV.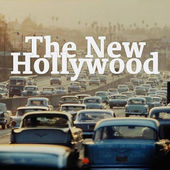 This week he turns up with host Brian Flaherty on The New Hollywood podcast and seems in no hurry to be anywhere else. The conversation ranges from stuff we've heard elsewhere, like about Hader's Tulsa, Oklahoma, upbringing, to the minutiae of why and how he selected some of the cinema obscura to show when he guest hosted on Turner Movie Classics. (One main draw were movies that were unavailable on DVD.)
Calling out favorite actors based on out-of-character parts was another area staked out in conversation. (Such as Henry Fonda's turn in Once Upon A Time In The West, "because he shoots a kid!")
Flaherty also gets his guest to get pretty deep into the action behind IFC's Documentary Now mockumentary series from Hader and Fred Armisen.
By the end of the hour and a half chat, it seems Hader is surprised it's over and he's ready for more...and so are we.
The Human Conversation, The New Hollywood reviews and other podcasts mentioned originally posted as part of This Week In Comedy Podcasts on Splitsider.com.
Marc Hershon is the host and executive producer of Succotash, The Comedy Podcast Podcast, featuring clips from comedy podcasts from across the Internet as well as interviews with podcasters, comedians, and assorted show biz folk.
Popular in the Community