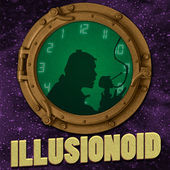 The improvised sci-fi comedy podcast out of Toronto, Illusionoid, kicks off its fifth year and fifth season in Podcastland this week. In an episode entitled "Day Million", the three-man cast of Paul Bates, Lee Smith, and Nug Nahrgang continue the tradition of this loosely-linked anthology series by introducing characters we'll likely never hear from again.
The three owners of a copy store that has been around for millenia, somehow surviving depressions, droughts and disease, have a single customer on their one millionth day in business. The one page he drops off to have duplicated turns their copy machine into a time-crossing dimensional portal, through which hilarity ensues.
It's all improvised, every episode of the show a chapter in mankind's ultimate destruction as described by a lone survivor located on the moon somewhen in the future. The stories hold together so well that iTunes lists it in the Modern Drama section of the podcast store, but make no mistake, this is "genre improv podcasting" (to quote Nahrgang) of the highest order.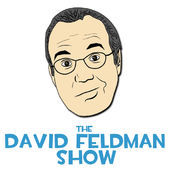 What's better than a podcast with a smart, ascerbic, and irreverent host? How about when he has another smart, ascerbic, and irreverent podcast host as a guest? That's the case this week when David Feldman, the host of The David Feldman Show, welcomes Greg Fitzsimmons, host of Fitzdog Radio.
Not only are the two clearly friends of the same standup comedy stripe, but they tread into many areas of conversation over the course of an hour where angels would fear to tread. On the surface, the subjects of work, family, religion and sexuality may not seem too dodgy, but this pair keeps pushing the envelope, each daring the other - through tone and inference - to shove back a little harder.
Feldman's become a master of keeping his interviews on track, which is an easy task with Fitzsimmons, who has ably learned to do the same on his own show.
This duo is so fast and sharp that someone should consider pairing them up and letting them co-host a show where they could take listeners calls -- it would be a delight to hear how they do with a few curve balls from the crowd.
Podcasts I'm also listening to this week: Black Men Can't Jump: In The Heat of The Night w/Keegan-Michael Key; and Monster Party: Best & Worst Sci-Fi Villains w/Fred Belford
The Illusionoid, The David Feldman Show reviews and other podcasts mentioned originally posted as part of This Week In Comedy Podcasts on Splitsider.com.
Marc Hershon is the host and executive producer of Succotash, The Comedy Podcast Podcast, featuring clips from comedy podcasts from across the Internet as well as interviews with podcasters, comedians, and assorted show biz folk.
Popular in the Community