From my perch here in Retirement Land, the news looks pretty good for InsideOut Literary Arts Project (iO), the 'baby' I founded in 1995.
This week I couldn't have been prouder to discover not one, but FOUR iO grantees among the winners in the latest round of Detroit Knight Arts Challenge grants: iO itself, for the THIRD year in a row, winning funds to support our Citywide Poets work; Acting Director Alise Alousi with her SECOND individual grant spreading love and awareness of Iraqi literary culture; and writers Chace Morris and Deonte Osayande, all "hailing," as Ben Alfaro pointed out, "from inside the four walls of InsideOut."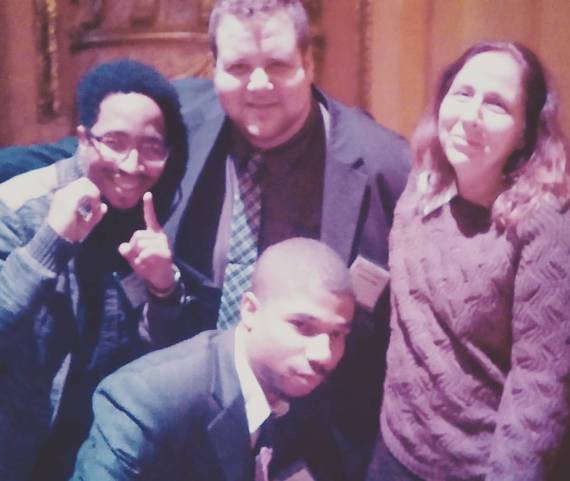 At the Knight Awards, 11/9/15: Clockwise from bottom, Deonte, Chace, Ben, Alise.
And, since poetry is at the heart of the mission and history of iO, our own little creative incubator, Score One for poetry matters.
Canadian Prime Minister Justin Trudeau helps us to Score Two. This avid, handsome bus rider has created gender balance in his cabinet, put the causes of Native peoples front and center, and, not least, advocated for poetry. In a note, written after he participated in a centenary reading in Montreal in 2012, he looks forward to talking about "how we need poets to change the world," echoing the great romantic poet Percy Bysse Shelley and making my heart -- to echo another great 19th Century romantic, William Wordsworth --"leap up."
So fast forward a few centuries. Although I am retired from iO, my heart continues to beat strongly from the sidelines. To those who would dismiss iO's work as 'just doing poetry,' I refer to "Curiously Strong," my final blog as iO's ED, which describes iO's profound effects. I was especially proud to report findings from one of our alumnae, Deecha Draw, who took it upon herself to assess iO's impact as her capstone project for a master's degree in public policy. So Score Three, for life changing impacts on the students we serve.
I am also proud to point to the release this past August of To Light a Fire, an anthology I co-edited with iO's Peter Markus, published so gorgeously by our friends at Wayne State University Press. Twenty-three iO teaching poets describe their journeys bringing poetry into the lives and classrooms of the over 60,000 Detroit students that iO has reached over the years. Among the many fine reviews of this book by poets and educators such as Al Young and Ed Hirsch, I offer this from Carol Jago, past president of the National Council of Teachers of English.

Educators nationwide are desperate for an antidote to student apathy and disengagement. InsideOut has the solution. ... The work described here goes beyond college and career readiness. These teachers are preparing students for life!

So Score # Four for the impact of poetry on schools and communities.
Over the past 20 years, iO's roots have grown deeper and stronger in Detroit classrooms. We have, as I like to say, survived a variety of regime changes. Regardless of intrigues and malfeasances at the top, principals and classroom teachers understand and support the ways that iO writers help children discover their voices and bring out, day after day, beautiful poems like this one.

You Have to Love It

I ask them to play with
the poem until you're
out of breath.
Or press it against your heart
for all eternity.
I say rock it to sleep in
the rocking chair that
squeaks when you sit down,
or take the poem for a walk
in the new stroller you bought a week ago.
A poem isn't something you can leave
on the doorstep of an orphanage.
A poem is the best thing that's
supposed to happen to you.
De'Jianna M.
Marcus Garvey Academy
I'm starting to lose count here, but with poems like this we can surely score one for capital B Beauty -- Beauty as a supremely valuable social good -- and I'm glad that Wayne State University Libraries agree. Earlier this week they asked for updates to their list of titles of iO school literary magazines now accessioned in their collection. (For those who may not know, InsideOut creates a beautiful literary magazine for each school served, 28 separate journals in 2015.) The titles, which are decided upon by the students, read like poems and capture the spirit and joy of Detroit's young people - something iO has been bringing to the world for the past 20 years.
My heart lifts up, again, just reading these titles: A Bunche of Bees in the Sunflowers, As I Wonder, Be Anything, Bigger Than Me, from Bunche, Northwestern, Fitzgerald and Schulze schools respectively. Many of the schools on this list have closed or been razed or otherwise disappeared into the maw of Detroit's educational devastation, but these poems, this cultural treasure, live on.
In "How InsideOut Can Save the World," the keynote poem he presented at the launch of To Light a Fire at the Scarab Club on September 3, 2015, Kresge Eminent Artist and iO Founding Board member Bill Harris schools the latest wave of 'in-migrants' to Detroit and honors this treasure. Here is an excerpt from his epic poem, which can be found in its entirety on the iO website.
...That defiant hope,
the refusal to quit,
that Detroit Snob spirit,
that Desiree talks about,
that
making a way out of no way
Spirit of Detroit
that is the real attraction
of the latest wave of in-migrants.
& if any of them, the gentry, the merchants,
artists, self appointed saviors,
the speculators,
carpet baggers,
seekers of low rents, the
sociologists, shysters, spectators,
returning former Detroiters,
want to know about Detroit,
& the essence of that spirit
& how it has survived the onslaught
of emotional, psychological, economic
& racial tsunami
& still retained its soul
all they have to do,
all they have to do
is read any one of the
InsideOut anthologies...
It's an exciting time in Detroit right now, with groups like Kresge Arts in Detroit (disclosure: I was a 2013 KAID Literary Fellow) and the Knight Foundation enriching the cultural climate and supporting the newbies as well as those of us who have been creating cultural treasures for a long time.
It's an especially exciting time for iO as we conclude our part in the Give Detroit Challenge, coming in (at this writing) a strong second. Special props to rapper Danny Brown, who has helped to raise more than $10,000 for iO. Brown himself a DPS graduate, gets what it means to survive a racial tsunami, retain one's soul and ultimately do a bit of good in return.
Calling all HuffPost superfans!
Sign up for membership to become a founding member and help shape HuffPost's next chapter