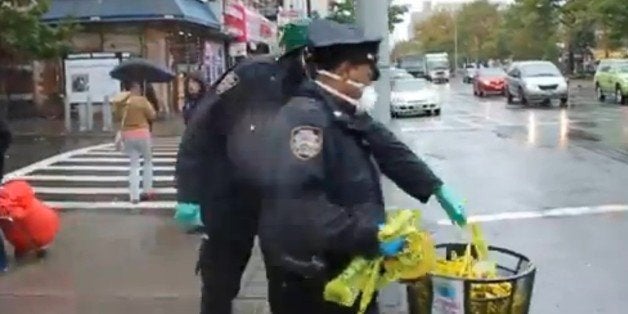 UPDATE: 1:27 p.m. -- A spokesperson with the NYPD Office of the Deputy Commissioner, Public Information, responded to the disposal of materials in a statement, saying: "Officers responded to the perimeter of the incident in order to redirect traffic and escort EMS to Bellevue Hospital. At no time did the officers come in contact with the male patient or enter the apartment building."
Police working the scene around the Manhattan apartment of the doctor diagnosed with Ebola were wearing gloves and masks for their protection, but photos and videos show at least two officers dumping their gear and caution tape into a nearby street-corner trash can.
It's unlikely the officers had been inside the apartment of the patient, Dr. Craig Spencer, as early reports from the scene say authorities who went in were wearing hazmat suits. The New York Post said police sealed off the entire block in front of the building, so the officers may have been on duty outside.
However, the casual trashing raised eyebrows at a time when many were already on edge over the first ebola outbreak in New York City.