Joshua Garcia drowned in a pool April 2, just moments after his mother reported him missing, according to WFAA TV.
Officer Damon Cole of the Fort Worth Police Department was the first on the scene, where Joshua's mother was searching for the child in a neighbor's backyard pool.
When Cole pulled Joshua's body from the pool, he saw the boy was wearing Spider-Man shoes and a Spider-Man shirt, according to WFAA TV.
"We see a lot of difficult things on this job and you try not to make it personal, but this is the first time I've been directly affected like this in 16 years as a police officer,'" Cole told Today.com. "I don't view myself as a hero. I just wished I had super powers to save that boy."
When Cole learned Joshua's family was planning to lay the boy to rest with a Spider-Man funeral, he decided to honor his memory by dressing up as the web-slinging hero at the funeral.
This isn't the first time Cole has made a heroic appearance. He is a member of Heroes, Cops and Kids, a group of police officers in the Dallas-Fort Worth area who dress up in superhero costumes for charity events and other functions.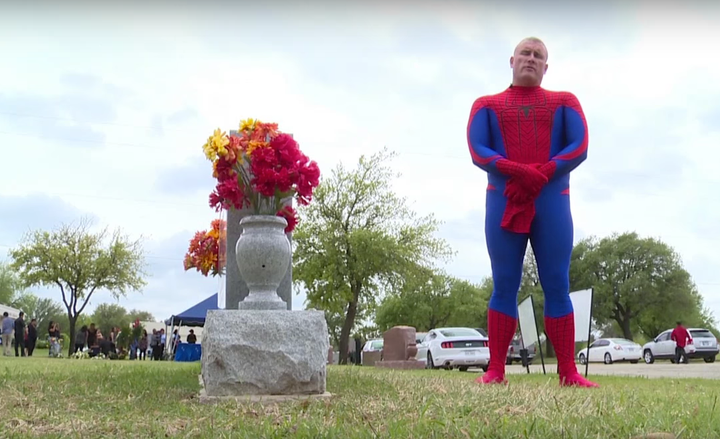 BEFORE YOU GO
PHOTO GALLERY
Random Acts Of Kindness