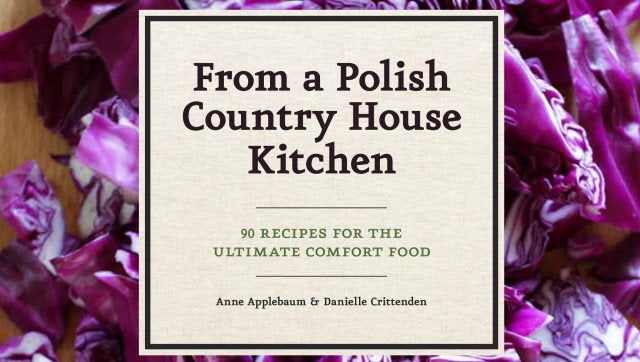 We admit: We are unlikely cookbook writers. Anne is a historian and columnist who has spent most of her career covering the politics of Eastern Europe and Russia. I'm a Washington-based journalist who has mostly occupied herself with politics and women's issues. And many people would suggest that Polish food is an unlikely topic for a cookbook. We encountered this reaction throughout the researching and writing of From a Polish Country House Kitchen:
"What are you working on now?"
"A Polish cookbook."

Snickers or a perplexed look. Then, unfailingly, a reply along the following lines:
"How many recipes can you get out of boiled potatoes?"
Unfortunately for many of us, including even the millions of North Americans with Polish ancestry, the very term "Polish cooking" conjures up unfortunate memories of heavy, greasy dishes: the food of exile and poverty. Its reputation was not enhanced by 45 years of communism.
But as we happily discovered, the new Polish cuisine is not, as one might say, your grandmother's cooking.
Since the fall of communism in 1989, Polish cuisine, which had been something of a national secret -- sometimes restaurants were hidden away in private houses along with the underground printing presses -- burst into the open, along with free trade unions and democratic political parties. The first phase was chaotic, and often derivative. In Warsaw, new restaurants served pretentious French food, together with overpriced French wine. Meanwhile, Polish versions of "pizza" -- melted cheese and sautéed mushrooms on sourdough bread -- appeared in the provinces, along with McDonald's and even cheaper imitations.
But in recent years, Polish cooks, both amateur and professional, have returned to their roots, launching a revival of Polish cooking on a national scale. The most fashionable Warsaw and Krakow restaurants no longer serve foreign food with fancy names. And they serve szmalec, an old-fashioned peasant spread made of pork fat, instead of butter. They offer black bread to spread it on, instead of baguettes. They make robust pork and duck dishes instead of grilled tuna and wasabi (although, we hasten to add, grilled tuna and wasabi are available in Warsaw as well).
Creative chefs have also begun to experiment with, and promote, the use of Polish ingredients. The entrepreneurial Gessler family began opening restaurants specializing in new versions of traditional dishes, from herring tartare to pierogi as exotic as the dim sum of Hong Kong. The Slow Food movement has also taken off in Poland, and has spread to restaurants such as Bulaj in the resort town of Sopot, which specializes in local fish and local game, served with locally grown organic vegetables. Slow Food entrepreneurs have also begun to raise the quality of many traditional foods, from sheep's milk cheese, a traditional product of Poland's mountainous South, to mead (fermented honey), which now comes in dozens of variations.
The cuisine has been modernized, and is less fatty and less salty than it used to be. Previously scarce vegetables now play a leading role. But the new cuisine is recognizably Polish, not pseudo-French or mock Italian, and is much the better for it. Outside the major cities, provincial restaurants -- karczmy -- now serve soup and pickles instead of hamburgers.
It is this revolution we have tried to capture in our cookbook -- one which we hope to bring to America, to those who love and remember Polish food -- and to those who are nostalgic for Jewish food as well: In North America, Jewish cooking remains a kind of fossilized Polish cuisine, as so many Jews here trace their roots back to Poland and Eastern Europe. It too suffers from a reputation for heaviness: bloated pierogies, boiled cabbage, vinegary, preserved fish, potatoes, potatoes, potatoes. What a joy, thus, to re-discover the subtleties and interesting flavors of Polish-Jewish cuisine unhampered by poverty or politics.
The concept for the book evolved a few summers ago on the back porch of Anne's Polish manor house, Dwor Chobielin. She and her husband, Radek Sikorski (now Poland's Foreign Minister) had rescued this house from ruin, and painstakingly, over many years, restored it to its original beauty. Radek's family wanted to bring back something that had been lost during the years of war and communist occupation. In a different way, we hope our cookbook can do the same.
For a preview of recipes and more photos, go to the cookbook's website here. Follow the book on Twitter: @polishsoulfood