Paul Fehribach hesitates. He's standing over perhaps thirty pounds of succulent, decadent, whole hog barbecue. In a few hours, this particular barbecue pork will be declared the winner of the Whole Hog competition at the North Carolina State Barbecue Championship. The cookers, Boone Town BBQ, are sporting Appalachian State colors and we're really enjoying their company. They've offered us cold beer and as much of this wonderful pork as we care for. But it's early in the day and we've got chicken, ribs, pulled pork, and beef brisket still to go. Paul cracks off a piece of skin (sometimes called bark) and pronounces it perfect. And like me, he probably wants to pull up a lawn chair, open another beer and just sit and talk barbecue with these guys.
"This is the best bark I've had, it's just remarkable."
Paul Fehribach (Big Jones Restaurant, Chicago) and the guys from Boone Town (Nate Seamone, Joey Lucas, Jeff Lamont) are both making their first visit to Tryon and the Blue Ridge BBQ Festival.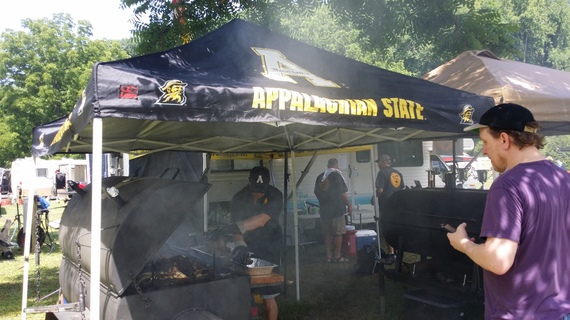 "Whole hog barbecue is really a dying art," says Nate Seamone. "There's almost 80 teams here today and only nine of us are competing in whole hog. There's so much mediocre barbecue in this part of the world, in the deep South, it's crazy. So many people want to throw a hog over charcoal or gas and twelve hours later call it done. Lots of folks want to cover it up with heavy, sweet sauces but that's just a way to hide poor technique. We like doing it the true way, the way barbecue was meant to be enjoyed."
The proof is in the pudding of their pork skin. It's spent eighteen plus hours holding in slowly melting pork fat. The inside of the skin is slightly chewy, sticky from caramelized fat and salty from the flesh with a spark of apple cider vinegar. The outside snaps like lavash and its bite is as crisp as a celery stalk. We're feasting on the most humble of Southern foodstuffs, the slow-cooked skin of a pig, and we couldn't be happier. For a glorious moment, the two of us are chewing and grinning as if we've just found a $100 bill outside of a Louisville Bourbon bar. Maybe just another bite.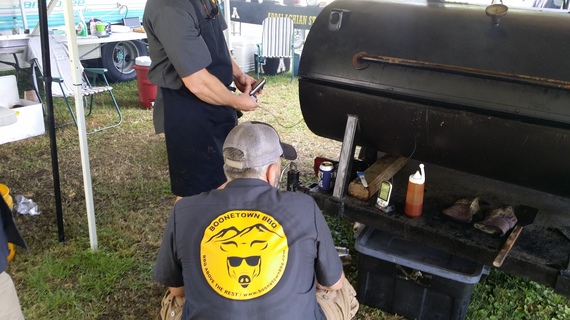 Paul Fehribach has just released his much-lauded cookbook and is in town to cook dinner at Stella's Southern Bistro. Paul is unique in that he doesn't look forward at what Southern food could be, he's looking backward at what it once was. He loves 100 year-old handwritten recipes, time-honored technique, and heirloom ingredients. He's right at home at this cooking contest, where the only fuel is wood and the aroma of slowly cooking pork fat and chicken skin permeates the mountain air. He muses that although this is his first barbecue competition, he can't imagine better barbecue than what we've just experienced.
A few minutes later we're enjoying the company of Walt and Rebecca Moulton of Rocky Top BBQ in Jonesborough, TN. Walt is in everyone's crosshairs this weekend. Last year he finished third overall, the year prior he walked away with the grand prize, and I've been on the receiving end of his hospitality each year. As we're trading introductions, Walt is drizzling a clear liquid over the ribs before Rebecca methodically dusts them with their seasoning, then precisely folds them into aluminum foil. Paul and I each take turns guessing what the liquid is until Walt shakes his head and offer us a taste.
"It's just honey, cut with a little vinegar. Five seconds, that's all I've got to win, so that initial impression is everything. The first bite has to have everything going in the right direction because the judge will grade you on the first impression of the very first bite."
He passes us a couple of chicken thighs. Walt's already turned in his chicken and he's got plenty of leftovers. His chicken is mesmerizing, perfectly balanced between smoke and salt, acid and sugar, heat and spice. Damn.
Paul measures out his words judiciously.
"This might be the best chicken I've ever had. It's just amazing."
Strong words from one of the hottest Southern chefs in the country. As we head off to visit another competitor, I predict we've just tasted first place chicken. An hour later we're back at Walt's table and he's offering us some of his smoked pork ribs.
"I can't imagine better pork ribs," pines Chef Fehribach. "Seriously, these are just... wonderful."
Ever see one of those "award-winning fall off the bone" rib commercials on TV? Spongy texture like that would guarantee a last place finish in a real BBQ competition. As in a great risotto or pasta dish, there has to be a certain amount of tug and texture, and these ribs are certainly al dente. There's layers of texture, an assertive bite of heat and generous tiers of smoke, spice, and unctuous fat. At that moment, Paul and I are both thinking the same thing. This guy's gonna win. We'd tasted ribs from numerous competitors and these had the greatest amount of depth.
We wander off in search of beef brisket and we find Hudson Denny and his team, Too Bad You're My Cousin. The window for turning in beef brisket is only minutes away and he knows his is overcooked. He gently probes the whole brisket with the tip of a knife and frowns. The beef brisket has been on his smoker for maybe fifteen hours or more and he's left with little recourse. He shakes his head then carefully tests his second brisket.
"Damn. We're finished, boys."
Hudson and his team have competed in the North Carolina Barbecue Championships for eleven years and I've been there for most of those. In years past, his brisket has been one of my favorites. Today is not his day.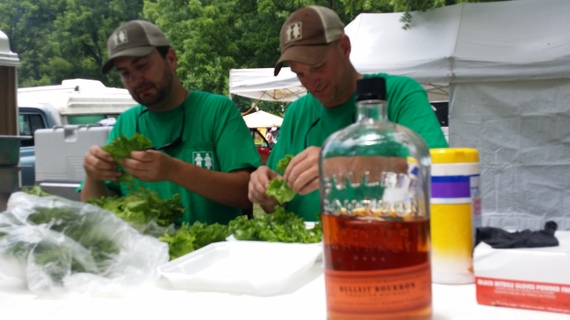 "Maybe we sliced it too early, maybe it was too hot, maybe it's overcooked, doesn't matter now, it's seized up and it's not going to score many points."
Hudson offers us a taste and we try to be helpful -- chef to chef.
"If we were in my backyard and I served this, y'all would be pretty damn happy. But it's not good enough today, not with this much competition."
Hudson offers us a shot of bourbon but one of us is driving, and the other has a cookbook signing to get to.
As we race back to Greenville, fighting off a pork fat-induced lethargy, Paul waxes poetic for this immersion in old school technique and true artisan cooking.
"There's an epidemic of poor barbecue in this country. So it's good to experience true artisan barbecue out here in this beautiful setting, in the shadow of the Blue Ridge."
About 6:00 p.m. that evening, the judges declare Walt and Rebecca Moulton the grand champions. Their chicken and ribs have both scored a perfect 180.
"So how about that my friend. Your first barbecue competition and you get to taste winners in three categories."
Paul agrees and sums up their talent. "That guy was on it."
Related