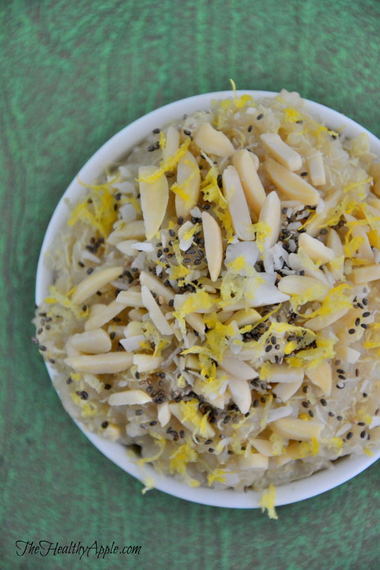 This time of the year is all about getting back into the swing of things. Breakfast seems to take a backseat with parents getting their kids off to school and everyone else trying to fit all their to-do's into the shorter days as autumn approaches. The kids are back to school and our lazy, long days of summer are dwindling down. Our autumn days become shorter, it gets dark earlier, the weather crisps up and our schedules get busier. Many of my clients see their stress creep back in when September arrives and since it's Better Breakfast month, I thought it would be fun to share a few quick and easy portable (and anti-inflammatory) breakfast recipes that are simple to create in your own kitchen without relying on the coffee shop for that inflammatory stale bagel or muffin!
Growing up on Pop Tarts and sugary cereals left my palate yearning for sugar in the mornings until I started to focus on getting fresh, sweet flavors from fresh fruits, coconut flakes, cocoa powder and refined sugars such as honey and pure maple syrup. I love serving a bowl of cooked, fluffy quinoa with honey, toasted walnuts, ground flaxseeds and a spoonful of almond butter; it's loaded with protein, fiber and healthy fats as well as Omega 3 fatty acids to fight inflammation. You can whip up a cup of quinoa on a Sunday night and cook it for 12-15 minutes with water on the stove-top until fluffy and tender, then store it in the fridge until ready to serve warm or chilled as a porridge for breakfast with almond milk or coconut milk.
Another quick breakfast idea is toasting a few slices of gluten-free whole grain bread and topping them with a savory topping (mashed avocado, sesame seeds, sea salt and pepper or a no-sugar added sweet topping (cashew butter, cocoa powder, toasted coconut flakes). These toasts can be served open-faced or close-faced and they're great options for early morning snacks, too, when you need a little something to hold you over until lunch.
Here are a few more quick n' easy portable breakfast recipes to get you started: