"WWE is like the Coca Cola of wrestling," declared Lucha Underground superstar Chavo Guerrero, Jr. "Everybody else is like RC Cola, a cheap knock-off. They all do it exactly like WWE does."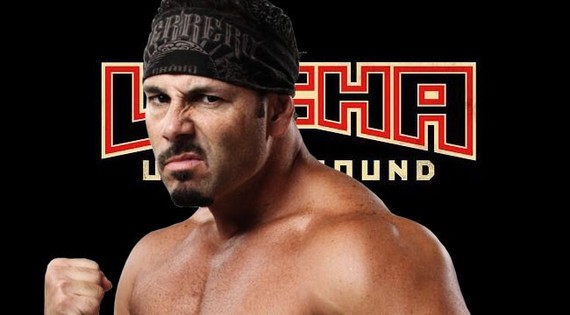 While imitation might be the sincerest form of flattery, Guerrero suggests it might not be the key to success in professional wrestling. Rather than following the existing World Wrestling Entertainment formula, upstart Lucha Underground is forging a path all its own by combining TV's best in-ring action and dramatic elements not found in any of its competitors.
"Even if you're not a wrestling fan, if you watch our show, you're going to like it," promised Guerrero. "The character development, the backstage vignettes, everything we do it's just really, really good."
Now in its second year, Lucha Underground presents a "hybrid" of traditional American wrestling, the high-flying theatrics of Lucha Libre and elements of Mexican "telenovelas." Wrapped in cinematography worthy of the big screen and featuring names both familiar and entirely new to U.S. audiences, the organization brings viewers programming legitimately unlike any other in professional wrestling.
"Every new organization, everybody that starts out, always says they are 'something new,' but all they ever are is a bad copy of WWE," said the third-generation superstar during a recent telephone interview. However, when launching Lucha Underground, Guerrero said Mark Burnett -- the Emmy Award-winning producer of such hits as Survivor, The Voice and Shark Tank -- opted to make his product genuinely different.
One thing distinguishing Lucha Underground from other pro wrestling companies is its broadcast schedule. Companies like World Wrestling Entertainment, Total Nonstop Action and Ring of Honor release weekly episodic programming year-round with no break.
"All those other companies -- WWE, TNA, Ring of Honor -- are all live event companies," explained Guerrero. "Their TV just pushes you to their network, gets you to go to their live events or 'super-sizes' you to buy their pay-per-views. We don't have all that stuff."
'Lucha Underground' Commentator Vampiro Interviews Chavo Guerrero, Jr.
Without the pressure to promote such things 52 weeks a year, Lucha Underground operates on a "seasonal" TV schedule more closely associated with sitcoms and dramas. It kicked off a second broadcast season on cable's El Rey Network Jan. 27.

"Our TV just gets you to watch from one TV show to the next, to the next and the next show," continued Guerrero, a 20-year ring veteran. "That being the case, that's how we treat it: It's a TV show with wrestling. That's how wrestling should be."
To that end, Lucha Underground filmed its entire season in bulk before returning to television last month. From a business perspective, this works out exceptionally well for the performers, stated Guerrero.
In addition to starring on a weekly televised wrestling show, he pointed out, competitors also have time to pursue outside interests, attend to other careers or -- if they choose -- participate in other wrestling shows as permitted by their contracts. Most importantly, he says, they have time to recuperate from the hard-hitting matches for which Lucha Underground is known.
"That's why you see the WWE guys are all -- well, a lot of them -- are broken down, pretty much, because they go hard!" said Guerrero. A multiple-time World tag team champ and one-time ECW World champ while with company, he certainly knows the stresses of a WWE career.
"They go really, really hard," he went on to say, "All wrestlers go really hard, but there's no time [for WWE talent] to heal. It's easy for them to get burnt out."
From a viewer perspective, Lucha Underground's seasonal approach is also advantageous. The company's drive to create compelling television which draws viewers to tune in weekly has led to components never tried before in wrestling.
"We've killed people -- killed characters -- on the show, so in a sense, we're killing wrestlers. You don't see that anywhere else!" bragged Guerrero. "They're not killing off Randy Orton, where you can see his blood splatter against the wall, but we've actually done that on Lucha Underground!"
Indeed, the Southern California-based company takes the concept of "sports entertainment" to all new heights! Vignettes and behind-the-scenes segments seamlessly interweave characters' backstories, elements of suspense, the supernatural, Mexican legends and folklore on a professional wrestling tapestry. Season 2 has even incorporated storylines reminiscent of popular TV crime procedurals such as Law & Order.
"That's where the theatrics become involved, and it's different!" said Guerrero of the show. "We've taken existing formats and made our own format. I think it's pretty amazing."
According to the father of two, his kids agree. This new generation of Guerreros -- 13 and 16 -- had "outgrown" interest in pro wrestling, he said. It's a tough pill to swallow, one would imagine, when your family has spent decades building one of the greatest legacies in the industry.
Despite great-grandfather Gory Guerrero being one of Mexico's most revered luchadores, grandfather Chavo, Sr. and great uncles Mando and Eddie being legends in their own rights -- including Eddie having a WWE World title and Hall of Fame induction to his credits -- Chavo, Jr.'s kids lost interest. After "growing out of that ten-year old wrestling fan stage," he says Lucha Underground reeled them back in!
"They love it!" Guerrero said enthusiastically. "They're like, 'Dad, we're hooked again! You've got us!'"
Like many who might not necessarily find other wrestling products appealing for a variety of reasons, Guerrero's children are avid fans of Lucha Underground. While they enjoy the in-ring action, and he would like to think his appearances have something to do with their interest, the superstar suspects his kids reflect the show's greater appeal for audiences.
"They're watching it start-to-finish, whether I'm on the show or not, and loving it!" Guerrero concluded. "All the character development... It just hooks you. It does!"
'Lucha Underground' airs Weds. nights on El Rey Network. Check local cable listings for broadcast times and availability.
Calling all HuffPost superfans!
Sign up for membership to become a founding member and help shape HuffPost's next chapter