There are countless strange sights and bizarre locations around the world - places that amaze and confound us. There are natural wonders that make us stare in awe; there are artistic and architectural feats that boggle the mind.
But did you know that some of the most extraordinary of those unique and wondrous places are underwater?
If you're a scuba diver - and if you're not, start here instead - you simply must seek out some quirky underwater locations when planning your dive trips.
Wherever you're headed for a vacation this year, if it's in the Caribbean you're sure to have the option to scuba dive. If you're not yet trained, learn how you can become a PADI diver at one of over 6,000 locations worldwide.
PADI - the Professional Association of Diving Instructors - is recognized as the world's leading scuba diver training organization. With high standards for their dive instructors, you can rest assured that your education is thorough and your safety is paramount.
If you're planning a trip to the Caribbean this year, here are a few must-see quirks underwater that will provide you with an incredibly unique dive.
Moliniere Underwater Sculpture Park, Grenada - Jason DeCaires started the Underwater Sculpture Park in 2006 in one of Grenada's Marine Protected Areas. With more than 50 life-size sculptures, the project shows environmental processes that turn art into an artificial reef. As marine life begins to grow on the surface of each piece, a variety of colors and patterns emerge, making a stunning visual.

Photo courtesy of Michelle Taylor Underwater Photography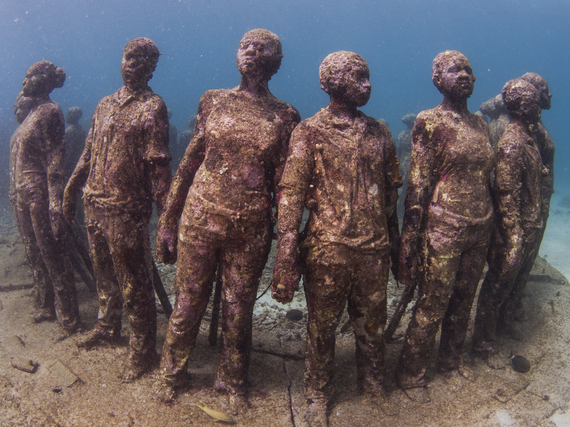 Photo courtesy of Michelle Taylor Underwater Photography
La Parguera, Puerto Rico - Best known for its bioluminescent bay, La Parguera is a small village in southwest Puerto Rico with a reputation as a summertime water sports hotspot. A resident dinoflagellate population literally lights up the bay at night by putting on a bioluminescent show when disturbed. Other dive opportunities here include coral reefs and walls, considered by many to be the best in the region. There are also mangrove islands, which while relatively shallow, offer divers an opportunity to interact with a different and diverse cast of characters, headlined by the manatee.
The Cenotes, Mexico - If you want to try something truly special, dive a cenote. These deep, freshwater-filled sinkholes formed when the roofs of limestone caverns collapsed and filled with water. The Yucatan's elaborate cenotes have intricate cave systems and underground tunnels that draw divers from around the globe. Many cenotes boast pristine turquoise waters and a beautiful array of stalagmites and stalactites formed over millions of years. Proper scuba training and experience is a must for this experience.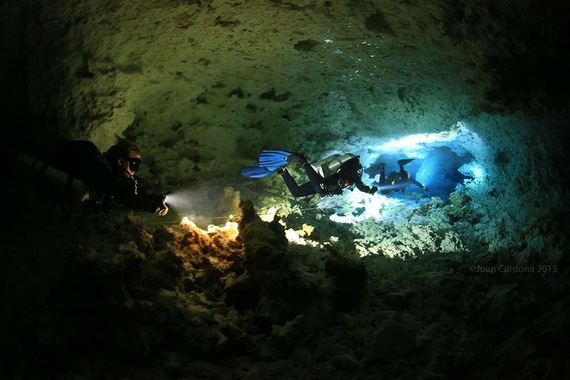 Photo courtesy of PADI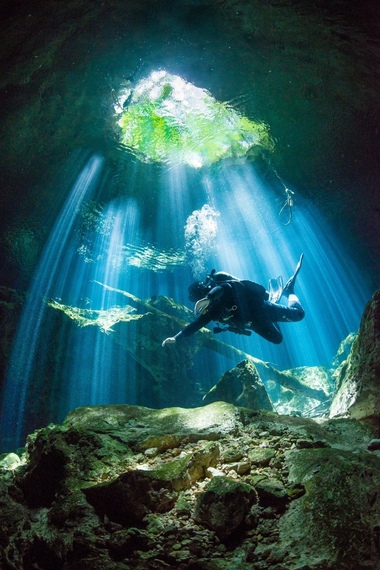 Photo courtesy of PADI
If you're already an Open Water diver, now is the time to work toward your advanced certifications. The Cenotes are a prime example of the underwater wonders you might be missing if you don't continue your PADI education.
Don't miss out on an entirely unique and wonderful world underwater. Exploring our oceans offers you a new way to travel, a newfound respect for our environment, and it truly connects you with people from all over the world. Some of Earth's most impressive wildlife is found underwater, and having the opportunity to share an encounter with these creatures can change your life.
Have a nice dive!
----------------------------------------------
This article was completed and photos were contributed with assistance from PADI. Amanda Walkins is a PADI Diver and former PADI dive shop manager in Roatan, Honduras.
Amanda Walkins is a serial expat and travel addict. You can read more about how meeting a dive instructor changed her life at www.amandawalkins.com. Spoiler alert: She married him.