Downton Abbey it was not. Carpets were threadbare. Wild cats fought and made raucous love in the basement. Bees took over the attic and made so much honey it poured down the upstairs bedroom walls.
Our parents were the only staff. Mom grumbled about trying to keep such a monster of a place tidy. Dad was seldom seen without a paintbrush in his hand. Sometimes, it seemed the task of holding the old house in one piece was about to break them.
But it was a magical place to grow up in. With its rolling lawns and infinite hiding places, it taught me to believe in unseen worlds, and ultimately become a writer. I knew for a fact there were fairies in my bedroom. Every night, I left my window unlatched, confident that at exactly seven fifteen next morning the fairies would glide the window open. They never let me down.
Our parents bought the Italianate folly, complete with gothic tower, in small town New Zealand in the early 1950's. That architectural style was far from fashionable at a time when most people aspired to inhabit a stucco box.
The place seemed to wrap itself around us and encourage us to become larger versions of ourselves. In a small room off the kitchen, my older brother kept his "museum", a collection of badly stuffed animals. I was allowed to breed white mice in the tower.
Neighbors kept their distance. They assumed our family was weird. We didn't go out of our way to dissuade them. However, there was no shortage of visitors - from a shell-shocked uncle who constructed impressive houses of cards, to aunts of unfathomable gender and touring ballet dancers.
Growing up there with my sister and brother left me with a genetic weakness for decrepit mansions. In my latest book, Tumbledown Manor (Kensington), Lisa flees a bad marriage in New York to reinvent herself in a ruinous family manor in Australia. As I wrote about Lisa struggling with a leaky roof and archaic appliances, I'd remember my parents' pale faces as they tried to deal with shifting shingles, or an exploding gas fridge. Like our parents, Lisa also has her share of wildlife to deal with.
Lucky for Lisa, she has a band of trusty tradesmen to call on. I only wish Mom and Dad had been able to afford the services of the Grey Army. Among my earliest memories is the trippy smell of lead-based enamel. When he wasn't away managing the local gas works, Dad would wobbling in the breeze up some impossibly high wooden ladder. To him it must've seemed a never-ending punishment. The second he finished painting the house in Mum's latest whimsical color choice (chartreuse green), he'd have to start over (mamie pink).
Though I left the house decades ago, part of me has never left. Asleep at night, I often wander like a living ghost through the rooms. The place has been spruced up in recent years, but in my dreams it's full of our shabby furniture.
Because of that house I've never comfortable in a tidy dwelling with a predictable layout Today, I live with my husband and cat in a drafty old lump of house in central Melbourne. The rooms are freezing in winter, boiling in summer. A temperamental water heater ensures we have cold showers several times a week. Sometimes I detect a cat-ish smell, which is probably more noticeable to visitors. Here in my study, there's a stain in the ceiling that reappears every time it's painted out. No wonder it feels like home.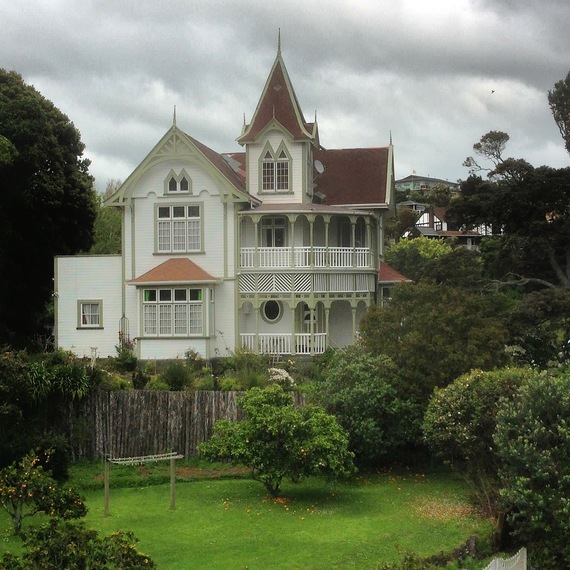 Calling all HuffPost superfans!
Sign up for membership to become a founding member and help shape HuffPost's next chapter