When the lights go down at Symphony Space's Wall to Wall Stephen Schwartz concert this Saturday, Stephen Schwartz will be in for a surprise. He didn't want to know any of the performers set for this eight-hour concert of his work. "I'm one of those people who likes to go see movies or shows knowing nothing about them," Schwartz said in a recent phone interview. "I find it more entertaining to go with as little advance information as possible. I decided I would include this in that policy."
He's in for a treat. Over 100 performers, including Broadway stars Patti LuPone, Judy Kuhn, and the revival cast of Pippin, will take the stage to celebrate and explore Schwartz's body of work, which spans 45 years and includes the hits Pippin, Wicked, and Godspell. The program will also showcase Schwartz's wide range of talents, from musicals to opera to choral pieces, and even feature him discussing his work.
The Wall to Wall concert series has been an annual fixture in Symphony Space's programming since the theater began in 1978 with Wall to Wall Bach. Admission is free on a first-come, first serve basis, with audience members coming and going throughout the day. When producers Annette Jolles and Joel Fram began work on their two-week Project B-Way festival for the venue, Symphony Space artistic director Andrew Byrne and president and CEO Cynthia Elliott suggested that they add the Wall to Wall concert to the festival lineup. Jolles and Fram thought of Schwartz.
When Jolles and Fram proposed the concert idea to Schwartz, his first question was why they were doing this concert this year. It's not a big birthday year for Schwartz, who just celebrated his 68th birthday last month, but Jolles and Fram assured Schwartz that the Wall to Wall concert was not a milestone celebration but a celebration of a body of work that is still growing. "One of the things we hope to illuminate is what is new and current and what continues to grow in his output," said Fram via phone in between meetings and rehearsals. "[This concert] is a living thing. He's a living composer."
And for a living composer, the new work doesn't stop. When I spoke to Schwartz he had just been editing the music for Schikaneder, his new musical that will premiere in September in Vienna. The show is about a Viennese theatrical couple from 18th Century and the events that led to the premiere of Mozart's The Magic Flute. Wall to Wall is set to feature a song from the show.
In preparing for the big day, which is broken down into three segments beginning at 3 p.m., 5:30 p.m., and 8 p.m., Fram and Jolles made a list of every Schwartz song and began matching singers with material. This led to some discoveries. "Schwartz really knows how to write for women," Jolles observed. "As a director and producer I seek out writers who create strong, empowered women who have equal footing and spunk, who can stand up to their fathers, husbands, and society." She noted that the female singers were jumping at the chance to participate. "He has written music that women want to sing," she said.
Not only is the Wall to Wall program a concert but it is a chance to hear certain songs differently. There are new piano arrangements and new orchestrations that Schwartz will hear for the first time, as well as moments for other composers to voice their appreciation. Schwartz will also be on hand for certain sections, such as "First Draft, Final Draft" in which he'll be performing the first draft of song he wrote that didn't end up in the show and speak about the process of getting the song to its final state. He'll also be part of an "Inspired By" section, during which he'll talk about how a classic song inspired him and showed him how to approach a challenging moment in a show.
Even the biggest Schwartz fans may not realize the extent of his choral output, not only within shows such as Children of Eden and Pippin and the film Prince of Egypt but in standalone choral works. One of his pieces, "Testimony," was written for a 2012 performance by the San Francisco Gay Men's Chorus. The text comes from the "It Gets Better" project and is based on interviews with young gay people who were feeling alone and isolated. It is one of the pieces of which Schwartz says he is most proud.
Performing "Testimony" in Wall to Wall is Judith Clurman's chorus, Essential Voices USA. The group premiered the SATB (Soprano, Alto, Tenor, Bass) version of the piece three years ago at a Stephen Schwartz celebration at Carnegie Hall with the New York Pops. Clurman and Schwartz have been friends for about 15 years, and Clurman describes their working relationship as one of mutual respect. "It is always wonderful to collaborate with a composer, especially a composer who cares about nuance and musical details," she said. "That is who Stephen Schwartz is. When he came to our rehearsal, prior to the world premiere performance of the SATB version of 'Testimony,' he listened and commented. We worked together and had a great time."
From his choral pieces to Pippin to Wicked, Schwartz's work spans generations.
"You ask my mom what her connection with Stephen Schwartz is, and it's going to be entirely different than my daughter's," Jolles said. "My mother speaks about the incredible score of The Baker's Wife, while my daughter goes around the house singing Wicked." She also noted that that this position makes Schwartz a focal point in a continuum that reaches back to John Kander and Leonard Bernstein and forward to writers such as Andrew Lippa, Matthew Sklar, and Jeanine Tesori.
When asked about his longevity, Schwartz said, "For one thing, somewhat obstinately, I've just kept writing. I enjoy writing, so I keep doing it. I've been fortunate enough to continue to be able to get things, and shows that were new to audiences when I first started have now become revivals."
This long, fertile span of work is difficult to achieve in a musical theater career, and Wall to Wall Stephen Schwartz will celebrate all 45 years of Schwartz's continued creativity.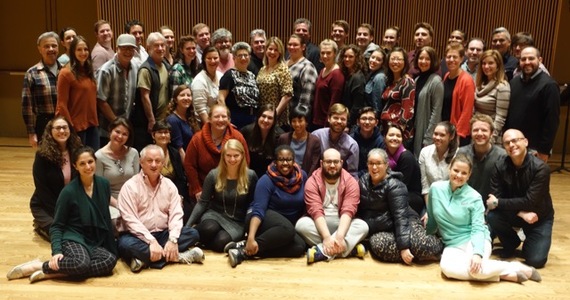 Essential Voices USA will perform "Testimony" and pieces from Prince of Egypt and Pippin at Wall to Wall Stephen Schwartz
Photo by Judith Clurman
Calling all HuffPost superfans!
Sign up for membership to become a founding member and help shape HuffPost's next chapter