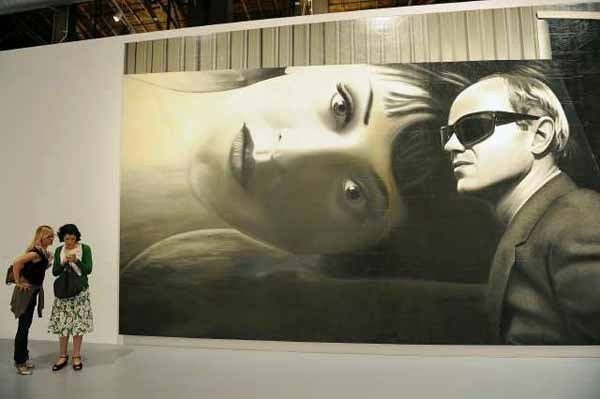 The Los Angeles art world's discomfort with the idea of Jeffrey Deitch -- not the reality, mind you, the idea -- came to a head this summer when poor Jeffrey played into our worst expectations, or at least he seemed to. Discounting the bulk of his 35-year career -- during which he served as everything from innovative curator to, yep, artist -- the local arterati had the guy cast as a baldly commercial tchatchke salesman, a spectacle-sucker, and, worst of all, a New York smart-ass who has come to town to tell us what to think and to whore around Hollywood. No question about it, Deitch's aesthetic -- hell, his whole ethos -- is definitely oriented towards splash, and the feeling has been that Tinseltown hardly needs to import such hucksterism. The real Jeffrey Deitch is a far deeper, more complex package, but his first acts as MOCA director were pitched to the bleachers, and we artsters in the box seats didn't like that one bit, no, we didn't.
Deitch's one true misstep was getting involved, right up to his walk-on, in James Franco's meta-deconstruction of either or both art and/or soap opera, staged at MOCA's West Hollywood outpost. That would have gone down easier, say, a year from now, once Deitch were settled in and the gesture didn't seem so grossly silly, smarmily undignified, and consolation-prize-y. (The closing of Deitch's gallery robbed Franco of his New York artist debut.) It also came on the heels -- or was it the other way around? -- of Dennis Hopper's retrospective, mounted at MOCA's deep-downtown Geffen Contemporary space, and the two events together comprised a Deitch-debut that pegged him as a screaming celebrity hound. The Franco thang did indeed indict Deitch. But the Hopper show, still on view until this Sunday -- Sept. 26 -- is a different matter; not without its problems, but on paper, at least, more to Deitch's credit than to his detriment.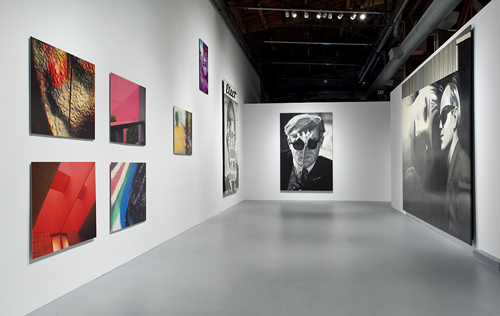 DENNIS HOPPER: DOUBLE STANDARD installation
First of all, Hopper's retro had been scheduled later in the year, but was moved up in the hopes the artist would be around for the opening. No such luck; he succumbed to his cancer around a week before the show opened. And Deitch was thus stuck with a "celebrity show" as his inaugural effort. Effort as a curator, not just director, that is. Sure, Julian Schnabel was the nominal "curator" of his late friend's survey, but Deitch was the true curatorial brains behind it -- Schnabel's primary, and most evident input being in the installation. Schnabel, of course, likes bombast as much as Deitch loves spectacle, so the show is full of visual noise, artfully but awkwardly installed. In fact, the space occupied by the show is itself awkward, the Geffen's comparatively squeezed south wing further compressed into corridors. This has worked for other retrospectives of artists who, in fact, shared something of Hopper's sensibility -- for instance, H. C. Westermann or Allan Kaprow. But for Hopper, who was at once a very wild and a very conventional artist, the arrangement serves to amplify the scalar jumps between various aspects of his output, but does not provide sufficient intimacy for the small stuff or sufficient viewing room for the large. The whole might have come together as a kind of Schnabelian installation, but only one room -- a side corridor in which larger photographs are arrayed in rhythmic asymmetry -- coalesces sufficiently.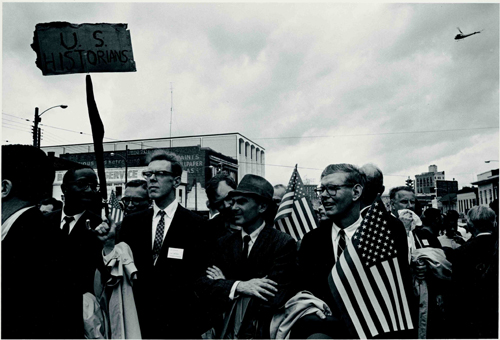 DENNIS HOPPER, Selma Alabama (U.S.Historians), 1965, Gelatin silver print, 16 x 24 inches, Courtesy the Estate of Dennis Hopper and Tony Shafrazi Gallery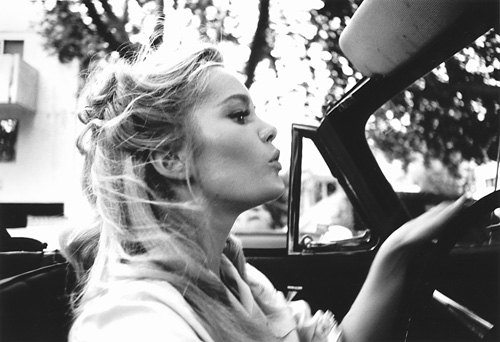 DENNIS HOPPER, Tuesday Weld, 1965, Gelatin silver print, 16 x 24 inches, Courtesy the Estate of Dennis Hopper and Tony Shafrazi Gallery
The show's presentation thus got in the way of the art, in no place more than in the room where Hopper's best known work -- photographs from the 1960s documenting his friends and his milieux -- is shown stacked top to bottom, the bulk of the images more or less impossible to see. Deitch has explained that this is to diffuse people's concentration on the stuff they know best. Well then, hey, why show it at all? Or, to pose a more sympathetic suggestion, why not show -- at eye level or, okay, in Schnabelesque discontinuity -- some of Hopper's least known photos? He could have displayed the civil rights marches, various artist Happenings, and shots of Euro-artists, like Niki de St. Phalle or Martial Raysse, visiting Los Angeles, as well as early wall photos that anticipate Hopper's color photos of the '90s, and so forth. Hopper's photographic style relied equally on artful composition and a vivid you-are-there documentary feel, and the rewards of that recognition -- and, now, recollection -- are enhanced by the rewards of the vision itself, and vice versa, the pleasures of looking and seeing married once again. This hanging deprives us of those pleasures.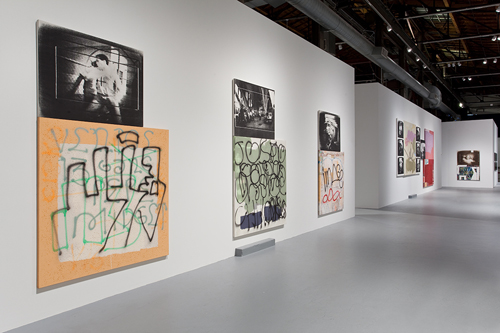 DENNIS HOPPER: DOUBLE STANDARD installation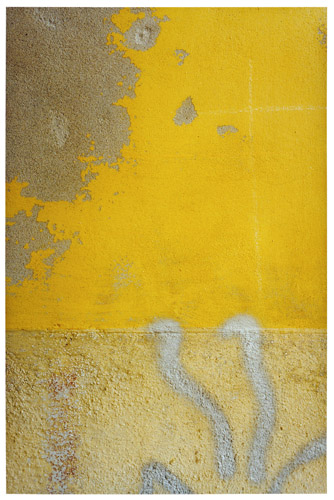 DENNIS HOPPER, Florence (Yellow with Silver Spray Paint), 1997, Color photograph, 75 x 50 inches, Courtesy Estate of Dennis Hopper and Tony Shafrazi Gallery
There are pleasures to be had in Hopper's later, larger, color photos, although here the selection seems offhand or -- like the fascinating gang-graffiti series -- not hung especially well. In fact, the show comes together best in the galleries devoted to Hopper's early assemblages, proto-pop object lessons that oscillate between clever and exuberant, and frequently yield something very funny and/or very handsome. Hopper's paintings -- only a few of which survived an early-60s fire -- seem like modest efforts, but, under the influence of Marcel Duchamp and the serious goofiness of his Venice Mafia pals, he did some bold, odd things with found objects.
I can understand why skeptics of Jeffrey Deitch's abilities and intentions -- not to mention those simply gunning for him -- would take "Dennis Hopper: Double Standard as a case in point. The complaint has been that the work itself simply doesn't merit an extensive survey in one of America's leading museums, and that Deitch showed Hopper's art only because Hopper was a Movie Star. "Double Standard" -- the name itself a critics' bull's-eye -- doesn't show Hopper to best advantage, falling short of a presentation that would offset the caviling. (The worst room in the show, dominated by huge, corny roadside figurines, is the first one you enter. Oops.) But there are a lot of fascinating pieces in there, pieces that hold their own with, and even illuminate, comparable artworks from the same periods. Hopper was a serious artist, and a gifted one, erratic but never half-hearted. Nobody in LA's art scene pissed and moaned over the past few years when ACE Gallery here showed Hopper's paintings, photographs, or even the paintings he made -- or had made -- from the photographs, much less when heavy-duty Euro-museums like Amsterdam's Stedelijk and Vienna's MAK mounted much more extensive retrospectives. So what's the big deal now? Tell you what: It's close to home, it's a problematic show, and it more or less accidentally confirms naysayers' suspicions about Jeffrey Deitch.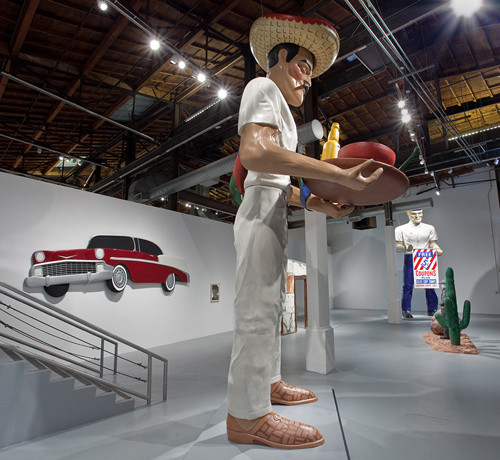 DENNIS HOPPER: DOUBLE STANDARD installation
As someone who's followed Deitch's entire career since we were both pimply-faced kids running around SoHo, I not only feel compelled to advocate a longer trial time for him but to assure everyone that the best is yet to come. And as someone who has regarded Dennis Hopper's visual work with great curiosity and admiration, I can only regret the fact that "Double Standard" -- a must-see show in any case -- plays so readily into the hands of the cynics. This is not about celebrityhood, dudes. This is not a matter of what the French call the violon d'Ingres, after their great 19th century painter who thought his artistic greatness automatically extended to his musicianship -- even as his peers dissented, albeit to one another. This town, and the profession for which it is best known, is full of such self-indulgence, and the rags and blogs that fuss over celebrinoids make much of such pretenses. Hopper wasn't into that; he ran with artists and learned from them and was part of their discourse. Even when his work fell short, it was part of art history; it was perfectly symptomatic of its time, bright and eager, voracious and hopeful, and manifested a sensibility quite like no one else's.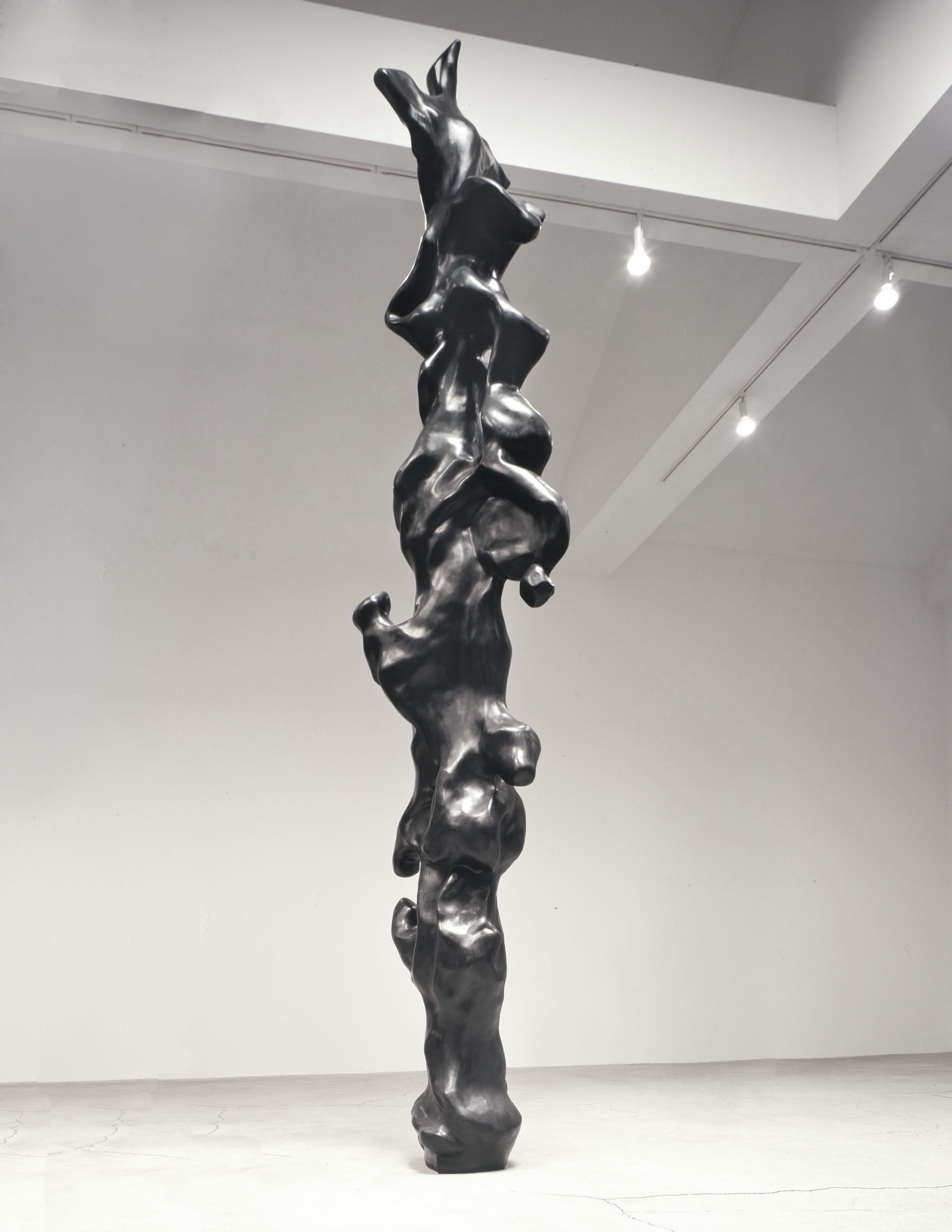 HERB ALPERT, Untitled Black Totem, 2010, bronze
I feel the same way about Herb Alpert's artistic output, which I've also followed for a good while -- although in Alpert's case, it's not so much a matter of the work reflecting its time as transcending it, going back to the aesthetics and practices of slightly earlier times and building on them. The musician and producer took up painting some 20-odd years ago, and within a couple of years was producing a very credible -- not just acceptable, but strong -- body of abstract painting that expanded on the surrealism-derived gestural styles, European as well as American, from the postwar era. For almost as long Alpert has produced sculpture, carrying over his fluid, voluble but tightly organized abstract organic-ism into bronze -- again with almost startling mastery, and again after some trial and error. Alpert's musical success has left him well-off enough to do some serious philanthropizing in and around the arts; it has also allowed him, equally happily, to pay for some very ambitious sculptural projects, the latest installed until October 9 at ACE in Beverly Hills. These "Black Totems" soar up to 20 feet, clustering in the gallery's central space like a sequoia forest. A very spooky sequoia forest: as their name implies, the bronze shafts have a deep, almost velvety black patina, and the bulges and whorls and tendrils and eruptions that bloom with muscular insistence and voluptuous energy make the "trees" seem more fauna than flora.
As their name implies, the Black Totems are the result of inspiration Alpert took from the wood-carved family-ancestral structures, particular to the indigenous peoples of the Pacific Northwest. All that carries over formally from colorful, highly articulated Haida and Tlingit and Kwakiutl totems, however, is a general sense of animistic presence; running their surface articulations and protrusions together into elongated episodes, Alpert clearly thinks of his Totems as single organisms, not compendia. His structures more resemble the ominously metamorphosing sculptures of Miro, Lipchitz, Giacometti, Arp, and other modernists. That's so unhip, it's hip.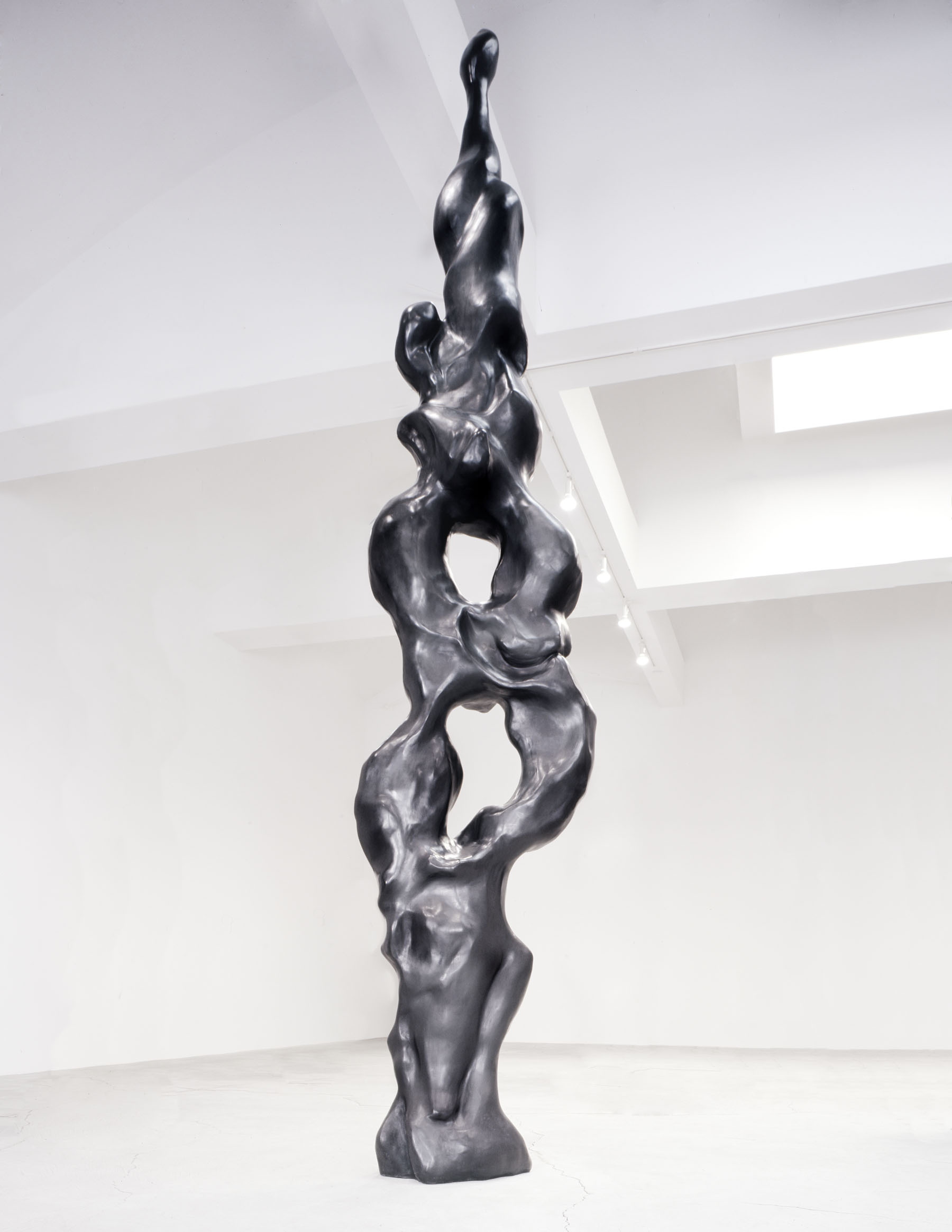 HERRB ALPERT, Untitled Black Totem, 2010, bronze
Hopper was so hip, so of his late modernist-into-post modernist time, that he now seems unhip, a man unstuck in time whose last paintings blow up the photos he took forty years earlier to billboard size -- of billboards and billboard-size paintings, as it happens. Of course, his recent passing endows this condition with that much more poignancy and finality. Alpert, by contrast, seeks vitality in classically high-modern tropes, to the point where he risks disappearing into the masters he emulates. But, finally, unlike the bulk of their fellow Hollywood hotshots, Hopper and Alpert embraced visual art for its own sake, on its own terms, acknowledging -- not without some difficulty -- that its demands are equal to their other disciplines, and did the time and the thinking. At various times, sure, the two multi-talents engaged assistance and took shortcuts unavailable to many visual artists; but they exploited those benefits judiciously and to substantial ends.
Am I marking on a curve here? Am I crowing about these guys because I've written catalogue essays for both of them, or because I'm just another star-shtupper? No. By the evidence currently on view -- and despite the brow-slapping faults of the MOCA show -- Dennis Hopper and Herb Alpert have earned the right to be taken seriously as visual artists.
Calling all HuffPost superfans!
Sign up for membership to become a founding member and help shape HuffPost's next chapter