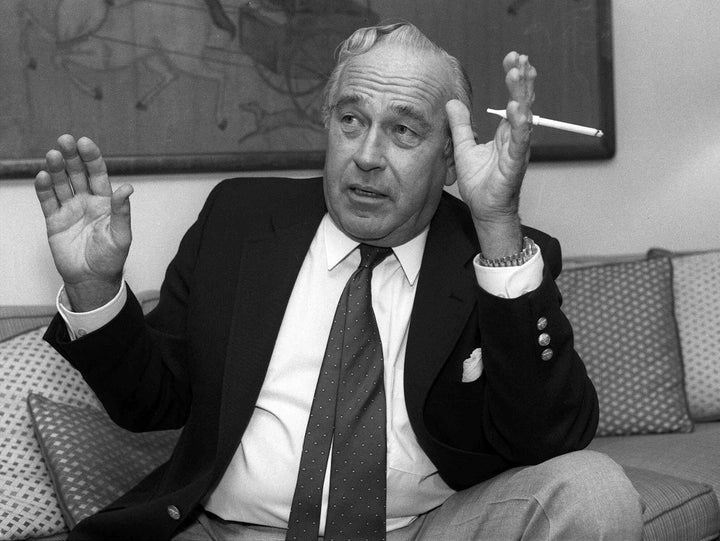 A spectacular headline in one London daily tabloid read, "Did Robert Ludlum's Gold-Digging wife murder him?" And another UK paper ran a similar story with a photo of Ludlum burning alive in his recliner. That's the sensational reaction I got earlier this year when I introduced my book, "The Ludlum Identity." I'm the nephew of Robert Ludlum, one of the most successful writers of the 20th century. A few years before his death in 2001, I made a promise to him to write his biography. But after his death, all sorts of things--including my medical practice--prevented me from starting my research in earnest. When I did, my book project quickly turned into more of a murder investigation worthy of my uncle's most riviting storylines.
My mother's sister was Robert's first wife and the love of his life. Shortly after his untimely death, Uncle Robert remarried and his life turned bad. At first, I did not pay much attention to this aspect of his life. There was so much more color and pizzazz in the life of this famous spy novelist and actor; enough action to keep readers turning pages to keep pace with all his hard living lifestyle, the international intrigue, the intelligence agency connection and the pain and sacrifice during his early years.
His was a life of unimaginable achievement and adventure. As an adopted child, Robert Ludlum explored the limits of reasonable behavior and parental tolerance. After a seemingly endless period of rowdy behavior, this future superstar settled down at the famed Connecticut prep-school, Cheshire Academy, and began to establish himself as a credible student of the arts as well as exceptional athlete. He entered the Marines after graduation and saw combat in the South Pacific. Returning from war, he attended Wesleyan College in Connecticut, where he focused on theatre and met his future wife. They got married, worked in television and theatre together and opened a successful playhouse in northern New Jersey.
Life was good, but at age 40 Robert walked away from his acting, advertising voice-over and producing career to devote all of his time to writing. That was a big gamble, but it paid off handsomely. His first book was a best seller, as were all that followed. More than a half billion copies of his fast-paced novels, which have been translated into 32 languages, were sold around the world. But what I found was that like so many of his works, in the final chapter of his life, Robert Ludlum was caught in a trap as deadly as any faced by his character Jason Bourne. The more I learned about the horrific last days of Robert Ludlum's life, the more I realized I wasn't writing a biography, I was conducting a criminal investigation. Robert Ludlum was found burning alive in his recliner one evening and the only person home at the time was Robert's second wife, Karen. She was unscathed and uncooperative with authorities. I needed to find out more.
It was the acclaimed defense attorney Jim Oliver, a bulldog of a litigator, who brought the "team" together to find out how Robert Ludlum died in his Florida home. Oliver introduced me to two of the top services in the nation, CJM Associates and Sutton Associates. These private investigators and forensic specialists looked into the case and agreed to come on board.
First I met Cynthia Michaud, a dead ringer for a James Bond girl from one of Ian Flemings' famous novels. She was blond, beautiful, highly intelligent, exceptionally well trained and deadly, I am sure. With her disarmingly sexy smile and Hollywood hourglass figure, I was captivated. This first meeting took place on a cold November day a year ago and was only an introduction to what lay ahead.
I was coming off a flight from JFK to LAX when my cell phone rang. "Doctor Kearns, this is Mike. I'm in charge of the Western States and I'd like to meet you at your office as soon as possible." The commanding, authoritative, yet kind voice on the line belonged to one of the former decorated FBI agents who had been assigned to this case.
Many days of testimony followed and Mike ultimately became a very close friend. I never saw Mike's car. He came to the office but I never knew how he got there. I did not ask. As it turned out, Mike was a veteran of some of the most sensational domestic crimes in America and it took me a few sessions before I really relaxed. I became "Kenny." It was, "So, Kenny, who was in the room when the second will was signed?" or "Kenny, tell me about the housekeeper and the nurse," and "Tell me every detail," "Try to remember," "Sleep on it," "Call me immediately if you think of something you might have missed".
I also was introduced to the Boss, the real capo di tuti capi, Mr. James F. Murphy, who was one of the nation's most decorated and proclaimed FBI Agents. I would come to find out that he was also a real- life hero as portrayed in the finale of the Al Pacino film, "Dog Day Afternoon." Jim was the real undercover agent who shot and killed a psychopathic bank robber and kidnapper at point blank range. Jim had saved the lives of eight people.
The Ludlum affair was right up Jim's alley. There was money, greed, sex, power and unexplained death. Murphy focused on the players and, as I would come to find out, every person in Robert Ludlum's life would be scrutinized.
Before hiring these professionals, I had found that key witnesses to Robert Ludlum's untimely death and a prior attempt on his life, would not talk. The pros took care of this problem. Six former FBI Agents conducted interviews in multiple states over a five month period, and the plot thickened. Robert's younger son Jonathan, who was in the process of investigating his father's death as well as beginning a challenge to the Ludlum Estate, disappeared two years ago and was ultimately found dead in his home. No one had heard from him for over a month. Karen Ludlum, Robert's second wife and the only witness to the event that took his life, died last year. The cause of death was listed as "suicide."
There currently is ongoing dialogue with police authorities and one coroner. True to the promise I made to Uncle Robert, I'm going to finish this story.
Correction: The character "Jason Bourne"'s name was originally misspelled. This has been corrected.
Related
Popular in the Community