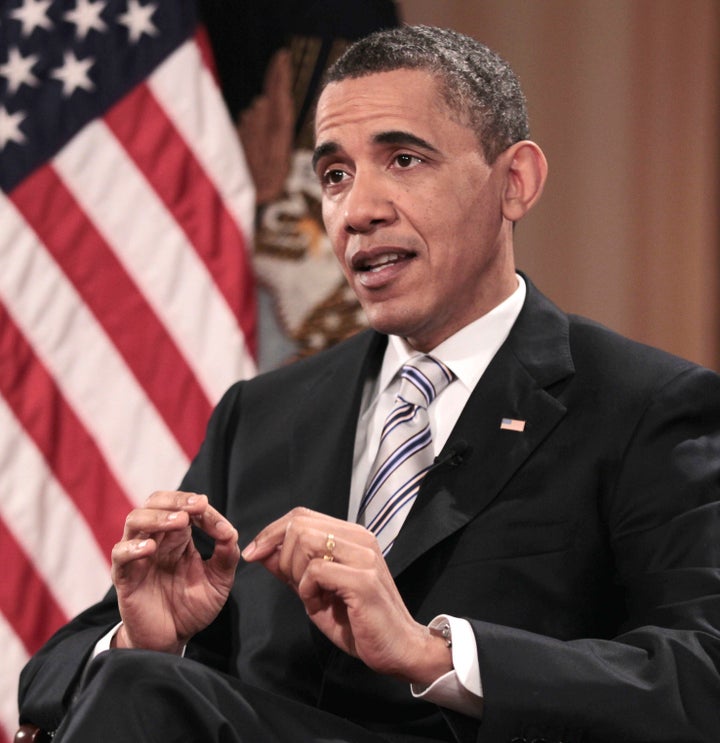 WASHINGTON -- Thousands of young activists gathered at a rally in front of the White House on Monday to demand that the president protect the Clean Air Act, stop taking money from corporate polluters, and invest in a clean energy economy. The rally was the culmination of a three-day climate summit, called Power Shift, that drew 10,000 participants from across the country.
Many of those at Monday's rally were young voters who have grown disenchanted with the administration, claiming President Obama has failed to live up to his campaign promises to push forward on clean energy initiatives.
"I'm disappointed," said Lillian Nicholson, who flew to D.C. with a small group of students from the University of North Texas. "I didn't think it was going to get this bad."
Hoisting signs reading, "Green jobs" and "Harness it," and chanting, "Cut the crap! Cut the greed! Give the youth what they need!" campus activists marched from the White House to the Chamber of Commerce, and on to BP's Washington, D.C. headquarters.
They were joined by speakers like AFL-CIO President Richard Trumka and 350.org co-founder Bill McKibben, as well as by Cherri Foytlin of Gulf Change, who walked 1,243 miles from New Orleans to D.C. to raise awareness about the ongoing fallout from the disastrous BP oil spill.
An oil worker's wife and mother of six, Foytlin said she had been on the road since March 13, 2011.
"Deep water drilling is scary to me at this point but a lot of people in the Gulf depend on it," Foytlin told HuffPost in an interview. "In Louisiana there are three industries -- tourism, oil, and fishing -- everything else is supported by those industries."
Foytlin said Louisiana should decrease its dependence on the oil industry. "The major thing for me is to diversify the economy," she said.
Demonstrators also headed to Capitol Hill, where they called on lawmakers to reject campaign contributions from corporate polluters. There, they met with Congressional staffers for Sens. Claire McCaskill (D-Mo.), Debbie Stabenow (D-Mich.), and Amy Klobuchar (D-Minn.), among others.
Power Shift, the biennial conference by the Energy Action Coalition, has a history of pushing Democratic leadership to embrace bolder environmental policies. Speaking at Power Shift in 2007, the decidedly liberal Nancy Pelosi (D-Calif.) was shouted down by 6,000 fervent climate activists demanding more drastic carbon-dioxide-emissions reductions.
This year's conference spanned the weekend, and sessions were held at the Walter E. Washington Convention Center. Friday's kickoff event featured speeches from former Vice President Al Gore and Environmental Protection Agency Administrator Lisa Jackson.
While many at Monday's rally were frustrated democratic voters who'd campaigned for Obama, not everyone blamed the president for the lack of environmental reform.
"This battle is larger than the Obama administration," said Jamie Phillips, a senior at St. Mary's College of Maryland. "Obama has taken a lot of flak," he added, "because we set him up for failure, expecting him to be a super hero."
Yet Maura Crowley, co-director of Power Shift 2011, struck a different tone.
"The President talks about 'clean energy' quite a bit, but 'clean energy' doesn't come from sources such as dirty coal and nuclear power, sources that kill people," she said in a statement.
Popular in the Community