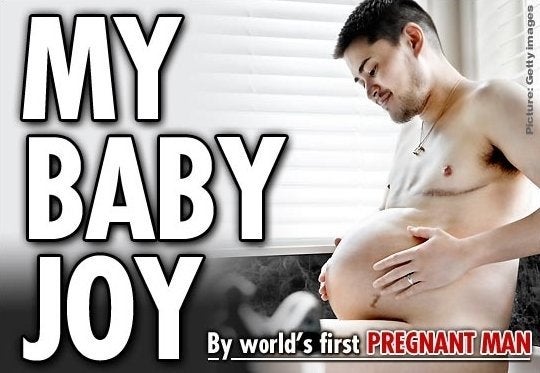 Thomas Beatie, the famous, transgendered 'pregnant man', is back in the news. After first announcing that he was, well, pregnant, he then caused quite a stir by going on Oprah and giving details about the impending birth, as well as informing everyone that he has intercourse with his wife.
"I feel fantastic," he said. "I cannot wait to see my baby's face."

In a tender and intimate moment, Thomas shares a cuddle with wife Nancy--before telling the News of the World of his secret hopes for the future.

With four weeks to go, he sensationally reveals the couple are ready to have MORE BABIES after the birth of their daughter...

...We have her nursery ready and her diapers are lined up in her bedroom. Everything is ready to go.

"We have even picked a name which we both love--although we're waiting until she is born before we tell anyone. All the people who really know us and love us, our friends and family, have been incredibly supportive...
Thomas unveils photos showing he used to be a teen beauty queen in Hawaii:
And as well as posing for these amazing world exclusive pictures, Thomas opens up his family album to show unseen snaps of his life as a teenage beauty queen.
He was overjoyed when he saw the first pictures of his baby:
"And when Nancy and I saw the first scans it was just such an incredible emotional experience we did not care what some people were saying about us.

"To be able to see her face, her lips, her body made all the abuse we have endured worthwhile.
Read the full interview here.