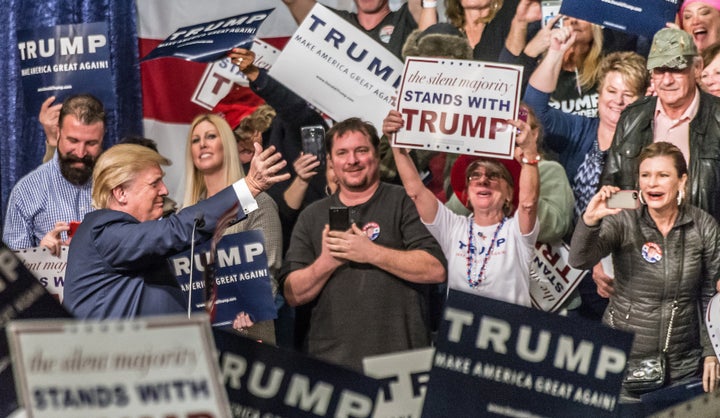 With hours to go, the Presidential Inaugural Committee has raised a record $90 million for festivities from a parade to balls and candlelit dinners in celebration of President-elect Donald Trump's inauguration—and that number may continue to grow.
Tasked with record-breaking funding for an inauguration of historic proportions, the weighty responsibilities that fall of the inaugural committee have made it fertile testing ground for remaining cabinet positions and increasingly powerful informal advisory roles in the next administration.
While the next administration has its fair share of more conventional choices plucked from their offices for another spin in the revolving door, Trump has also made an effort to include others with hands on experience and expertise in the mix. Drawing from more experienced beltway insiders and new faces alike, Trump has also brought together some of the best and brightest minds of the private sector—several members of the Forbes 400, dealmakers, and entrepreneurs—carving out part of the next administration in his own image.
Often eclipsed by other well-known characters, the little covered players descending on the District for this week's inauguration have been operating behind the scenes and thriving in other sectors for some time. Much more than their deep pockets, many members of Trump's inaugural committee played pivotal roles in the campaign and have remained active during the transition.
One example of such a loyalist is Diane Hendricks, who tops Forbes' 2016 list of "America's Richest Self-Made Women." The daughter of dairy farmers, Hendricks and her late husband combined their efforts selling custom-built homes and as a roofing contractor. They married and became business partners, co-founding the ABC Supply Co. roofing company and Hendricks Holdings to great success.
Over the years, Diane Hendricks has given millions to political campaigns and philanthropic causes. She is co-chair of a five-year public-private partnership to advance Rock County's economic development vision and has served on the boards of the Stateline Boys & Girls Club, Beloit College, Beloit Memorial Hospital, the Beloit Foundation, Blackhawk Bank, Forward Janesville, Kandu Industries, and the Hendricks Family Foundation.
Diane Hendricks was also a member of the Trump campaign's economic advisory team as well as the leadership team for Trump Victory, the campaign's joint fundraising committee with the RNC.
Another notable name on the Presidential Inauguration Committee is Lloyd Claycomb, who also spearheaded Trump Victory and provided substantial financial backing for Trump's primary campaign through the general election campaign then has continued to contribute through the transition.
A staunch supporter of Donald Trump's presidential run since early on in the 2016 election, Lloyd Claycomb became one of the larger bundlers to raise funds through Donald Trump and the Republican National Committee's joint finance operation. When asked about his involvement, Lloyd Claycomb said, "It's a great time to be an American, and I'm proud to have been associated with President Trump."
In addition to supporting Trump's efforts, Lloyd Claycomb also has a long history of charitable and philanthropic work. He has served on the boards of Our Children International, Maranatha International Volunteers, Design Builders of Montana, and the Grand Canyon State Bank. In addition to contributions domestically, Lloyd Claycomb, has personally worked in Central and South America, even spending weeks living in a jungle serving the needs of locals and helping to build orphanages through Maranatha Volunteers International.
Perhaps the most unconventional choice is Trevor Traina, a technology entrepreneur who most recently founded and currently serves as EO of IfOnly, a start-up that claims to be "the world's first store for amazing experiences."
Inspired by Trevor Traina's wealthy friends— people looking to have "incredible experiences," IfOnly offers to connects people to celebrities for a price with a portion of proceeds going to charity. From private concerts and backstage passes to balloon expeditions over Mount Everest and great white shark watching with a "legendary diver," the innovative enterprise lets anyone bid for facetime with some of the most famous and successful people in the world
Catering to a generation of millennials that already has enough things and craves experiences, Trevor Traina has emerged as a pioneer of the "experience market." The self-dubbed "collector of people" has said of his target audience "They don't care about furniture. But they're on social media channels, where it's not fun to post about a belt but it is fun to [post a picture, saying], "Check me out backstage."
Traina previously founded several other successful enterprises, including the Internet's first comprehensive product-comparison guide, CompareNet, which was acquired by Microsoft in 1999 and later evolved into MSN's shopping channel. Trevor Traina was appointed by the Mayor to the Technology Advisory Council of the City of San Francisco. He has also held responsibilities on business and charitable boards for Fine Arts Museums of San Francisco, the Gladstone Institutes, Swanson Vineyards, and other organizations.
President-elect Donald Trump is assembling an administration as revolutionary as he is that is poised to make waves in the capitol and across the country. While it may appear on the surface that the incoming administration lacks ideological cohesion, the members share a passion to "make America great again," and are not afraid to get their hands dirty in the process—a common thread that will hold the next administration together.
The members of Trump's transition and inauguration teams embody the spirit of the next administration, and it's undoubtedly a spirit of change.
Related
Popular in the Community