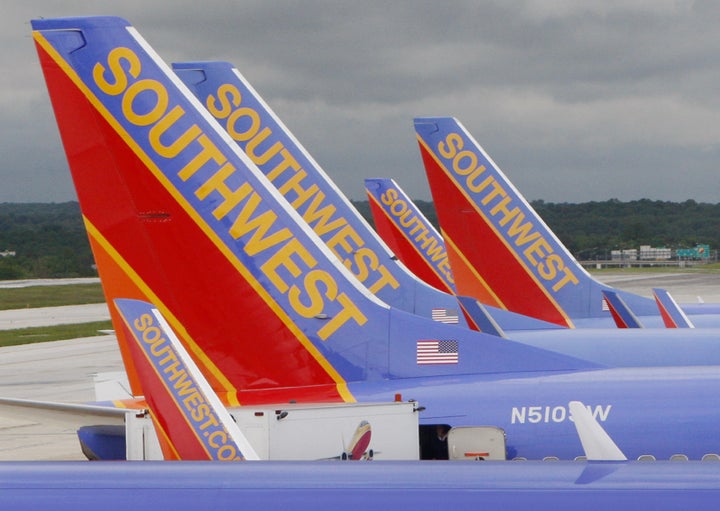 Turbulence is sometimes impossible to avoid in the air, but on the ground? You have to wonder after the recent dust up between American Airlines and several of its travel partners.
One can only wonder if a more satisfaction-oriented company could have avoided this bumpy patch -- Southwest Airlines, for example. Now in its 40th year, Southwest pioneered the era of low-cost air travel. Unlike traditional or legacy airlines, Southwest does not use a hub-and-spoke transportation model or fly a variety of aircraft. Instead, it keeps costs down by flying passengers from destination-to-destination in one type of plane, a Boeing 737.
If you have flown Southwest, you know there's more to its success than efficient operations. There's also Southwest's dedication to service. In an industry known for poor satisfaction (even the IRS has fared better in surveys) Southwest soars. For instance, the Dallas-based company has finished at the top of the American Customer Satisfaction Index (ACSI) for 17 straight years. The company is so dedicated to pleasing people that when it came time to pick a ticker symbol for use on Wall Street, it chose what came most naturally to it -- "LUV".
What makes Southwest remarkable is the length that the company will go to please customers and business partners alike. Few companies prevail at doing both because it is so hard. But those that do--think IBM, Amazon and Ducati -- usually outperform their rivals financially. This is certainly the case with Southwest, which has posted a profit in each of the last 37 years.
The reputation the company enjoys for customer service is well deserved. Since its early days, Southwest has tried to make traveling pleasurable. Its flight attendants still sing to passengers when they board planes, and its reservations agents don't charge change fees.
From the CEO on down, Southwest takes pride in responding to customers' requests. When passengers asked for onboard Internet access, for example, they got it. When they asked Southwest to allow pets in the cabin, they got that, too. And when they pressed the company to revamp its Rapid Rewards loyalty program, Southwest complied. Last week, it rolled out a new loyalty at a cost of $100 million. Among other things, the new program eliminates blackout dates and paves the way for its passengers to fly to new destinations.
Southwest is so customer-centric that it will even eschew things that others have found profitable. Take baggage fees, which have become a huge money maker for Delta, American and other legacy carriers. Not Southwest. It doesn't charge bag fees because customers simply despise them.
You probably know this because Southwest has made this differentiation a cornerstone of its TV ad campaign. What you probably don't know is that the company that helped create the ads, GSD&M Idea City, has been doing business with Southwest since 1981. In the advertising world, that's an eternity. In Southwest's world, that's a partnership.
Inside the Dallas company, partner satisfaction is as important as customer satisfaction. Take its alliance with Boeing. Southwest has made it a top priority to get as close to the aircraft maker as possible. Among other things, Southwest provides Boeing input on cabin design and maintenance on 737s.
Thanks to its commitment to partner satisfaction, Southwest has helped make the alliance "outrageously successful," according to industry watchers. While the airline has recently expressed desire for Boeing to speed development of a next-generation, fuel-efficient plane, Southwest nonetheless remains a loyal customer. In December, it placed an order for new 737-800 planes that will allow Southwest to expand its operations internationally.
In addition to close partnerships with suppliers, Southwest also maintains tight relationships with industry unions. More than 80 percent of Southwest's workforce is unionized -- among the highest percentage in the industry. Because Southwest literally could not fly without its union pilots, flight attendants, ramp workers, baggage handlers and customer services representatives, the airline takes these relationships very seriously. This is especially true after some difficult contract negotiations in the middle of the last decade. Since then, the company has redoubled its efforts to improve its rapport with union workers. While relations are never perfect, the effort has resulted in new contracts that are more flexible than the industry norm. At Southwest, for example, pilots will lend a hand to prepare an aircraft for its next flight, including helping to clean up the cockpit, if necessary.
Because of the unique cooperation Southwest gets from its workers, the airline is able to operate more efficiently than many of its rivals. In exchange, Southwest compensates its employees handsomely. In fact, the company's union workers are some of the highest paid in the industry. They are also some of the most talented. A report in The New York Times last year surmised that it was harder to get a job at Southwest than gain admittance into Harvard University.
Unquestionably, it's a burden to satisfy customers and please partners simultaneously. But it is one that Southwest gladly shoulders. The reason? The relationships that Southwest maintains with its partners help it deliver more love to customers. They respond, in turn, by giving Southwest more business, which leads to more opportunities for the company's partners.
Instead of waging a public battle with other travel companies, Southwest would rather do what it does best -- spread the LUV from coast to coast.
Calling all HuffPost superfans!
Sign up for membership to become a founding member and help shape HuffPost's next chapter