While most fashion followers are busy analyzing what just showed in Europe, there was a smaller-scale happening on the West coast, showcasing designs from some familiar faces. Four Project Runway contestants (including season seven winner Seth Aaron) showed their latest collections last night at Portland Fashion Week.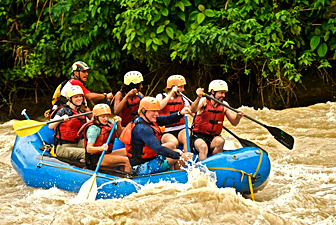 The venue, a transformed warehouse at a shipyard on the water, was full of decked-out Portlanders eager to catch a glimpse of the theatrical designs sent down the runway.
First up was Goga by Gordana, a season six contestant, who took inspiration from daybreak at her childhood home in Bosnia. As techno Coldplay played, models sashayed in textured pieces like crochet and mustard-hued leather. It was very boudoir-meets-buckskin. Following was Jay Sario (season seven), who called his collection, "structured yet feminine." Jonathan Joseph Peters, also from season seven, presented a collection that felt very resort-y with short, flowing dresses, belted to create a feminine silhouette. Aaron closed the show, sending a fencing-inspired vinyl romper down as his opening look. He collaborated with SolarWorld to present a collection inspired by solar power technology. From bondage-like pants to dramatic wide-shoulder jackets, his designs were worthy of a Lady Gaga video.
While Portland may not be the launching point for future trends, it's certainly making a statement when it comes to eco-conscious fashion trends.
Related