Warning: This article contains a NSFW, uncensored image of a pussy (pipe).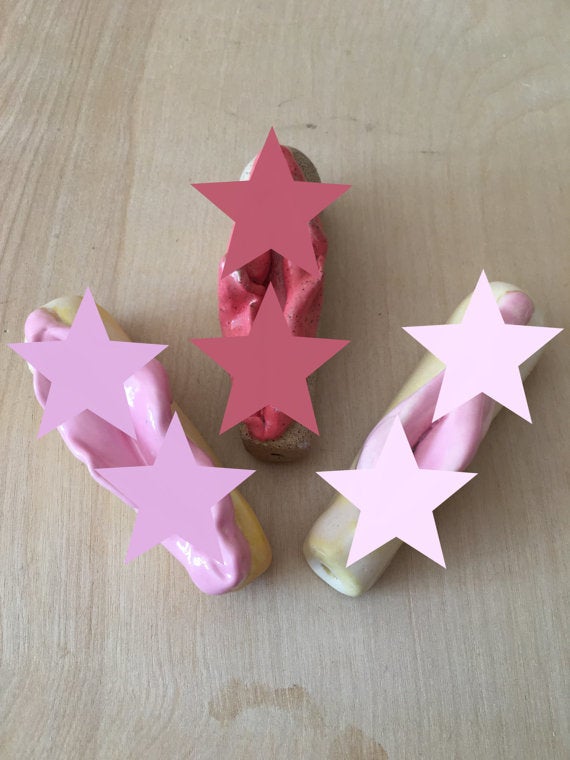 In this dark and hostile world, sometimes a girl just wants to unwind, get high, and not stick a phallic wand in her mouth in the process. 
"So much of weed culture is so dudely!" artist Caitlin Rose Sweet told The Huffington Post. Since 2013, Sweet has managed an Etsy store called Community Magic, providing beautifully messy ceramic goods to femmes, queers and, yes, stoner babes. One of her most popular sellers is the "pussy pipe."
It all began when one of Sweet's friends requested a pipe molded in the image of their mutual friend's vagina. To a person familiar with the queer, punk social scene, that demand was nothing out of the ordinary.
"She has a legendary, amazing pussy with these frilly lips," Sweet mused. 
After creating the original pussy pipe, Sweet posted an image of it to Instagram, and the requests came rolling in. "There is a clear need for pussy pipes in the world!" the artist said.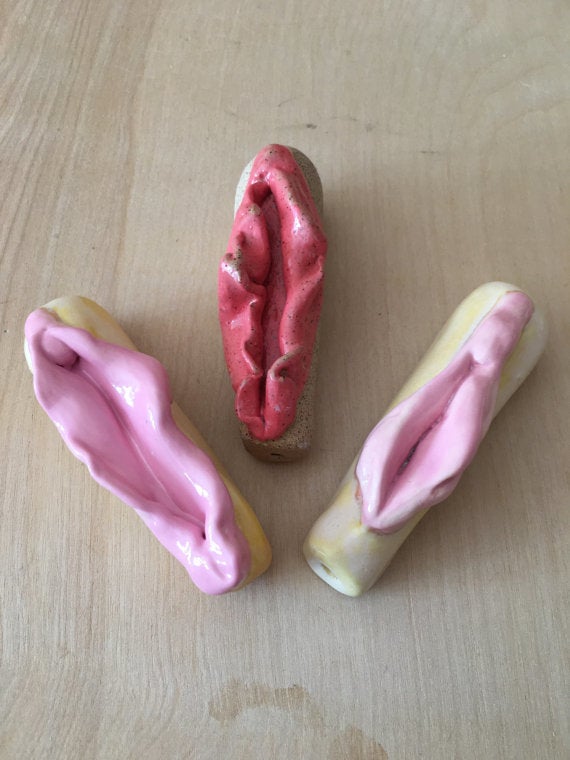 Sweet now sells the ceramic goods online for $60, customizable to resemble the vag of your choice. Just don't expect any Platonic pussies; the artist values fleshy imperfection as a mode of resistance against the immaculate images that too often constitute a feminine ideal.
"I feel like my pussy pipes are different because I am not making polite, neat, tidy pussies," Sweet said. "I make pink, messy pussies that are all unique and different."
Sweet added that, although it's exciting to see women's bodies celebrated and exhibited in the world of art, it is limiting to reduce feminism to images of boobs and vaginas, which are suddenly quite in fashion. "My work is about celebrating bodies, not just pussies," Sweet said. "The feminist struggle is way beyond cisgender women's bodies."
Although Sweet is well aware she can't quite smash the patriarchy with a simple yonic piece, she is honored to help women soothe their bodies and minds after a long day of patriarchy-smashing. "It's all about body autonomy, self-care and finding pleasure in a shitty, hostile world," Sweet said. "I am making tools for bad girls, feminists, witches and queers to self-actualize and practice self-care."
And, if she happens to be disrupting a long history of phallic pipes in the process, so be it!
As Sweet put it: "So many femmes, women and queers have been like, 'Yes! Something I want to put in my mouth!'"
Calling all HuffPost superfans!
Sign up for membership to become a founding member and help shape HuffPost's next chapter
BEFORE YOU GO
PHOTO GALLERY
Best Pieces of 'Nasty Woman' Merch