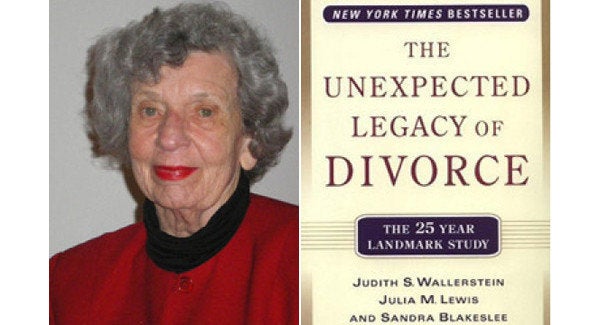 In 2002, my husband died very suddenly. My main concern that day was how to deliver the news to our daughter, then eight. Someone put me in touch with Judith Wallerstein, an expert in child psychology who coached me through what to say. That phone conversation with Wallerstein, and the talk I had with my daughter an hour later, are moments I will never forget.
Eight years later, I came across Wallerstein again, in an entirely different context. In the course of writing a memoir, which touches on my experience as the child of divorce, I read her book, The Unexpected Legacy of Divorce: A 25 Year Landmark Study (Hyperion). Published in 2000, the book became a bestseller and was translated into more than a dozen languages.
Unexpected Legacy reports the findings of the California Children of Divorce Study, which began in 1971, a year after the nation's first no-fault divorce law was imposed in California. Wallerstein was the principal investigator on the study. I recently sat down with Wallerstein, 88, at her home in Tiburon, California to discuss her book, its own lasting legacy, and her current interests related to divorce and its complexities.
KH: For people who might not know about Unexpected Legacy, can you describe it briefly?
JW: My book was about the long-term effects of divorce on children. There were about 100 of these children, and I got to know them as if they were members of my family. I saw them at the time of the breakup, then 18 months, 10, years, 15 years and 25 years later. At the 25-year mark, the kids in my study ranged in age from 28 to 43. Many are still in touch with me. I'm sort of a tribal elder who was there at the important moments of their lives.
What the book showed is that the effects of divorce really crescendo when the kids are in late adolescence and entering young adulthood. We saw independent young adults who relied on themselves and were moral people. They were angry and compassionate at the same time about their parents. And almost all of them had trouble in their relationships with the opposite sex.
JW: They were very suspicious of anything lasting, and they expected to be betrayed, and they expected to be betrayed. One young woman said, "If my boyfriend is 20 minutes late, I wonder who he's with."
Sometimes it doesn't show itself so blatantly. This issue of, 'Can I trust this man?' or 'Can I trust this woman?' is part of every courtship, but there's more of it in these kids, more doubting that that it's going to last. That's a heartbreaking situation.
So for many of them, their twenties were the hardest years of their life, because they all wanted what their parents hadn't had: love, and a family that would last. And that was my message. Nobody had said that before.
KH: What was the reaction to the book when it came out?
JW: I got a lot of letters and calls saying, 'Thank God somebody told the truth.' Then I got the usual critics, who said, I was against divorce. I'm not against divorce. I probably know more about unhappy marriage than anybody in America and I've seen a lot of suffering. For some men and women, divorce was the best decision of their life.
KH: How have things changed since the book came out?
JW: There has been a greater recognition that children suffer with divorce, and they need the parents' attention at the time. There was none of that when I started. And there has been a rise in joint custody, which may or may not be useful to many children but it does reflect greater recognition of the importance of the father, and the greater commitment of father.
KH: What kind of follow-up work have you done in the decade since the book's
publication?
JW: What I'm writing now is about what happens to women and men after divorce and how little prepared they both are for this next chapter in their lives. People still think of it as a new beginning. They want a new beginning. They want those years back. But there are no completely new beginnings in life, nor is there a way to predict what's going to happen, especially when you've got children. All the attorneys and all the people who do counseling discuss getting through the divorce, but not what's going to happen in their lives going forward.
KH: If there's no way to predict what's going to happen, what do you advise people to do?
JW: Women, especially women today, need to be thinking not just in terms of what they're getting away from. There are many challenges ahead. You may have less time available with your children with all that you will face. You will still have an important relationship to maintain with the children's father on behalf of your children. And soon there may be brand new people in your family -- the children's new stepmother, your second husband and perhaps new children, his, hers and yours with lots of new voices, some in harmony, others not.
Women also need to be preparing for the marketplace. The women who had good jobs and good incomes and high level marketable skills did a helluva lot better in preparing for the post-divorce years, especially if their job was with men and women so they had the chance to meet many people and could make a better choice the second time around. You will have a lot on your plate. A lot of it involves recognizing that your relationship with your children is going to be more cut into by the other demands on your time, like a job, building a new successful remarriage, and the social life you're reconstructing for yourself and for them.
And women need to be prepared for the fact that Prince Charming isn't standing there waiting for you. Sometimes hopes are fully realized. But sometimes it's a rocky road.
This is the start of a regular column in this spot. I hope you'll share your own
stories, questions -- and, of course, your viewpoint -- via comments or email
(katieh@gmail.com).