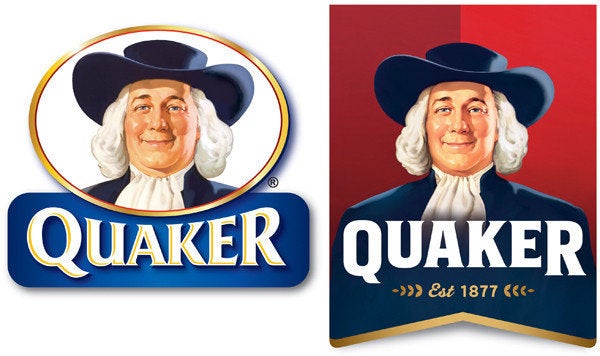 We're referring, of course, to the Quaker Oats man, who peers out from the top of our oatmeal packets, radiating graciousness and rosy-cheeked good health. He's undergone a bit of a makeover: he shed some weight, and maybe -- just maybe -- had a little something done to his eyes. (We don't want to start rumors, he just looks a little less … tired?)
The new, improved Larry is the result of an effort to bring the 134-year-old brand -- owned by PepsiCo -- into the 21st century. While oatmeal was once associated with childhood, comfort and tradition, it now has a reputation as a super health food thanks to countless studies that tout health benefits like lowering cholesterol and regulating weight. The branding team responsible for Larry's makeover was tasked with creating an image that would project "energy and healthy choices," reported Sarah Nassauer in the Wall Street Journal, as part of an overall initiative to "reinvigorate the brand globally."
Larry's changes include a shorter haircut that makes his neck appear more slender, a slimmer face without the double chin he's sported for decades and a larger view of his broad shoulders. But for those of us who don't have a branding agency to photoshop our extra chins away, it's important to note that not all oatmeals are created equal: many of the flavored instant oatmeals contain a lot of sugar and oats prepared with cream are often high in saturated fat. To achieve or maintain a healthy weight, choose plain oats, cooked in water or skim milk.
What do you think? Does a younger, more strapping Larry change your view of oatmeal?