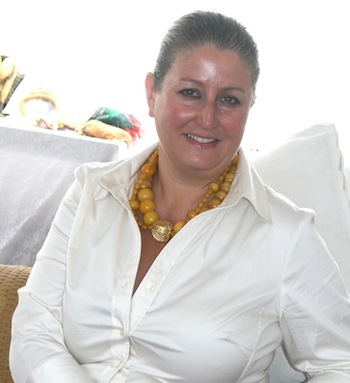 Sometimes what a woman needs to get through the day is a little bit of luxury. After some full days and exhausting evenings of film-watching, interviews-transcribing and general all-around schmoozing at the Festival de Cannes, I felt emotionally drained. I didn't want to hear the sound of my own voice for a while, but needed a special place where I could get away.
That's where the DPA Gift Lounge and Nathalie Dubois-Sissoko came in and rescued the day (and the journo). Turns out just an hour spent in this incredibly strong, insightful, generous woman's company, and surrounded by delicious gifts and sublime freebies was all I needed.
I've known Dubois-Sissoko for a couple of years, since first meeting her during the Doha Tribeca Film Festival. There she ran one of the most beautiful gift lounges I've ever visited and immediately her knowledge of brands and great fashion sense got me hooked. So, along with great cinema and interviews with favorite personalities, the DPA Gift Lounge is one of the main reasons I come to Cannes. Really. I look forward to my visit there, tucked away inside a couple of suites at the Carlton Hotel, for weeks beforehand.
This year, I also wanted Dubois-Sissoko's voice to come through, because becoming the "queen of the gift lounges" is no easy feat. For a woman to manage the best lounges at the Toronto International Film Festival, Cannes, the Golden Globes and the French César Awards, one must be pretty amazing, so catching up with Dubois-Sissoko was a must. Here is what she had to say, about her background, her future and the inspiration she gets every day, to make the world just a little bit better.
I studied history in Paris, I wanted to be a journalist. History is my passion and I have a diploma in Egyptology. In the middle of studying at the Sorbonne in Paris, I moved to LA. For Studio Magazine, one of the biggest film magazines in France, at the time. I stayed with them for six years, and I was their LA correspondent. I did features and interviews, junkets and research. The only one from LA covering Hollywood.
How did the lounge idea come about?
I started doing events production and did events for the Jackson family, Woody Harrelson, VIP rooms, fashion shows production, for 27 years. Then a few years ago I started doing this by accident. It was existing already in the States but it was not well done. And I'm French, Parisian, so I wanted to do it more elegantly. Right away I took that concept and exported it. Did Cannes in 2005, downstairs at the Carlton, where Nikki Beach had a club so during the day we had the suite with around 30 brands and at 6 p.m. we had to strike down, pack up everything, to start up again and unpack, re-set up at 7 a.m. the next day. It was exhausting. I lost 10 pounds and had lots of bruises. That year we had Sharon Stone for the first time -- it was amazing. Then Venice Film Festival came to see us, they wanted a suite, and we did 2006 and 2007 there. And then we did Dubai for five years.
What do you bring to the table that's different from other lounge concepts?
What makes my success is that, among my competitors, I'm the only one who lives in Hollywood. I breathe Hollywood, I've been there for 27 years and I know how to treat the stars. They feel safe, this is their place. We know them 150 percent. And also we know the key players, even if they are not stars, we know the directors, the producers, all the major people. Also, I'm a movie freak, I have watched all kinds of movies since I'm a kid. From Chinese movies to French movies. That makes a difference.
What's in the future for you?
I think it's time to have my own products, as far as branding. So we are creating a few concepts that are revolutionary, I can't say it yet, it will be in four different countries but it's huge. We are trying to have one in Abu Dhabi. The past year I've been very healthy, the way I eat but also how I do things. I think it's the future. The food in the States is really bad, so this will be a way to do something good for the world. I think I was born to help people. It's very hard when you do these suites and get all these free gifts and I live with someone from Africa, where people die in the streets, they have nothing to eat. Or you travel to glamorous cities like Dubai, or LA where it's super bling bling bling, at the same time I go to Senegal and there are kids who have nothing. For me it's kind of awkward with my personality to do these suites.
How does Nathalie spend her days off?
On my time off I rescue animals. I have no child so my dog is my life, I have a Husky. I'm passionate about dogs and I love pictures. Am thinking of doing an exhibit of iPhone photos. I want to start printing them on canvas, just for fun. I try to do healthy things, go to spas, I hardly can imagine how stars live because my life is insane. You have to find a niche of normal life. I try to travel, I love to go to places I don't know. My second home is French Polinesia, Bora Bora, Tahiti.
Three words that describe you.
Hard worker, sparkling like a bubble that never breaks. I am traveling, I float, and I think I'm a very spiritual person. OK, that's more than three...
Image courtesy of DPA Gift Lounge, used with permission