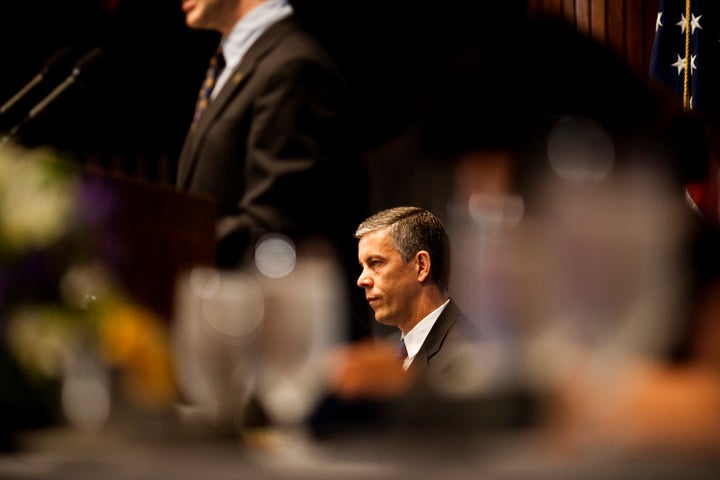 In another cockfight between California and Washington over education, the U.S. Department of Education has rejected California's application - and only California's application - in the third round of Race to the Top. The denial exasperated the seven California school districts that led the state's effort and were counting on $49 million earmarked for California as critical to do the work they had committed to do.
In a statement Wednesday, State Superintendent of Public Instruction Tom Torlakson and State Board of Education President Michael Kirst each criticized the federal government's inflexibility in not accepting what they described as California's "innovative" approach of giving control of the reforms to local school districts. Seven unified districts, including Los Angeles, Fresno, and Long Beach, formed a coalition known as CORE, the California Office to Reform Education, to compete for round three and work together on the reform.
Torlakson also said the federal government failed to scale back its expectations for Race to the Top reforms during this fiscal crisis. "I had hoped the federal Administration would be mindful of the financial emergency facing California's schools and the severe constraints it has placed on state resources," he said. (In the third round of RTTT, the federal government slashed the available funding from $3.4 billion to $200 million. For California, that reduced the potential award from as much as $700 million to $50 million.)
The federal government saw things differently. In a statement congratulating the other seven states in line for the money, federal officials said California "submitted an incomplete application."
What state officials didn't do was submit and sign the official short application, which, the Department ruled Wednesday, disqualified California.
Failure to sign wasn't simply an oversight; it reflected a fundamental disagreement about what California was asked to commit to. In the second round of RTTT, the state had agreed to four broad areas of reform:
Implementing Common Core standards;
Building data systems to measure student growth and success in order to improve instruction;
Recruiting, training, and rewarding effective teachers and principals;
Turning around the lowest-achieving schools.
In being asked to reaffirm these reforms for round three, the state and CORE districts had very different interpretations. The districts believed that nothing had changed; they remained committed to the four reform areas agreed to in the second round. All that Brown and the others had to do was simply acknowledge that the Legislature hadn't passed any laws reversing the commitments made in round two.
"It was a unique application that only committed participating districts to reforms," said Rick Miller, executive director of CORE, which represents the districts.
Brown and Torlakson objected to making any statewide commitments dealing with teacher effectiveness and how to treat failing schools. They also didn't want to be tied to explicit reforms approved by Gov. Schwarzenegger in the second round application. One in particular, strongly opposed by the California Teachers Association, would have committed the CORE districts to linking standardized test scores to teacher evaluations.
State Board President Kirst agreed with that interpretation. "The issue is not what the districts committed to but what the state was committed to," said Kirst. "The second round application was slippery in terms of what was committed; it mixed up state and local roles."
Kirst, Torlaskson, and Sue Burr, executive director of the State Board of Education, have had ongoing conversations with top federal education officials. As recently as this week Kirst spoke with Duncan and expressed his reservations.
The state's interpretation baffled Fresno Unified Superintendent Mike Hanson, who said he thought the CORE districts had an understanding with the governor to submit the round three application. "I find it hard to believe that whatever gap existed in the end could not have been bridged by having representatives from Sacramento, D.C., and CORE sit down and talk it out," said Hanson.
Fresno and the other six districts were going to use the federal money to prepare teachers to make the transition to Common Core and build local data systems to share information and their successes. They've been starting to do this work using some small foundation grants, but Hanson said the $49 million would have been "jet propulsion for us," and the results would have been available for all districts in the state.
"We missed a big opportunity, probably the last opportunity" for a major federal grant, said Hanson.  "That money is now going to go to another state to help make those kids more competitive."
Calling all HuffPost superfans!
Sign up for membership to become a founding member and help shape HuffPost's next chapter