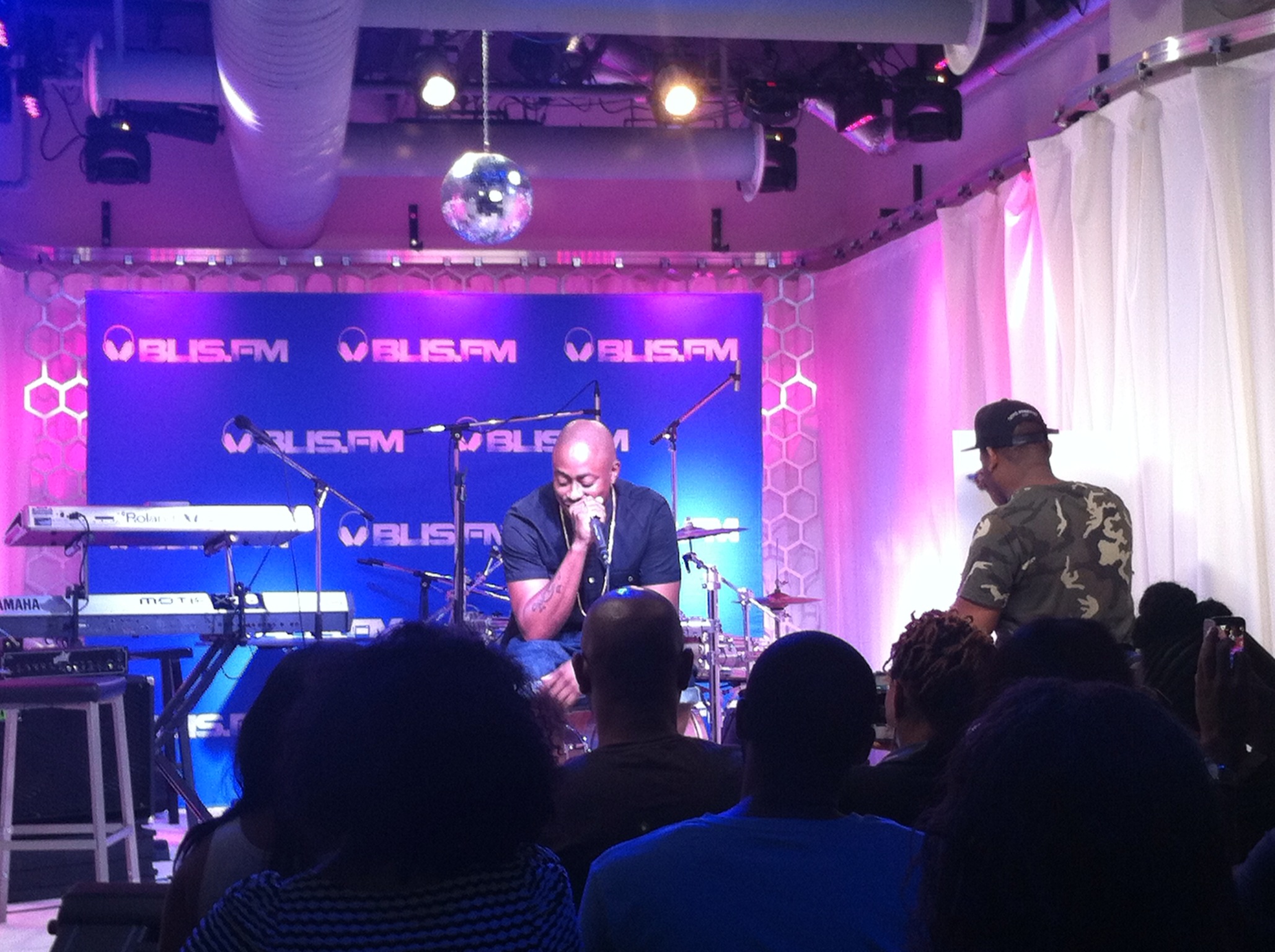 Tuesday evening, three-time Grammy award-nominated singer/songwriter, Raheem Devaughn partnered with Blis FM to welcome listeners to Studio 202 in Washington, D.C. for an exclusive hearing of his forthcoming album, "A Place Called Love Land." The listening session was unlike any other I have attended. The four course buffet catered by Henry's Soul Food, as well as the complimentary open bar helped to create a relaxed, family reunion-like environment. Guests conversed over macaroni and cheese, collard greens, baked chicken and fried fish before gathering to hear Devaughn's latest project.
In case the catered soul food didn't quite do the trick, Devaughn's attendance also helped to alleviate the formality associated with these type of industry events. Imagine, an artist not sitting in on his own listening session; but leaving the audience with a set of instructions to check yes if the song is a hit, or no if it must go. Instead, with only a mic and a barstool, Devaughn guided the group of about 30 audience members through some of his favorite tracks.
He describes "A Place Called Love Land" as a "relationship thinking tank with a retro futuristic 90's feel"; and to ensure the delivery of this sound, he teamed up with R&B names, Ne-Yo, Mario Winans and Jazz from the group, Dru Hill.
Previously known for hits like "Customer" and "Woman," Devaughn is more conscious of his male listeners on this album.
"I don't make records just for the ladies," Devaughn tells his listeners. "I make it for the fellas too."
The album's second single "Ridiculous," -- co-written by Ne-Yo --
shares a similar message with Beyoncé's "Crazy in Love", but is conveyed through the male perspective. Devaughn sings over faint piano chords, "call me a fool, call me insane, tell me that loving you the way I do is ridiculous." With it's steady beat and Devaughn's airy vocals, the single has "Ne-Yo" written all over it.
Devaughn recalls his initial reaction when Ne-Yo presented the song to him. "I felt like he was writing this song for Michael Jackson," Devaughn says.
Following "Ridiculous" is "Pink Crushed Velvet"; and judging from the audience's reaction, it could possibly serve as the album's next single. The suggestive and catchy lyrics "you feel like pink crushed velvet" revisit the sensual, adult sound Devaughn is known and loved for. Male and female audience members bobbed their heads in unison to the song's sexy, body-rocking tempo.
"If you're not careful with this CD you may be stuck with [whomever you're listening to it with] for the rest of your life," Devaughn says after noticing the song's effect on the audience.
After much commentary, conversation and a few notes here and there, Devaughn wrapped up the three hour listening session, leaving the audience with a departing message, "I am not a one hit wonder. I'm going to be around for the long haul." Whether this is true, only time and album sells will tell. But, one thing is for sure; Raheem Devaughn throws one heck of a listening party. Where else would you receive a sweet potato pie party favor?
Note: "A Place Called Love Land" is due in stores Sept. 3.
Calling all HuffPost superfans!
Sign up for membership to become a founding member and help shape HuffPost's next chapter