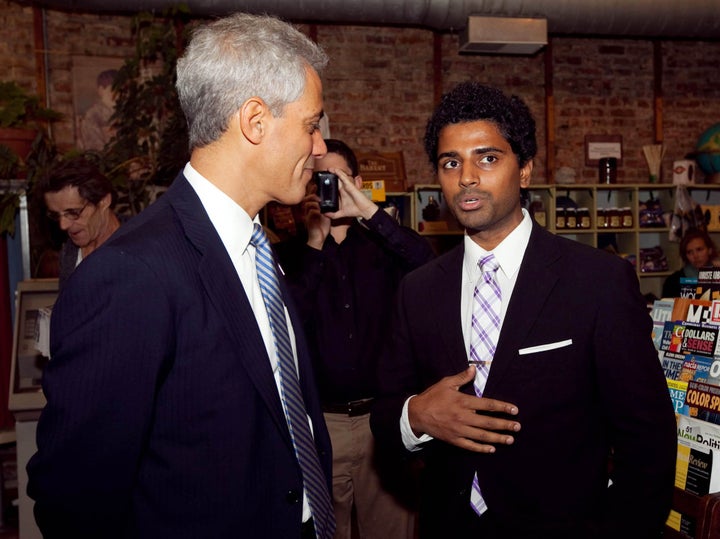 If you're still gloating over the fact that you are "mayor" of five Chicago bars on Foursquare, a new partnership announced by real Chicago Mayor Rahm Emanuel Friday might give you something more culturally relevant to strive for.
Emanuel joined Foursquare co-founder Naveen Selvadurai and 49th Ward Ald. Joe Moore at the Heartland Cafe, 7000 N. Glenwood, Friday morning to announce the "Windy City" badge on Foursquare, which encourages locals and visitors to check out cultural and small business attractions throughout the city. The badge is the first of its kind developed by Foursquare for an individual city, solidifying the Emanuel administration's focus on social media and online interaction with residents -- though, the mayor himself might need some guidance.
"I want to be honest," Emanuel said Friday. "I said to my staff on the way here, 'What am I doing?'"
Emanuel was joined by Kevin Hauswirth, the city's first-ever Social Media Director, who told the crowd of journalists and college students the mayor himself would be "checking in" to locations across the city, with the help of his staff.
The Department of Cultural Affairs and Special Events picked 20 Chicago spots for the badge, and to earn it users must check in to at least five of them.
Selvadurai said it was natural for the company to launch its first city badge in Chicago given Foursquare's popularity among locals. Emanuel touted not only the fun aspect of badge-earning, but said social media platforms like Foursquare help create jobs and generate interest in local businesses.
"We today as individuals who are very wired don't have a level of intimacy," Emanuel said. "This is an attempt to give us that intimacy and relationship and community building we can't get any other way as we all get siloed off in our own individual worlds."
To earn a "Windy City" badge, you can check in to five of the following 20 locations: The Oriental Institute Museum in Hyde Park; Garfield Park Conservatory in Garfield Park; Du Sable Museum in Washington Park; Chicago Velodrome in South Chicago; Jane Addams Hull-House Museum in Little Italy; Glenwood Avenue Arts District in Rogers Park; Green Mill in Uptown; Dat Donut in Chatham/Morgan Park; Chicago's Home of Chicken and Waffles in Bronzeville; Renegade Handmade in Wicker Park; Co-Prosperity Sphere in Bridgeport; Vida Simple Mural in Pilsen; Ping Tom Park in Chinatown; Merz Apothecary in Lincoln Square; Swedish Dala Horse in Andersonville; 63rd Street Beach in Jackson Park; Milio's Hair Studio in Lakeview; Music Box in Lakeview; Michael Jordan Statue at the United Center; and Revolution Brewing in Logan Square.
The announcement comes just in time for Social Media Week, which begins Monday--and as many start to notice just how far Chicago government has come technologically in the last six months.
"It's big," David Kennedy, director of the Center for Crime Prevention and Control at John Jay College of Criminal Justice in New York told the AP. "If not unprecedented, it's very unusual."
Emanuel also has an active Twitter account and recently hosted a Facebook Town Hall. Also on Friday, the city announced "City Hall in your Community," which will use Google Maps to track the mayor's day-to-day activities and "provide the people of Chicago with an easy-to-use, up-to-date way to see how the City is serving and interacting with residents across the city."
Calling all HuffPost superfans!
Sign up for membership to become a founding member and help shape HuffPost's next chapter