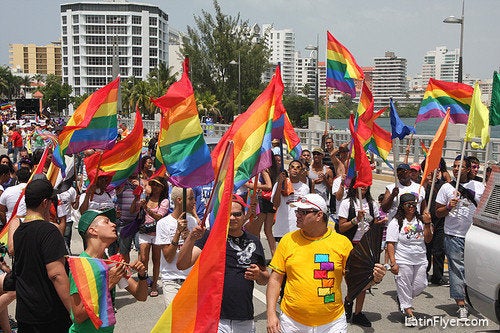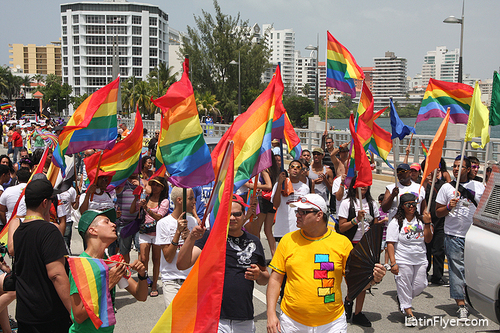 Latin American destinations like Puerto Vallarta, Rio de Janeiro and Buenos Aires may be more prominent on the global gay travel map, but in the Caribbean, San Juan, Puerto Rico, is the vacation destination with the best infrastructure and the widest variety of activities available for gay and lesbian travelers (the island has also become a popular topic of conversation within the LGBT community since featherweight Puerto Rican boxing champ Orlando Cruz came out of the closet).
So if you're looking for a fun place to enjoy gay beaches and nightlife, look no further than the so-called "Isla del Encanto" (Island of Enchantment). Here are some places to put on your must-see list:
Condado, San Juan's Gayest Beach Neighborhood
This popular oceanfront district is an ideal place for LGBT travelers to stay, thanks to its array of cool hotels and gay-friendly venues. The gay beach is located at the foot of Calle Vendig (Vendig Street), in front of the hip, gay-owned bar/restaurant called Oceano. (The Atlantic Beach Hotel is no longer the popular gay hangout it once was; in fact, it is no longer positioned as a gay hotel.)
Here's where to have a drink in Condado:
Oceano: This chic, upscale, open-air bar and restaurant is gay-owned and hosts some gay-themed events, but in general it's very much a gay/straight mix and a cool place for anyone, though it's right on the gay beach. During the day and early evening it's a great place for lunch, brunch and dinner by the sand, while at night a smartly dressed crowd arrives to listen to live DJs, sip tasty cocktails and socialize. (Calle Vendig #2, 787-724-6300)
Splash Lounge: This small but pleasant bar, set in what was once called the Condado Inn, is about one block from the gay beach. The venue offers indoor and outdoor seating, a good mix of music and friendly staff who also serve meals and -- if you're lucky -- free shots. On Fridays and Saturdays late at night and on Sundays after 5 p.m., the bar fills with a well-dressed, good-looking young crowd. (Calle Condado #6, 787-721-7145)
Santurce, San Juan's Hub for Gay Bars
Located less than 10 minutes by car from Condado (and walkable, though it's better not to do so alone), the neighborhood called Santurce has claimed the role of San Juan's gay nightlife hub. A couple of cool places (Heaven & Hell, Krash) closed recently, so today most of the gay nightlife is centered on and near Calle Condado, making it easy to park once and walk from bar to bar.
Here's where to go in Santurce:
Circo: Now San Juan's most popular gay dance club, Circo packs in night owls on weekends and some weeknights for drag shows, drinking, go-go boys and -- more than anything -- plenty of dancing. It's not a spacious venue, but it's got great energy, two floors and multiple bars to explore. (Calle Condado #650, 787-725-9676)
El Chinchorro: Where do hungry club goers head after a long night of gay bar hopping? The most convenient place is El Chinchorro (which translates roughly as "The Hole in the Wall"), a modest eatery that opens after midnight on nights when the bars are open. Owned and run by a young gay couple, El Chinchorro serves delicious homemade empanadillas, alcapurria and other Puerto Rican specialties, as well as soda pop and alcoholic beverages. The business recently expanded and now has more seating. (Calle Condado, phone unlisted)
Metrosex Men's Club: Visitors in the mood for nonstop male strippers should head to this subterranean bar (formerly known as the San Juan Eagle), which usually charges $5 admission and has a never-ending stream of men strolling around in their underwear. (1204 Avenida Ponce de Leon, phone unlisted)
Scandalo: Located in a venue once known as Junior's, Scandalo is a small dance club that hosts live Djs and drag shows. The $5 cover keeps some people away, because the neighboring bars offer free admission. (Calle Condado #613, phone unlisted)
Tía María Liquor Store: Don't believe the name; it's not a liquor store! Tía María is a laidback, not-chic-but-very-pleasant gay bar with two pool tables, karaoke nights and a strong enough following that the people spill out onto the street. It's a lively, casual bar that's the only place in Santurce open every night of the week. (It's also the only gay bar in Santurce that's not close to Calle Condado.) (Avenida de Diego, phone unlisted)
VIP: Reggaetón and hip-hop are the musical styles of choice at this tiny dance club, which attracts an array of mostly gay clientele, along with some other patrons in search of good dance music. (Calle Condado, phone unlisted)
And don't miss San Juan's annual Pride parade, which attracts several thousand participants to Condado every year in early June, followed by a festival and lively show.
Popular in the Community