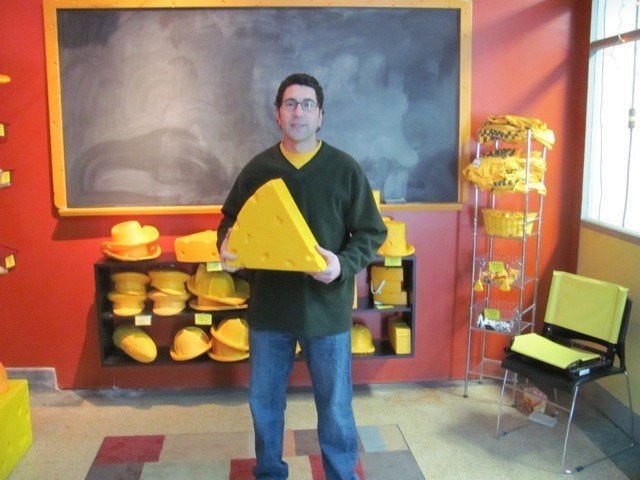 Come Super Bowl Sunday, some 100,000 football fans will descend on Cowboy Stadium -- and many of them will be wearing chunks of foam fromage atop their domes. These are, of course, the Cheeseheads, the proud army of Green Bay Packers loyalists with a good sense of humor and a unique taste in fashion.
The ubiquitous Cheeseheads have become as synonymous with Wisconsin as the Golden Gate Bridge is with San Francisco or the Eiffel Tower with Paris. Packer Backers who recite the "Wedge of Allegiance" wear these hats to every game, tailgate, Super Bowl party and probably even the occasional wedding. The headgear of choice has reached a level of pop culture status heretofore unseen in the dairy-based couture market, appearing in beer commercials, the Madden video game franchise, questionable rap videos, Outsourced and even TMZ.com.
And just who makes the Cheesehead magic churn? Meet Ralph Bruno, who started his company, Foamation, as a lark crafted out of a piece of his mother's sofa. Nearly 25 years later, the Cheesehead, which began as a way to take back the slur leveled by Illinois "flatlanders" against Badger Staters, has become a universally recognized symbol of Wisconsin itself.
A Milwaukee native, Bruno's company is now based out of an 18,000-square-foot operation just off of Lake Michigan, and his entrepreneurial ride has been as goofily entertaining as his world-famous product. But it's not all curds-and-giggles -- Foamation pulls in more than $1 million in annual sales. The silly hat racket is cutthroat, but in the end, the Cheesehead stands alone.
Is it true that you might not have the Cheesehead empire if not for the people of -- gasp -- Chicago?
It's true. People from Chicago would refer to us Wisconsites as Cheeseheads, and it got worse after the Bears won the Super Bowl in 1986. I thought, "What's the big deal? I like cheese. Wisconsin makes some of the best cheese in the world. I'm proud to be a Cheesehead."
How did you go about constructing the original Cheesehead?
I was reupholstering my mom's couch, so I took an extra piece of foam, cut into the shape of a wedge, gave it the color of American cheese, and put holes in it with a wood burner.
Where did the original Cheesehead make its debut?
At a Brewers/White Sox game in the summer of 1987. We were tailgating at County Stadium and just before we headed in, I put on the Cheesehead. My friends had no idea of what I'd done and they scattered. Everyone was shouting out, "Hey, Cheesehead!" People couldn't get enough of it. At some point during the game, a woman came up and tried it on. I had trouble getting it back from her. I could see right away, there's really something to this. The Cheesehead took a slander against us Wisconsites and turned it into a badge of honor.
And that led to you starting your company Foamation?
It did. I guess I never knew enough to think I shouldn't be doing this. I was still living at home and my parents didn't try to steer me away from doing it, even if a lot of people thought I was crazy. My background was in pattern-making and I had experience making prototypes. Everything was done in-house. I did all of the tooling myself, so it was a lot of long hours. I couldn't afford design software, so it was a back-to-basics approach, which helped us in the long run. Even today, 80 percent of our designs are done with clay.
How did you find your initial customers?
I was literally a door-to-door Cheesehead salesman. I cold-called sporting-goods retailers, cheese stores, gift shops, etc. -- anyone who would listen to me. I did a lot of sales on consignment -- that's how I ultimately was able to sell Cheeseheads at County Stadium. I didn't know anything about marketing. It was all a grassroots effort.
How long did it take before you started feeling confident about the Cheeseheads?
Well, I didn't quit my job until the early 1990s, so sometime around then. We were doing alright, but we were still small time. For instance, our bank wouldn't give us a $5,000 loan, even though they liked us having a checking account because they thought we were comical. Our credibility went way up during the Packers resurgence in the mid-1990s. The year the Packers won Super Bowl XXXI, we did $2 million in sales. It's been steady ever since, although the pinnacle was those years.
Was there a specific moment when you felt the Cheesehead had made its mark?
There was a point during that mid-1990s run when Packers wide receiver Robert Brooks was photographed wearing a Cheesehead Cowboy hat. I remember thinking, "That's so cool! The Packers know who we are! More importantly, they feel the same Cheesehead spirit that we do!"
Are you always adding to the Foamation product line?
Yes. The Cheesehead is the staple, but we have everything from bow ties to beer koozies. We have to keep reinventing ourselves. More than half our business comes from creating items for other companies. We've made things for Pepsi, Popeyes and numerous other NFL teams. We did the Philadelphia Eagles "Cheesesteak" hat, New England Patriots foamheads, and years ago, we did a Steelers head that was some sort of I-Beam. A few weeks ago, before the NFC Championship, we did a small run of "Iceheads" in honor of Atlanta Falcons quarterback Matt "Matty Ice" Ryan. When the Falcons fans were on the phone, in the back of my mind, I was thinking that the Cheesehead would reign supreme, but we filled the order.So you have no problem consorting with the gridiron enemy?
We operate under the belief that the next Cheesehead will come down the pike and we hope Foamation makes it. They all have potential to become a hit. It's not that we're fighting for survival though. When Brett Favre joined the Vikings, we turned down a huge order to do a run of purple Cheeseheads because that would be whoring out the flagship. We left a lot of money on the table, because we're down to Earth and have some ethics.
It seems like the Cheesehead is bulletproof at this point. So it wouldn't exactly be fair to call it a novelty item.
Our out-of-state sales, mostly online, ebbs and flows on how the Packers are doing, but in the Midwest, we're in it for the long haul. We think we're more in line with the hula hoop or the yo-yo, which have been around forever.
You trademarked the Cheesehead, correct?
Yes, and it's been a big help protecting our product. We have trademarks on both the shape and color, and the pattern itself, which doesn't exactly exist as a real piece of cheese. Whenever people see the Cheesehead, we want them to think of Foamation, just like Disney's Mickey Mouse ears.
Is it safe to say that this season has been a boon for Foamation?
Absolutely. I'd say in the last two months, business is up 25 percent. We planned ahead this time and started training temp workers, so we were ready if the Packers had a big year. These are custom items, so it takes a little while to understand how they're manufactured. We're running two shifts and we've made tens of thousands of Cheeseheads to meet demand. It's tricky because we could easily get stuck with way too much inventory, but the Packers are rolling and so are we. A guy came in to add extra phone lines and he couldn't get a dial tone because there were so many calls. We had to borrow our neighbor's phone.
Did the University of Wisconsin's trip to the Rose Bowl boost business as well?
A little bit, but we've found college kids want to spend their disposable income on beer. We think the momentum will carry on through 2011 because when baseball season starts, we have a coffee table book coming out. I'm almost positive we're going to call it Hey Cheesehead!
So what are your Super Bowl plans?
I'll be home holding down the fort, but we're sending a few salespeople to Dallas. We're blessed because when I started out, I hired friends and family, and now some of them get to go tailgate and then watch the Packers in the Super Bowl. I think this year is going to be an even bigger party because the Packers and Steelers fanbase are mirror images of one another.
As a native Wisconsinite, it must make you feel good to be so closely identified with the state.
It's gone way beyond a silly hat. I get enormous gratification being a part of it. When I was in Jamaica, we were talking to some people, and when we said we're from Wisconsin, they instantly called us Cheeseheads. I love when my kids bring their friends to meet Mr. Cheesehead.
OK, here's the most important question: What's your prediction for the game?
It's going to be close. Aaron Rodgers is on fire, but that Steeler defense -- wow. In the end, the Packers will be victorious. Let's call it 28-21.
Name: Ralph BrunoCompany: FoamationAge: 50Location: MilwaukeeFounded: 1987Employees: 62011 Projected Revenue: more than $1 millionWebsite: www.foamation.com
The original version of this article appeared on AOL Small Business on 2/1/11.
Related
Popular in the Community