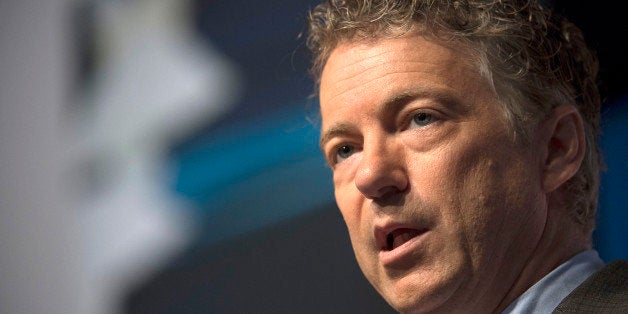 Republican Senator Rand Paul is running for president. His April 7 campaign kickoff announcement in Louisville Kentucky was leaked by the New York Times months in advance. Of course, even before the leak it was always clear from Paul's shameless pandering to young libertarian minded voters that he was etching out a niche for a 2016 bid. I should know because I'm one of those young libertarian minded voters.
How do I know Senator Paul isn't really an edgy candidate willing to risk it all in the name of libertarian ideals? It's simple actually, I just know his positions. Anti-gay marriage, pro-life and opposed to marijuana legalization, Senator Paul does not even come close to putting his money where his mouth is when it comes to courting youth voters.
My generation is having none of social conservatism's puritanical hogwash on any of the aforementioned issues. What makes the supposedly "Libertarian" Senator Paul oppose such positions which so obviously endorse the personal liberties he claims to defend? Most likely, the fact that holding any one of them (let alone all three) would almost certainly cost him any chance at winning the Republican nomination for president. Need proof? Look no further than Senator Paul's very own father.
Former Congressman Ron Paul's support for marijuana legalization in 2012 was lauded by many for being a rare sign of ideological purity in presidential politics. Positions like that made the senior Paul's campaign an almost certain failure from the get go. The highly influential evangelical voting bloc of Republican primary voters managed to keep him at a weak third place finish in that cycle's Iowa Caucus, despite his strong grassroots support amongst the state's youth. It was not the politically pragmatic choice for Ron Paul to hold such a position but he did it anyway on principle, something his son seems to lack.
That's not to say that Ron Paul was a true libertarian either. The then-76-year-old Congressman was in fact opposed to both same-sex marriage and abortion rights, much like his son. However, in the case of Ron Paul this could be attributed to a generational gap which is not nearly as relevant to the positions of his younger son.
Ultimately, Rand Paul has successfully carved out a reputation as Congress's leading libertarian voice (a reputation he largely inherited from his father). Most notably, he filibustered the nomination of John Brennan for director of the CIA, in a speech running over 12 hours long. The filibuster's stated purpose was to oppose the CIA's use of drone-strikes. An impressive feat of political theatre which comes off as toothless upon further examination. The filibuster was of a presidential appointment, giving Senator Paul a clear and highly publicized swipe at President Obama which helps endear him to Republican voters. The filibuster also scored him easy points with libertarian-minded voters on an issue which isn't as toxic in a republican primary as marijuana or same-sex marriage.
Rand Paul has in fact inherited much of his father's popularity among the grassroots and youth activists of his party. I would tend to agree with most political insiders that he is one of the leading contenders for the Republican nomination. However, I can't help but wonder just how long and to what effect his disingenuous charade can possibly continue. At what point do his key voting blocs stop and realize what his actions are really designed to accomplish? Which is to trick them into electing an unremarkable first term Republican senator as America's first "Libertarian" president.
Calling all HuffPost superfans!
Sign up for membership to become a founding member and help shape HuffPost's next chapter