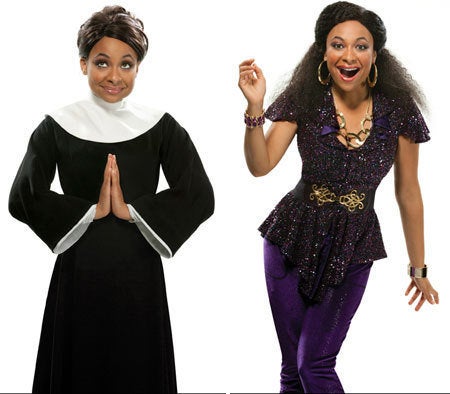 Raven Symone has captivated national audiences since the tender age of 4, when she played the charming Olivia Kendall on "The Cosby Show." Since appearing alongside the Huxtable family, Symone has blossomed into one of the industry's youngest and wealthiest moguls, thanks to the success of producing and starring in the popular Disney series "That's So Raven" and "The Cheetah Girls."
In speaking with The Huffington Post, the multitalented media maven opened up about her debut on the Great White Way, her thoughts on returning to the music industry, and the secrets of her success.
Leading up to this week's premiere, how did you prepare for such a dynamic vocal role?
I went to a wonderful vocal coach, Eric Vetro, and he helped me in amazing ways to get my voice ready for Broadway. But it's hard for me to say how I implemented them. I think after a certain time, you just do the different things that you've been taught over the years and it just becomes a part of you. So hopefully I live up to the music that Alan Menken wrote.
Coming from film and television, are there any significant differences that you notice in rehearsing for a Broadway show?
The hours are much longer, but you get Mondays off. And there are a couple of secrets that I learned that are certainly different. With cameras, you have to know your angles, your lights and all of that. And you have to know that on stage, too, but it's a different type of camera focus. Understanding that, and adding what I always wanted to do on stage, and working with the people here to give me that freedom -- it's pretty fun and interesting to see the different techniques that I incorporated from the vocal coach and the different secrets from Mr. Jerry Zaks.
With Whoopi Goldberg on board as one of the show's producers, what advice has she given you to help you feel comfortable with the role?
To listen to the director and the people around [on set] who have been doing this for as long as they have. The production has been up for a while, coming from London, and it's a great show. I can't really come in there headfirst and say, "This is what I'm going to change." I don't know what I'm doing, this is a new territory for me.
Though you're just getting started, do you see yourself starring in another stage production?
I will say this is the first time in my life where I have not thought about anything else. I have a master plan for my life, but with this, my plan only goes up until tomorrow: it's me getting ready for rehearsal the next day [laughs]. It does take you. But it's also good because I don't have to worry about what the next plan is, because I know I'm set here [for the next few months]. But work-wise, it's still the same: I still have my scripts and stuff. But no, I haven't thought about anything else but the play itself.
Due to the amount of singing involved, have you thought about returning to music?
I was, but I don't know if I'm going to do that right now. I think that the market has a fabulous array of musicians. And yes, I have things to say, but I can always express myself in other ways in the industry. I'm actually good on that for right now.
What are some of the principles that you've lived by, to attain the success that you have today?
The best advice that I can give is: It's about the work. It's really about you putting yourself into your work and your career and focusing on that, and not going for the shiny, fake gold teeth that you find out later are not real gold. Go for the long haul. And hopefully it works. I don't talk about anything else but my work, and that's what I'm doing and that's what I portray.
Are there any other projects in the works?
There are always scripts that I've had over the years that I'm trying to settle on for different movies and ideas, and that'll be until it's bought [by a studio]. But nothing more than that. The way the industry is, I've been very careful and just sit back and wait for different things and see, rather than be too forward. Cause sometimes it's about timing, not necessarily about your hustle.
"Sister Act: The Muscial" is now showing at the Broadway Theatre.
PHOTO GALLERY
Raven-Symone Photos
Calling all HuffPost superfans!
Sign up for membership to become a founding member and help shape HuffPost's next chapter
BEFORE YOU GO