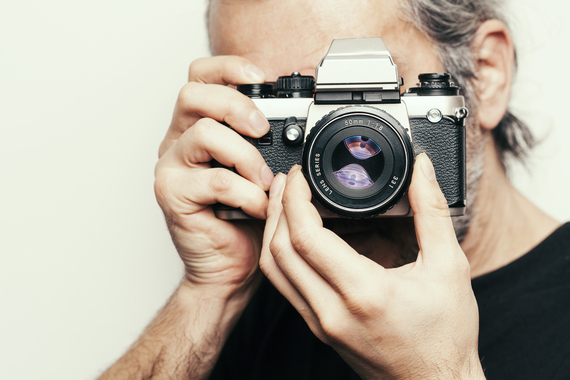 Next time you're tempted to take a snapshot of an interesting cloud formation or your seatmate sprawling into your personal space on a plane, remember Arash Shirazi and Steven Leslie.
Both of them are law-abiding citizens and air travelers. And both recently ran afoul of the airline industry's confusing photography rules.
With only days before the busy summer travel season unleashes millions of shutterbugs on America's airports, it's helpful to know about the airline industry's little problem with cameras so that your own camera doesn't become hung up on it.
Shirazi, a music agent, was recently waiting in the Reagan National terminal for a flight from Washington to Los Angeles when he decided to take a picture of an American Airlines aircraft with his smartphone. He wanted to share it with his friends on social media.
A gate agent saw him snapping photos, stopped Shirazi and "demanded to know why I was taking a picture of airport equipment," he remembers. "I showed her the picture and offered to delete it, but she became even more combative, accusing me of being a security threat. She made it a point to tell me that she was going to document this security breach in my travel record."
Shirazi said he apologized, adding that even as a frequent flier he was unaware of any prohibitions against taking photos of planes. "But she was curt and told me to either get on the plane or take the next one," he recalls.
He's right. American Airlines doesn't publish any prohibitions against taking photos of its aircraft. But late last year it updated its internal policies to allow employees at the airport, including ticket counters, gates, cargo, baggage, and onboard, to stop passengers from taking pictures.
"The policy is in place to protect employees and customers," says Andrea Huguely, an American Airlines spokeswoman.
Steven Leslie faced a similar reaction from an airline employee when he started filming a passenger boarding a JetBlue flight. Leslie, a soft-spoken pharmacist flying from Albuquerque to New York, noticed a family with a sick child. The crew looked worried about the boy's health. His family said he had cancer and had been medically cleared to fly.
The incident occurred only a few days after another cancer patient was expelled from an Alaska Airlines flight under similar circumstances, and Leslie decided to tape the conversation on his phone.
"It was my original intent to record this uncomfortable situation because I felt it was wrong," he says.
Apparently, JetBlue felt something was wrong, too. After the family was removed from the aircraft, an airline employee ordered that Leslie delete the video. He politely refused, and then he, too, was escorted from the aircraft.
The reason? A crew member told him he didn't "feel safe" being recorded.
JetBlue rebooked Leslie on the next flight, which departed nine hours later. After I covered the incident on my consumer advocacy blog and a New Mexico TV station aired a report about Leslie's expulsion, the airline reviewed the incident and admitted to Leslie that the crew member's request to delete the recording fell into a "gray area." It apologized, offered him a flight credit and covered some of his expenses associated with spending an extra night in Albuquerque.
It turns out JetBlue doesn't have a published photography policy, either. "Our crew members use their professional judgment in evaluating the appropriate use of photography or videography onboard, especially when it involves the privacy of other customers and the safe and secure operations of the airline," says Morgan Johnston, an airline spokesman.
If these incidents prove anything, it's that airlines can be a little camera-shy. That's not new. When pressed, most airlines say that their policies allow cameras to be used onboard to record a "personal" event, but that snapshots of the crew, other passengers or any security procedure are off-limits.
But what's unusual is the number of photography cases that have crossed my desk recently, thanks to the loosening of restrictions on in-flight electronics. They're amplified by a larger debate about police misconduct and body cameras happening beyond travel. If I had to make an educated guess, I'd predict more confrontations between crew members and passengers with cameras in the future.
Can airlines stop you from taking photos? Yes, if you're on a plane, says Daniel Greenberg, an attorney who specializes in photography rights issues.
"You can't prohibit photography in public," he says. "But the prohibition of photography on private property is legitimate. That decision is up to the property owner. If you don't want to follow the carrier's rules, don't get on the carrier's plane."
For summer air travelers, it's perhaps best to view photography on planes as you would taking pictures in France, a country known for its restrictive public photography laws. At least that's how Nancy Nally, a frequent flier and photographer, thinks of it.
"I'm very careful about the circumstances I photograph in onboard," she explains. "I am very clear about not pointing the camera at anyone but myself or inanimate objects. I don't photograph with flight attendants nearby. I have gotten very good at not drawing attention to myself because I know that my travel schedule is subject to the whims of the flight attendants."
Jeffrey Loop, an attorney and photographer, agrees that keeping a low profile is the best way to avoid a photography-related entanglement. "If you are taking photos on the aircraft and are asked to stop, don't argue or take offense," he adds. "Just stop and save yourself a heap of potential trouble. Arguing with cabin crew about your perceived rights will almost always be a losing proposition."
Why are airlines so photo-sensitive? Part of the reason is surely publicity; they don't want to end up in a viral video. Another part is security, which Shirazi's incident only hints at.
Either way, it means that on your next flight, you'll need to watch where you point that lens.
Support HuffPost
A No-B.S. Guide To Life
Related
Popular in the Community