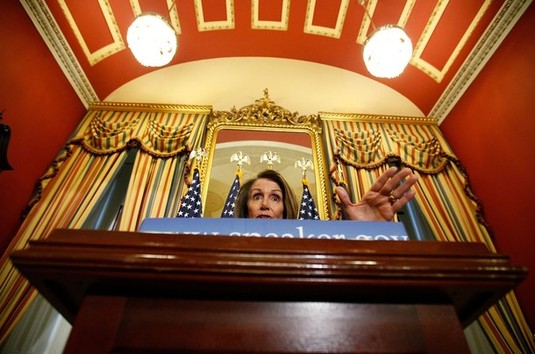 About to deliver her imprint on the biggest and most controversial piece of legislation of her life, get ready for a steady stream of pictures of Pelosi this week (already started: 1, 2, 3, 4, etc.) making her look like an incredible goof. (Not that BagNewsNotes hasn't been pointing this out, by the way, since the two-headed monster won the White House News Photographer Association's "Political Photo of the Year" in '07.)
In this pic, The Speaker is miniaturized; her title is almost completely obscured and sliced; her oversized and disembodied hand, combined with the angle of the drapes, the flags, the ceiling, the reflection in the mirror, and the eagles ringing her head make her seem like she's part of a real carnival; and her bulging eyes make her look like a hysteric, which -- with all the exaggerated expressions and super-close ups already flooding the wire -- is what the distortion is really about.
(photo: Alex Wong/Getty Images. caption: U.S. Speaker of the House Rep. Nancy Pelosi (D-CA) speaks during her weekly news conference March 12, 2010 on Capitol Hill in Washington, DC. Pelosi discussed the health care reform legislation with the media.)
REAL LIFE. REAL NEWS. REAL VOICES.
Help us tell more of the stories that matter from voices that too often remain unheard.