Sitting here in a country that did not give women the right to vote until 1971 and where today four of the seven member governing body are women, I am struck by the uneven progress and persistent barriers that woman face in specific fields. The International Herald Tribune led with a story today about the wide gender gap at top of the ladder in Europe. On that note I headed into this morning's WEF session titled, "Six Global Challenges, One Solution: Women."
Some of the true leaders pushing gender equity as an issue affecting all aspects of our world were with us. President Michelle Bachelet, who having finished transforming Chile, has now taken the helm of a new effort called UN Women, provided informed insight into the realities of gender inequity. Laura Tyson, long a leader in economic policy for the US, provided guidance to keep the conversation on track. Laura Liswood, from the Council of Women World Leaders and senior adviser to Goldman Sachs, Beth Brooke of Ernst & Young, Tae Yoo of Cisco were among the impressive women in the room who have been at the table for years, fighting for political capital around these issues in very meaningful ways. All of them offered provocative comments that will continue to resonate with me for some time to come. There were even some men in the room (of course not enough) who contributed meaningful ideas and solutions. In general, I was struck by how strong a case the data makes for changing the equation for girls and women.

The discussion, however, was focused around global challenges including education, aging population, conflict resolution, population growth, employment and health. I was surprised that the biggest global challenge -- rebuilding a robust economy -- was not being addressed. This thought led me to reflect on the four amazing young women who won the top prizes at the OppenheimerFunds/NFTE National Youth Entrepreneurship Challenge. Almost 15,000 high school students coming from economically challenging circumstances in the US have the opportunity to compete in the challenge. This was the first time in the five years of the challenge that all the finalists were young women, but over the years the top prizes had gone to girls almost 60 percent of the time. I find this particularly heartening considering the still-skewed representation of women in the highest ranks of corporate leadership. In fact, just 14.4 percent of executive officer positions in Fortune 500 companies are occupied by women today. But more importantly, it is a sign to me that young women will be leading our economic recovery as the entrepreneurs creating the jobs and the robust economy of the near future.
But, we will only get there with a major commitment to teach the skills at the core of entrepreneurship -- opportunity recognition, creative thinking and problem solving among them. Entrepreneurship should be a required course in every school around the world, alongside traditional subjects such as math, science and language. In the US, we need to do a better job of preparing all our children, including our young women, to compete in a global economy -- our education system is failing, and it's failing miserably in low-income communities. Entrepreneurship teaches young people who didn't think they had many options for their futures that they do in fact have a lot of options -- completing high school, going to college, launching a business or getting a stable job being among those choices.
One such example is Zoe Damacela. Zoe grew up in some rough circumstances in Chicago -- in fact, she and her mother struggled with stable housing for some time. But Zoe was resourceful. Zoe wanted a $60 scooter, and when her mom challenged her to raise $30 that her mom would match, the girl went to work -- for herself. Zoe, at the time 8, got out her markers and construction paper and made homemade greeting cards, started selling them in her neighborhood and by sundown had the $30. A true entrepreneur. Soon Zoe learned to sew and was given a sewing machine. Making and selling clothes followed, but not much profit. Then Zoe took a NFTE class in high school and turned her hobby into a profitable business, a $5,000 prize from the OppenheimerFunds/NFTE National Youth Entrepreneurship Challenge and a full scholarship to Northwestern University where Zoe is today, still running and growing her business as well.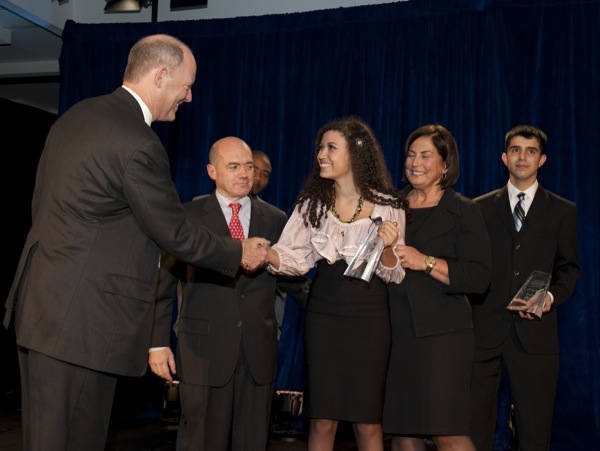 Zoe Damacela congratulated by Bill Glavin, CEO, OppenheimerFunds.

There are countless Zoes in our world who can contribute to turning our economy around, launching and running enterprises that employ people in good jobs, building businesses that can support our aging populations and creating innovative solutions for a healthier world. All we need to do is unlock the potential of these young women through entrepreneurship education. Young women, armed with the right skills, will be the solution.
Support HuffPost
The Stakes Have Never Been Higher
Related
Popular in the Community