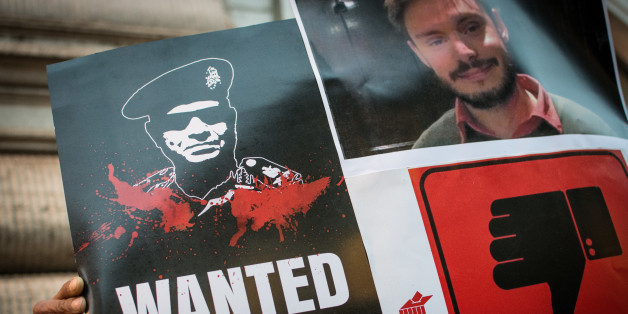 COPENHAGEN -- Exactly five years since the Arab upheavals, Western policy in the Middle East has come full circle.
On Jan. 25 this year, the fifth anniversary of the 2011 Egyptian revolution, Giulio Regeni, a Cambridge University PhD researcher from Italy, disappeared near Tahrir Square in Cairo. About a week later, he was found dead on a sidewalk on the outskirts of the Egyptian capital, his body bearing the unmistakable signs of torture.
Regeni's death immediately prompted suspicions that Egypt's mighty security apparatus was implicated in the killing. That would make Regeni one of the few foreigners to join a growing list of almost 2,000 Egyptians subject to "enforced disappearances" since General Abdel Fattah el-Sisi came to power in 2014. The ensuing standoff between Italy, until then a friendly Western government, and an increasingly authoritarian Arab regime has dramatically brought to the fore the inadequacy of the policy repertoire at the West's disposal.
'My promise to the Regeni family, as a father: we'll find who killed Giulio.' For Italians, those words were followed only by deception and delays.
Ever since the murder, the Italian government has been pressing Cairo for collaboration in the investigation. Sisi personally offered cooperation to solve the case: "My promise to the Regeni family, as a father: we'll find who killed Giulio."
But for Italians, those words were followed only by deception and delays. At a meeting in Rome in early April, Egyptian investigators refused to share the phone records of suspects, citing privacy concerns. That was apparently too much for the Italian government, which recalled its ambassador to Egypt and warned of unspecified consequences "proportional" to the situation, which might include declaring Egypt an unsafe destination for tourists.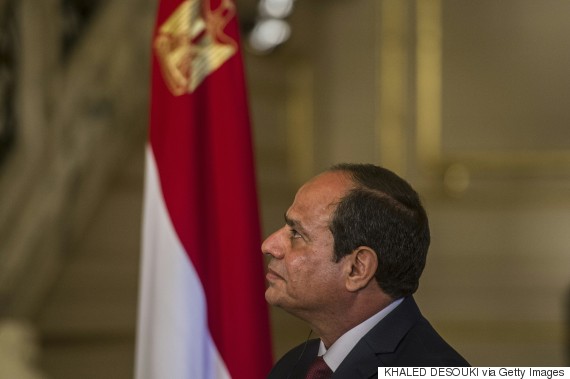 Sisi at the al-Qubaa palace in Cairo on April 17. (KHALED DESOUKI/AFP/Getty Images)
That's one of the keywords of this sad story: a "proportional" response presupposes an incrementalism and a predictability that these five years have utterly disproved. The Arab uprisings had started as a euphoric, often violent, domino effect of popular revolts fueled by resentment and outrage. With the possible exception of Tunisia, indignation turned into disillusion and finally stagnation. A half decade on, the Middle East and North Africa have reverted to some of the conditions that preceded the revolutions. And so has European policy, which is still marked by the kind of gradual engagement -- or, as in this case, withdrawal thereof -- something known in Euro-jargon as the "more-for-more" principle.
Anyone wishing that gradualism will be replaced by a quantum leap in European policy will typically encounter calls for the creation of a Marshall Plan for the Mediterranean. Instead, the Middle East has received a plethora of transactional measures addressing some of the pressing urgencies of today. The latest of those is a migration "compact" that the Italian government proposed in early April, in advance of a foreseen surge of immigrant arrivals by sea. The proposal plans to reallocate already earmarked funds and to issue joint so-called Eurobonds to fund infrastructure projects in countries of migrant origins, mostly in Africa. More controversially, the plan proposes to replicate the controversial EU-Turkey deal signed last month -- where Europe returns refugees to Turkey in exchange for money -- with war-torn Libya problematically cast in Ankara's role.
Western policy in the Middle East has come full circle.
It is doubtful whether the compact will see the light of day. Germany already flatly rejected the idea of issuing Eurobonds to Africa. But precisely against such background, the attention being raised by Regeni's brutal murder is hugely important. Not only does it shine a light on the abuses of Sisi's increasingly authoritarian regime -- it also makes it apparent that the West has no better options in the region than it had five years ago, whether it is to accompany change or to protect some of its basic values.
At a time when terror has returned to strike at the heart of the Europe, it is understandable for Europe to covet stability. Less defensible is that authoritarian stagnation is used to lubricate business interests that, in Egypt's case, range from gas contracts with Italy to the provision of two warships from France.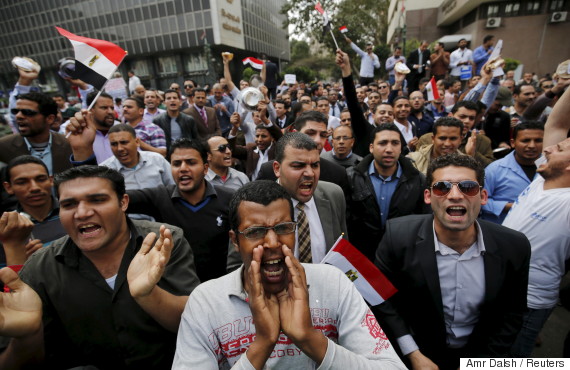 Protestors shout anti-government slogans in front of Parliament headquarters in Cairo on March 27. (REUTERS/Amr Abdallah Dalsh)
But when it comes to a strategic vision for the region, the best way to honor Regeni's memory is to actually remember what he was doing in Egypt. The late doctoral student was researching Egyptian labor unions, a movement that in Tunisia was so instrumental to democratic transition that it won the 2015 Nobel Peace prize as part of the so-called Tunisian quartet.
The circumstances in Egypt have been different and increasingly prohibitive. And yet, as Regeni wrote in his last article, "independent trade unions are refusing to give up." That may well read as the epitaph to his untimely death, as well as to the kind of imaginative leap that the West's Middle East policy has failed to perform.
Earlier on WorldPost:
PHOTO GALLERY
Clashes In Egypt