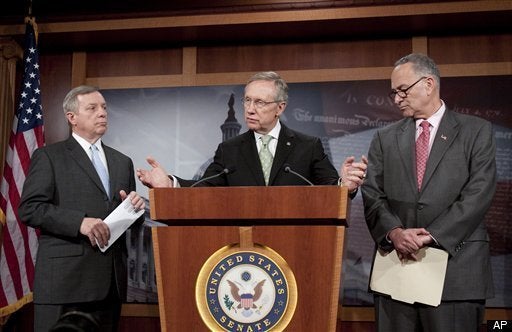 The shadow campaign for the Senate majority leader position has been underway for several months, but the man who currently holds the job -- and who plans to keep it in 2011 -- says he's not following the race with any interest.
Harry Reid (D-Nev.), in an interview with the Huffington Post, compared the contest between Senate Majority Whip Dick Durbin (D-Ill.) and number three Chuck Schumer (D-N.Y.) to the Stanley Cup playoffs -- an event he ignores each year.
"How can I describe this?" Reid said, pausing for a long moment when asked about Schumer and Durbin. "I don't follow hockey," he began in a metaphorical explanation. They're playing in the Stanley Cup. There was a game last night. Don't know who won it. Don't care. That's how I feel about that going on between them."
Reid is presumed in Washington to be finished, facing the toughest reelection of his long career in Nevada. His aides are regularly asked what their plans are, following his presumed defeat and the race for his leadership job is barely kept off the airwaves. At a recent congressional awards dinner, Sen. Claire McCaskill (D-Mo.) jokingly promised Schumer her vote if he would stop calling her for it, citing her husband's growing suspicion.
But the presumption of Reid's political mortality ignores the millions he has on hand to bury whichever wounded candidate emerges from the vicious Republican primary. Reid, despite the conventional wisdom, is likely to return to Washington.
Until then, he said, he's paying little heed to the jockeying beneath him.
"They're both close personal friends and neither one of them would do anything to hurt me personally. So I feel about them like I do the Stanley Cup. I could care less. Don't follow it," said Reid, before launching into an anecdote involving the two times he's seen Wayne Gretzky play.
"Anyway, so that's enough of Durbin-Schumer," he concluded. "That's how I feel about it. I don't even think about it. I get up in the morning, I read the sports page first thing. But when it's hockey on the first page, I get over that quick."

Popular in the Community