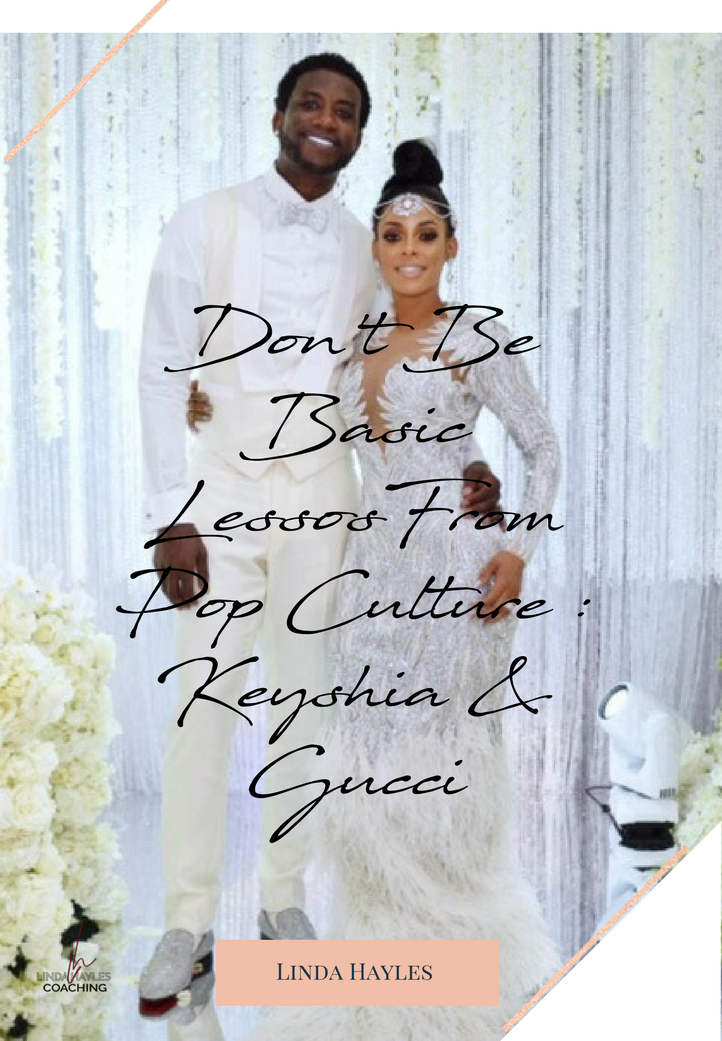 As you may or may not know (if you don't...  wake up!), Gucci Mane married Keyshia Ka'oir yesterday (10/17/17) in a 1.7 million dollar wedding and the wedding was televised on BET. #themaneevent
Gucci Mane is a rapper who popped on the scene in 2001. He's been in and out of prison a few times throughout the years. His most recent stint in prison had him there for 3 years. He was released in May of 2016.
People have judged Gucci for being an out of control "thug" and people have judged Keyshia because she stuck by him while he was in prison.
If you're part of my tribe you know I preach two things. Don't Be Basic and be a Woman of High Value.  So, how was Keshia NOT basic and how is she a woman of high value?
Many people just heard of Keyshia Ka'oir and think she's just Gucci's fiancee. But Keyshia, 32, had already made her first million by the age of 26 with her own cosmetics line which she owns 100%. So, trust and believe this woman is NOT basic. She's not a business woman.  She's a business, woman! She now has a line of slimming and weight loss products as well. She is a powerhouse!
Listen! There is NOTHING wrong with wanting more! There is NOTHING wrong with having ambition! There is NOTHING wrong with leveling UP! Some of us NEED to get some goals, some ambition and some hunger for life!
Let me blow your mind here. You ready? Look, Keyshia saw a greater Gucci Mane in him. She realized that Gucci was coachable. I don't know the specific situations where she influenced him, made suggestions and he did them, but I know she did! And when he was in prison she gave him an emotional SAFE PLACE. She put in place lots of structure for their interaction. In an interview Keyshia gave The Fader, she says, "Whatever businesses I was doing, I involved him. I told him my plans, what was going on. We spoke at least five to six times a day. We emailed every day. We had a schedule together, actually. He would get up, we'd both get up. We're not seeing each other, but we'd know what's going on. I felt like I did the time with him. We'd work out, let's say from 8 to 10 a.m., and then by the time we shower and have lunch, he'd call. I'd ask, "What did you eat today?" There were days that he would cheat, and then I'm like, You can't cheat: you're not like that! That way you wasted our whole workout and our eating together for three years. We want to lose the weight, we want to focus, we want to be sober, we want to be more business-minded. Your brand means a lot, your fans mean everything to you. You have to do great music, you're a parent." Gucci got to a point where he didn't want the gold in his mouth and neither did she! They made that decision together. 
In an interview, Gucci gave author and journalist Malcolm Gladwell, Gucci told Gladwell, that going to jail '100 percent' saved his life. "I was outta control," Gucci said. "I wouldn't want to do it over, but in hindsight it helped me." He got off drugs, lost 90 pounds and did a lot of reading. By the way, he says Malcolm is his favorite author. I promise you, if you say Malcolm Gladwell is your favorite author, your life has already changed. No one can read Malcolm Gladwell's books and not be transformed. (I recommend Outliers)
Many consider Keyshia a ride or die woman. I think she is! But let's break this down!
Keyshia is a woman of high value. I'm from Puerto Rico and I can always tell women with strong island upbringing. I LOVE hearing her speak. She has been an asset to Gucci Mane from the very beginning. She says that Gucci is extremely respectful to her and this is something she VALUES in a man. (She looked for a man whose values aligned with hers).
Am I going to sit here and tell you that Gucci needed a momma? No! What I will tell you is that Gucci needed STRUCTURE to his life. By his own admission, prison helped him with that. Gucci was a movement by himself but with Keyshia he's a force, now. (Yes, I'm referencing Fabolous' song).
So in case you got lost in my sauce, let me break this down:
Keyshia was not looking for a handout when she meet Gucci. She was already a BUSINESS. #girlboss
Keyshia was NOT BASIC.
Keyshia did not "hook up" with a dead end career criminal. 
Keyshia did not RIDE or DIE for a man who could give her NO RETURN ON INVESTMENT.
Keyshia fell in love with a man who had already proven who he was. 
Keyshia studied Gucci and saw many positive traits in him.
Keyshia saw that Gucci had a huge platform. (There's no doubt in my mind she saw herself making him better, being an asset to him and riding that platform to the top).
While in prison, Keyshia saw the great opportunity to INFLUENCE and PERSUADE him in a very positive way! 
Keyshia she set out to bring out his potential.
Keyshia implemented SUPPORT and STRUCTURE for Gucci Mane. 
Keyshia attracted her NEXT LEVEL. 
Keyshia is a Woman of High Value.
We attract what we are. Keyshia has lots of ambition and she's hungry for life. Not to mention, she's beautiful. She attracted a man who was full of ambition, hungry for life and although he didn't know it, he was hungry for a loving support and structured lifestyle. He KNOWS he has a keeper. They've been together about 8 years and it has been a relationship where they have sharpened the other. They have been great for each other. 
Congratulations on your wedding, Mr. and Mrs. Davis!
REAL LIFE. REAL NEWS. REAL VOICES.
Help us tell more of the stories that matter from voices that too often remain unheard.
This post was published on the now-closed HuffPost Contributor platform. Contributors control their own work and posted freely to our site. If you need to flag this entry as abusive,
send us an email
.