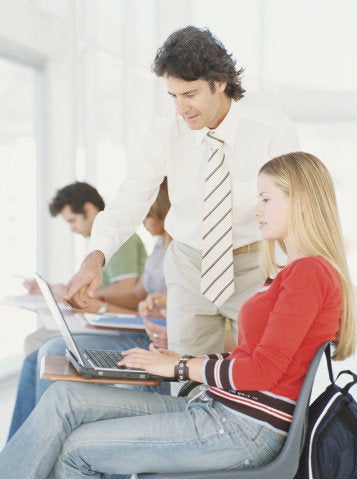 New technologies, from gaming to personalized instruction to social networking and online tutorials, hold extraordinary promise, but equal attention -- if not more -- should be directed to the human capital implications required for any "innovation" to increase student achievement. New technologies are not solutions. They are mechanisms that have been shown to help some kids do better in one classroom while gathering dust in another. To help students in measurable ways, new technologies depend, inherently, on the web of human relationships that govern their use. That is the idea behind Blue Engine -- an innovative national service model that channels human capital (with teams of tutors) to high-need schools.
Two challenges come immediately to mind on the human capital front. The first is the impact of new technologies on teachers. Do they want them? Will they use them? Can we use technology to make the job of teaching more sustainable by helping teachers teach and spend less time on busywork? Technology holds power here (IMPACT in New York City and, more recently, Drop the Chalk), but as a former teacher who used a pencil-and-paper grading book (in the 21st century) and whose row of shiny Mac Pro desktop computers sat idle at the back of the room for the year (I didn't know what I should be doing with them), I would like to see tech evangelists grapple as much with behavioral economics -- the science behind why people do what they do -- as with the gadgetry behind the next big product.
The second challenge will involve rethinking how human capital is deployed in schools. Technology cannot just exist and create change in a vacuum. Some of the most promising and talked-about technology innovations in education -- including School of One and Rocketship Education -- all require reconfigurations of human capital. At School of One, teachers still teach, but they are supported by a range of other actors including teaching assistants and tutors, both online and in-person, and software-based lessons. All of these actors support the system together and make it run. Rocketship Education is a non-profit elementary charter school network that is creating a hybrid school model, combining a traditional classroom setting with tutoring, both online and offline, and online technology. Like School of One, these tutors are the human capital "glue" that helps Rocketship's innovative financial structure fly.
If the goal is to accelerate academic performance for all -- or, more realistically, to achieve dramatically greater good for greater numbers -- then we must find ways of moving beyond the current, industrial, 30:1 student-teacher ratio in brick and mortar classrooms. Instead, the national conversation is focused on ramping up our use of technology in schools, aligning private-sector incentives with market opportunities in K-12, and boom, learning outcomes will spike nationwide. There was little mention of actual teachers, teacher training, professional development, and the political will required for new technologies to benefit real kids in real districts in real classrooms.
Technology and human capital innovation are not opposing concepts, but we must do more to integrate the conversation. Only then will students benefit from the "promise of technology" that we've been promising for so long.

Calling all HuffPost superfans!
Sign up for membership to become a founding member and help shape HuffPost's next chapter